No-Bake Peach Gingerbread Cheesecake Parfait
This No-bake Peach Gingerbread Cheesecake Parfait is ridiculously easy. Sweet and tangy cream cheese filling. It also has a distinct gingerbread layer.
---
« Go back
Print this recipe »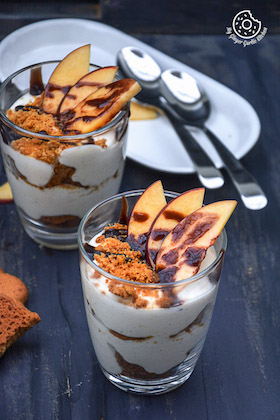 ---
Prep Time = 10 minutes
Cook Time = 7 minutes
Total Time = 17 minutes
Category = Dessert
Cuisine = French
Serves = 4
Nutrition Info = 213 calories
Serving Size = 1 serving
---
RECIPE INGREDIENTS
» For Peach Syrup //
1 cup peach slices
¼ cup granulated sugar
1 tablespoon lemon juice
» For Cheesecake layer //
250 grams cream cheese
3 tablespoons powdered sugar
1 teaspoon lemon juice
1 teaspoon vanilla bean or vanilla extract
½ cup whipped cream
» To Assemble //
12-14 pieces gingerbread or gingersnap cookies, crumbled
Cream cheese filling
Peach slices
Chocolate sauce
Gingerbread Cookie crumbs
---
RECIPE INSTRUCTIONS
» How to Make Peach Syrup //
To make peach syrup, put all the peach Syrup ingredients in a medium saucepan. Cook over medium heat until it begins to thicken.
Remove from heat and let it cool completely. Blend peaches until smooth. Press the puree through a sieve and discard the solids. Your peach syrup is ready. Keep it aside.
» How to Make Cream Cheese Layer //
In a large bowl with an electric mixer, beat the cream cheese and vanilla for 2-3 minutes.
Scrape the sides and add sugar, lemon juice and whip. Next add whipped cream to the bowl.
Use a rubber spatula to fold in the whipped cream. After that add peach syrup and fold gently.
» Assembling //
Layer crumbled cookies, cheesecake mixture in parfait glass. Repeat layers.
Sprinkle with cookie crumbs. Garnish with sliced Peach, and drizzle chocolate sauce.
Place in the fridge and chill for about 1-2 hours. Serve chilled.
---
RECIPE NOTES
No notes for this recipe.
---