No-Bake Mini Strawberry Nutella Cheesecake
No-Bake Mini Strawberry Nutella Cheesecake is a delicious cheesecake. A little touch of nutella and cocoa takes this delightful dessert to the next level.
---
« Go back
Print this recipe »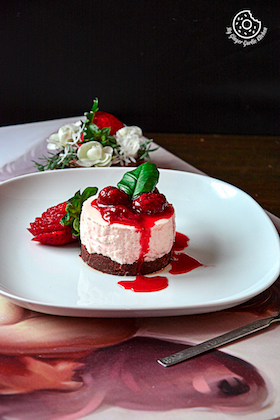 ---
Prep Time = 10 minutes
Cook Time = 10 minutes
Total Time = 20 minutes
Category = Dessert
Cuisine = American
Serves = 3-4
Nutrition Info = 277 calories
Serving Size = 1 serving
---
RECIPE INGREDIENTS
» For Strawberry Compote //
Strawberries, fresh or frozen - 1 cup
sugar - 5 tablespoons
lemon juice - 1 tablespoon
» For Crust //
digestive biscuits - 5-6
nutella - 1 tablespoon
salt - 1/4 teaspoon
cocoa powder - 1 1/2 tablespoons
unsalted butter, melted - 1 1/2 tablespoons
» For Filling //
cream cheese, softened - 200g
whipped cream - 3/4 cup
sugar - 1 cup
gelatin - 1 tablespoon
cold water - 2 tablespoons
» For Serving //
Fresh strawberries
Basil leaves
---
RECIPE INSTRUCTIONS
» How to Make No-Bake Mini Strawberry Nutella Cheesecake //
Heat a pan, and add strawberries and 5 tablespoons sugar and mix well.
Add lemon juice and mix well.
Let it boil, till berries are soft and sugar is melted completely.
Add digestive biscuits, salt, cocoa powder, nutella, and melted butter to a food processor.
Pulse until well combined.
Brush molds with melted butter and line them with parchment paper.
Equally distribute cookie mixture between pans. Press mixture into the bottom of each pan. Chill until firm.
In a large bowl beat cream cheese until smooth.
Mix in sugar and beat again.
Dissolve gelatin in water, let sit for 5 minutes.
Microwave 10 seconds, and whisk until smooth. Cool to room temperature.
Add some cream cheese mixture to gelatin and mix well.
Add gelatin to cream cheese and beat again.
Then add vanilla and beat again.
After that, add whipped cream and fold gently to combine. At this point you can also add about 2-3 tablespoons of strawberry compote to mixture.
Evenly distribute filling between pans. Chill a minimum of 3-4 hours or until firm.
When cheesecakes are set, gently run a knife around the edges.
Release the cheesecakes carefully and remove the paper liners.
Top with strawberry compote and garnish fresh strawberries and basil leaves. Enjoy!
---
RECIPE NOTES
No notes for this recipe.
---