Masala French Toast
Masala French Toast is crammed with amazing flavors and exquisiteness where bread slices are soaked in a spicy egg mixture and pan-fried with butter.
---
« Go back
Print this recipe »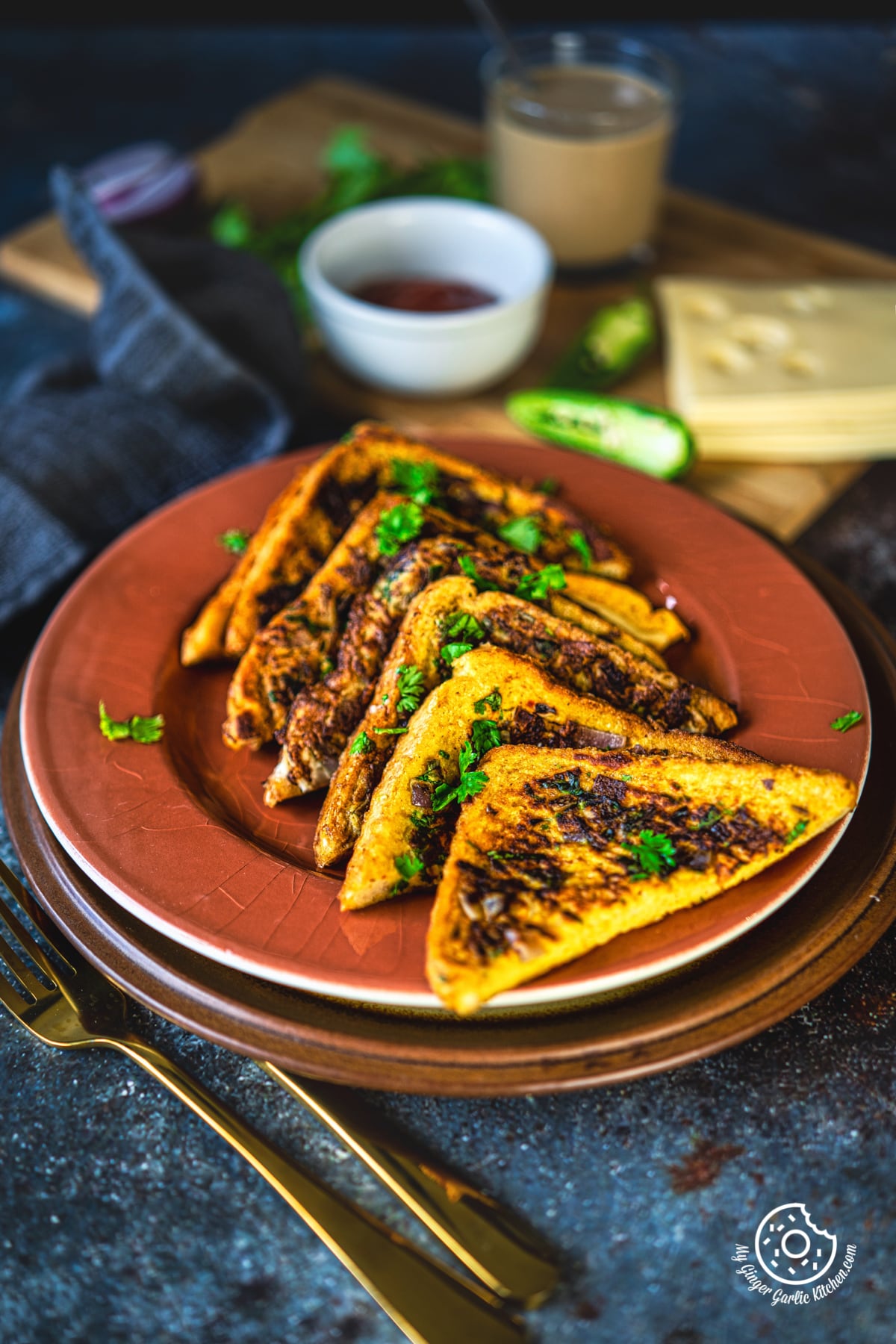 ---
Prep Time = 5 minutes
Cook Time = 5 minutes
Total Time = 10 minutes
Category = Breakfast
Cuisine = Indian, French
Serves = 6 pieces
Nutrition Info = 164 calories
Serving Size = 1 piece
---
RECIPE INGREDIENTS
» For Masala French Toast
2 large eggs
1/2 cup milk
1/2 medium-sized onion, finely chopped
1 green chili, chopped
2 tablespoons chopped coriander leaves (cilantro)
1/2 teaspoon red chili powder
1/4 teaspoon turmeric powder
1/4 teaspoon garam masala powder
1/2 teaspoon roasted cumin powder
Salt to taste
1/4 teaspoon freshly ground black pepper
3 slices bread, wholegrain or multigrain
1 cheese slice (if making cheese stuffed toast)
4 teaspoons butter, ghee, margarine, or oil
» To serve
Tomato ketchup, mayonnaise, or green coriander chutney
---
RECIPE INSTRUCTIONS
» Make Egg mixture:
Start with breaking eggs in a wide mixing bowl. Make sure the bowl is wide enough to fit the bread slice.
Now add chopped onions, chopped green chili, coriander leaves, red chili powder, garam masala powder, turmeric powder, cumin powder, salt, and black pepper.
Whisk briskly until eggs are light and fluffy.
Add in the milk and beat again until everything is mixed properly. Keep it aside.
» Make Masala French Toast:
Add the 1 teaspoon butter or oil in a non-stick wide frying pan over and let it melt over medium heat.
Take one bread slice, and dip it into the egg mixture by press it down to absorb the egg mixture. Once dipped, flip it and let it absorb the mixture from another side too.
When the bread is dipped from both sides, remove it from the mixture and shake off the excess mixture. Once the butter starts bubbling, put the soaked bread on the pan. Spoon and spread about 1-2 onions from the egg mixture on the top.
Add 1 teaspoon of butter on top of the bread and spread it lightly. Let it cook on medium heat for about a minute or until it is cooked and turns golden brown.
Once cooked, flip them and let the other side also for 1 minute or until cooked properly.
When the bread is cooked from both sides, remove it from the pan. Slice the toast diagonally and serve warm with a cup of hot coffee, ketchup, or green chutney.
» Make Cheese Masala French Toast:
Heat 1 teaspoon butter in a wide pan. Dip 2 bread slices into the batter and place them on the pan and top each bread with some onion egg mixture.
Let them cook over medium heat until they become golden. Once cooked, flip both the bread slices.
Place 1 cheese slice on top of 1 bread slice. Then cover it with the other slice.
Cook the toast from both sides until it is cooked perfectly. Remove Cheese Masala French Toast from the pan.
Cut it into desired pieces, and serve this satisfying with hot with some ketchup and masala chai.
---
RECIPE NOTES
For pan-frying toasts, you can use a non-stick or cast iron pan.
Use a slightly old and firm bread for making Masala French Toast. If you are using fresh and soft bread, then use the chilled bread. This would absorb the egg mixture nicely and would retain its shape.
I have only added onions, cilantro, and green chili to this recipe, but you can also add chopped tomatoes, corn, chopped bell peppers, and mint leaves to the egg mixture.
---