Mango Milkshake
Mango Milkshake is a classic, thick, and delicious milkshake made with mangoes, ice cream, milk, and cardamom and saffron flavorings.
---
« Go back
Print this recipe »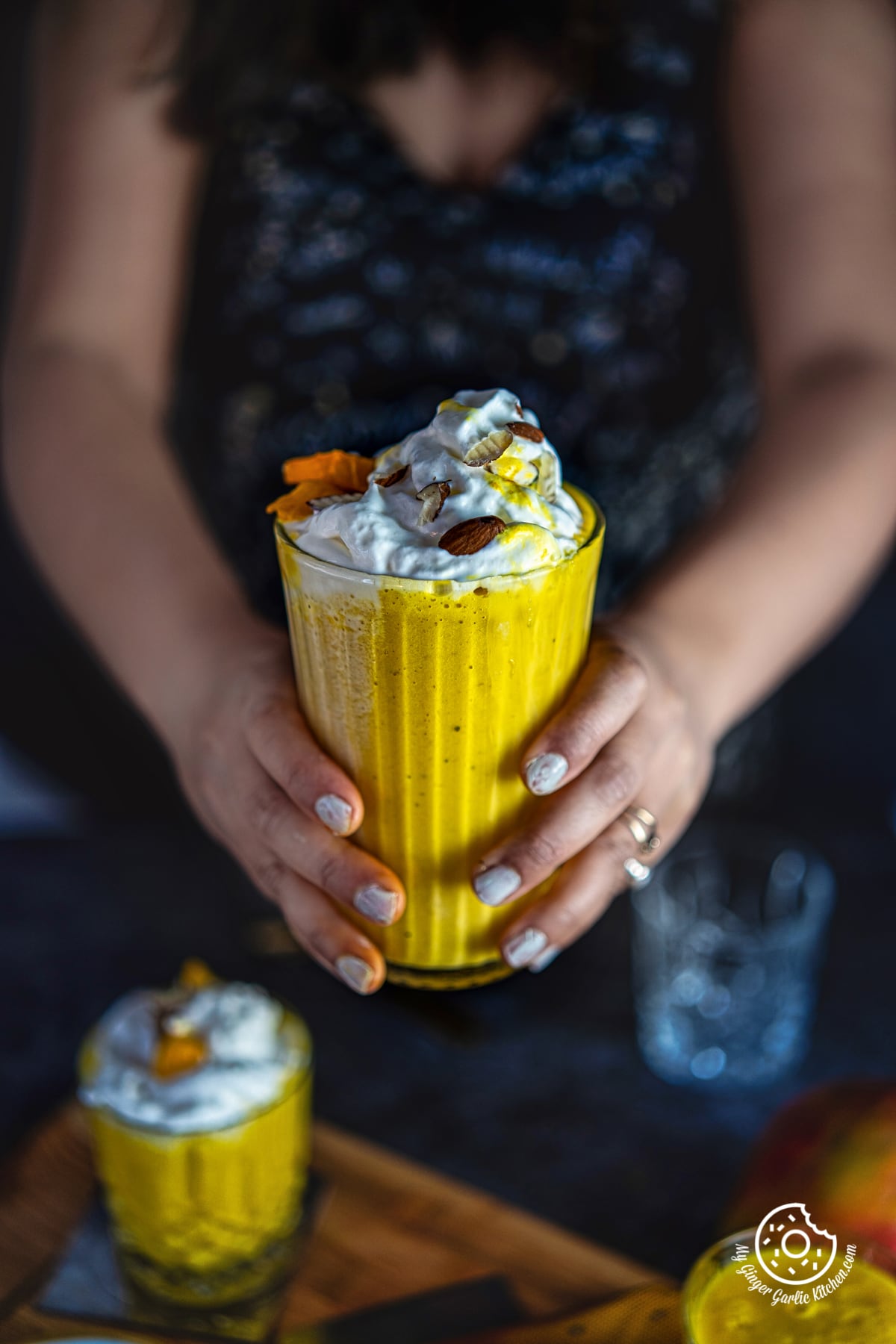 ---
Prep Time = 2 minutes
Cook Time = 3 minutes
Total Time = 5 minutes
Category = Drinks
Cuisine = Indian
Serves = 4 medium servings
Nutrition Info = 248 calories
Serving Size = 1
---
RECIPE INGREDIENTS
» For Mango Milkshake
2 large mangoes, or 2 cups chopped mangoes
1/4 teaspoon crushed saffron strands
2 cups chilled milk
3 dollops of vanilla ice cream
3 tablespoons sugar or as per taste
1/2 teaspoon ground cardamom
» For Serving:
Vanilla ice cream
Whipped cream
Chopped almonds and cashews
Chopped mangoes
---
RECIPE INSTRUCTIONS
» How to make Mango Milkshake:
Peel mangoes, remove the stone, and chop them. Then mix chopped mangoes 1/4 teaspoon of crushed saffron and chill for 30 minutes.
Add the saffron-infused chilled mangoes, milk, ground cardamom, vanilla ice cream, and sugar into a blender.
Blend everything until smooth. Add a dollop of vanilla ice cream to a serving glass, then fill the glass with the mango milkshake.
Top with some whipped cream, chopped almonds and cashews, and chopped mangoes.
Alternatively, pour mango milkshake into serving glass and top with whipped cream, and nuts. Enjoy Chilled.
---
RECIPE NOTES
To make a rich mango shake without ice cream you can use some whipped cream.
If you like super chilled and creamy milkshakes, then you can also swap fresh mangoes with frozen mangoes.
You can easily double or triple this mango milkshake recipe.
You can also add some frozen bananas or papaya to this mango milkshake.
I topped the milkshake with nuts. For a chewy nutty texture, you can also add nuts to the milkshake while blending it.
This is a restaurant and cafe-style thick mango milkshake. If you prefer a comparatively thinner milkshake then you can increase the amount of milk.
---