Indori Poha Recipe - Beaten Rice Fry Recipe
Indori Poha or Indori Pohe is one of the most popular snacks from Indian city Indore. This is served as a breakfast along with sweet jalebis.
---
« Go back
Print this recipe »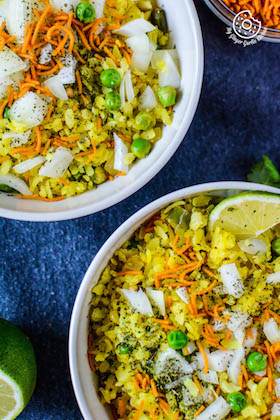 ---
Prep Time = 10 minutes
Cook Time = 15 minutes
Total Time = 25 minutes
Category = Snack
Cuisine = Indian
Serves = 4-5
Nutrition Info = 340 calories
Serving Size = 1 serving
---
RECIPE INGREDIENTS
» Khatta Meetha Indori Poha:
2 cups medium-sized poha (flattened/beaten rice)
1 large-sized onion, chopped
4-5 small-sized green chilies, chopped
1 teaspoon mustard seeds (rai)
1 teaspoon coriander seeds (optional)
1 teaspoon fennel seeds (saunf)
2 tablespoons oil
1/4 teaspoon turmeric powder (haldi powder)
1 tablespoon sugar (shakkar)
A pinch of asafetida
2 tablespoons lemon juice
Salt to taste
» For Serving:
1/2 cup sev (spicy gram flour noodles)
1 tablespoon cilantro (coriander) leaves, chopped
Finely chopped onions for topping
Cilantro (coriander) leaves
Jeeravan or chaat masala
---
RECIPE INSTRUCTIONS
» Make Khatta Meetha Indori Poha:
Wash poha in a colander under running water for a couple of minutes.
Let the water drain and set aside for at least 15-20 minutes.
Heat oil in a pan.
Now add mustard seeds, coriander seeds, fennel seeds, coriander seeds, and asafetida. Let them splutter for a few seconds.
Add onions and sauté for 3-4 minutes.
Add green chilies and saute for another minute.
Add green peas, salt and saute for about 4-5 minutes.
Use fingers to open up the poha.
Add turmeric powder, sugar, and salt to the soaked poha.
Add this soaked poha to the pan and stir well.
Cook for about 4-5 minutes on medium-low heat. (You can also cook it in a double boiler by putting it over a pot of boiling water. For this method also, cook for 4-5 minutes.)
Turn off the heat, and add lemon juice to it. Mix well to combine.
Divide Indori khatta meetha poha into servings bowls.
Garnish each serving with finely chopped coriander leaves, chopped onions, and a generous helping of Sev.
Sprinkle some jeeravan or chaat masala and serve hot with a steaming cup of coffee or tea. Enjoy!
---
RECIPE NOTES
No notes for this recipe.
---