Keto Cocoa Cake Roll
This quick and easy to make Keto Cocoa Cake Roll or Chocolate Roulade is super soft, creamy, fluffy, and filled to the brim with the chocolatey aroma.
---
« Go back
Print this recipe »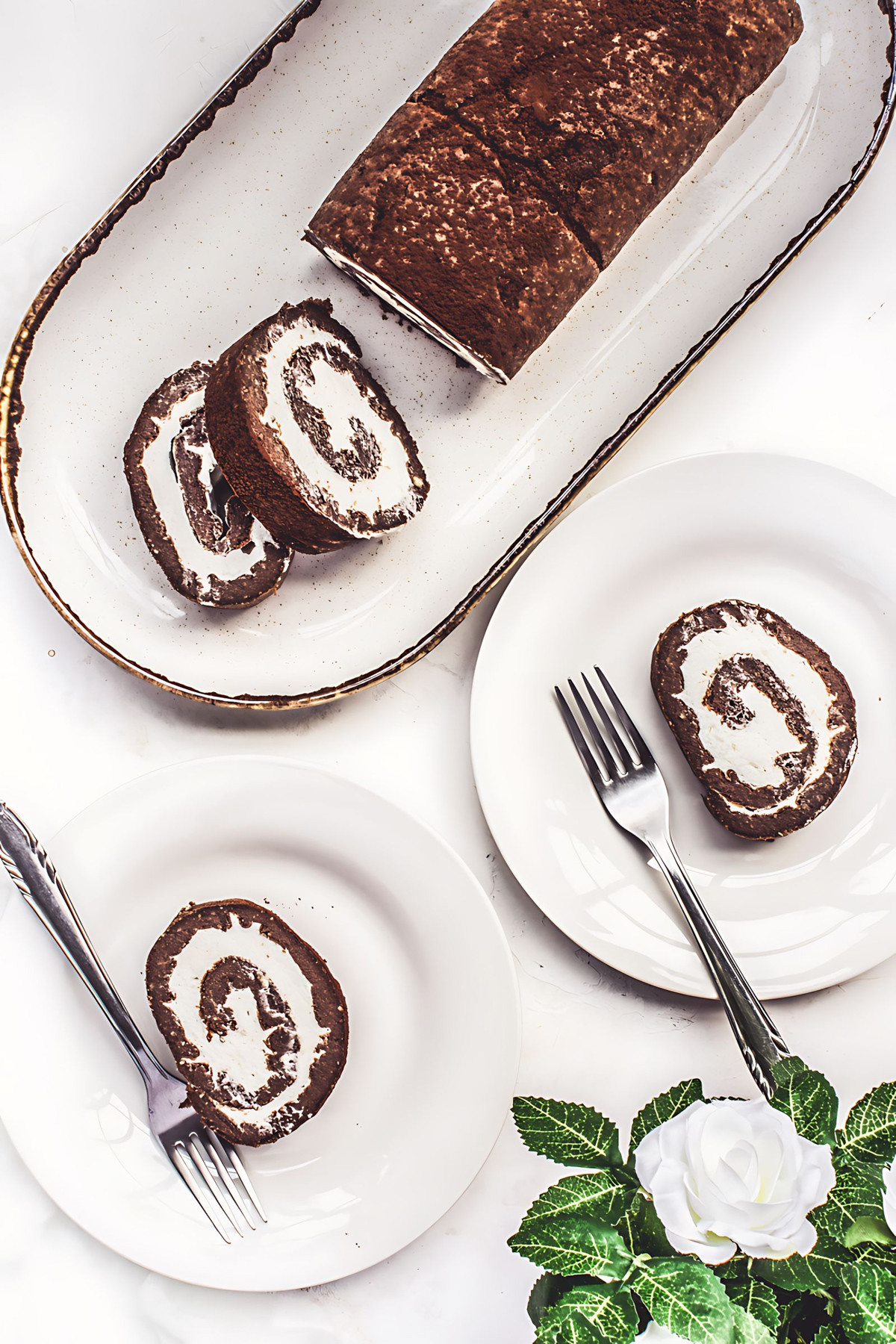 ---
Prep Time = 15 minutes
Cook Time = 20 minutes
Total Time = 35 minutes
Category = Dessert
Cuisine = Central European
Serves = 12 slices
Nutrition Info = 94 calories
Serving Size = 1 serving
---
RECIPE INGREDIENTS
» For Cocoa sponge //
6oz. KMK Chocolate baking mix
2 tbsp psyllium husk powder
3 medium eggs
2 tablespoons cocoa powder
1 teaspoon baking powder
½ teaspoon vanilla extract
¾ cup unsweetened almond milk
1 tablespoon coconut oil
¼ cup powdered Erythritol
» For Filling //
8oz. mascarpone
2 tablespoons butter, softened
3 tablespoons powdered Erythritol
---
RECIPE INSTRUCTIONS
» How to Make Keto Cocoa Cake Roll //
Preheat the oven to 350F.
Line the baking sheet with parchment paper.
In a mixing bowl, combine all the sponge ingredients. Stir well until you have a smooth batter.
Transfer the sponge onto a slip mat and spread evenly. Make sure it is 1/4 inch thick.
Bake the sponge for 15 minutes. Remove from the oven. If you see crack over a sponge do not worry. As it cools down a bit it will disappear. Place the sponge with parchment paper on a damp kitchen cloth. Start rolling gently from the shorter side. Roll up and place aside to cool down.
Make the filling; in a mixing bowl, beat all the filling ingredients.
Unroll the sponge and remove the baking paper. Spread the filling over the sponge and roll it again. Allow to settle for 1 hour in a fridge.
Dust with some cocoa if desired. Slice and serve.
---
RECIPE NOTES
No notes for this recipe.
---