Golden Milk (Haldi Doodh)
Golden turmeric milk or haldi doodh is an Ayurvedic Indian drink with many healing properties. This drink is great for cold and cough.
---
« Go back
Print this recipe »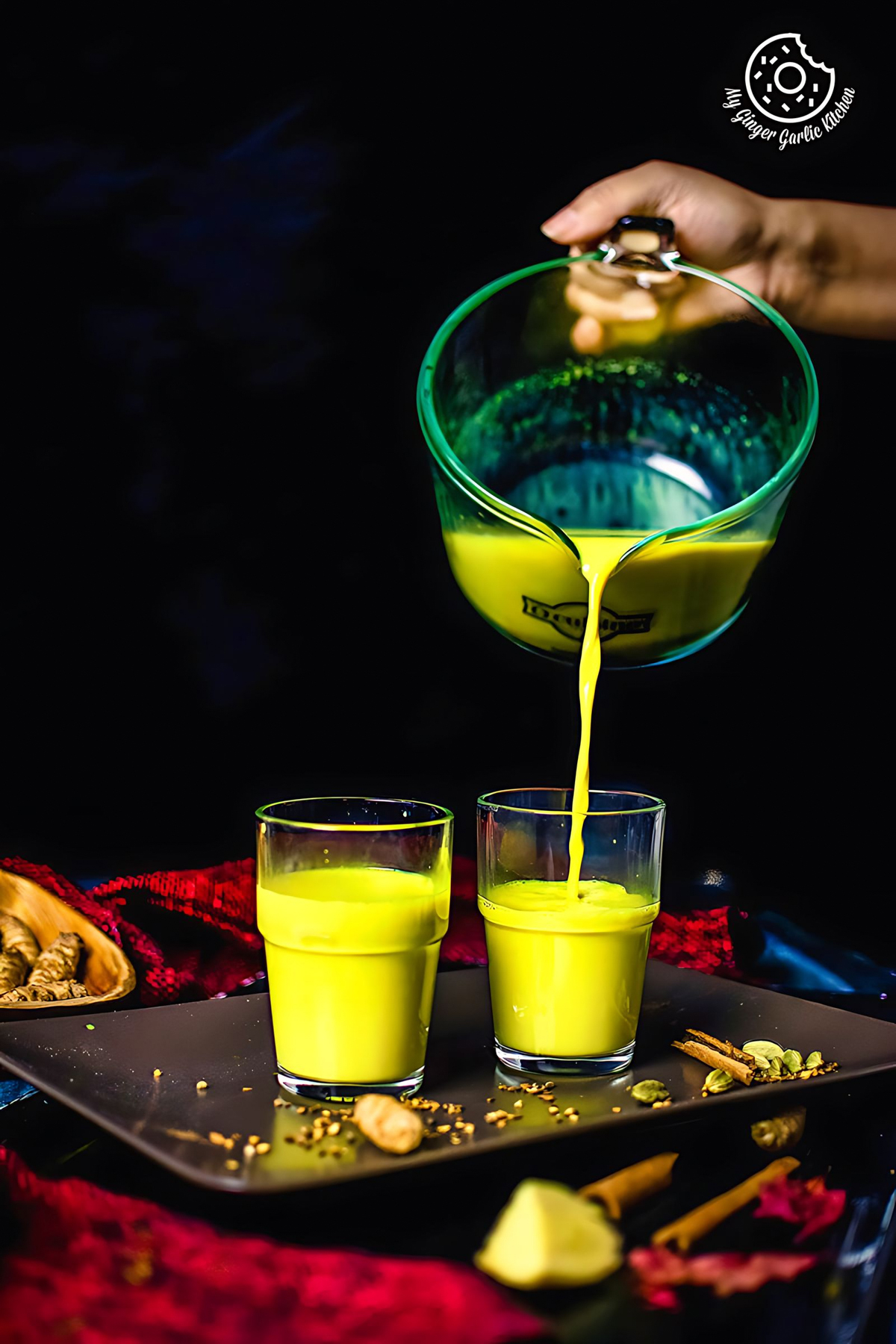 ---
Prep Time = 02 minutes
Cook Time = 08 minutes
Total Time = 10 minutes
Category = Drink
Cuisine = Indian
Serves = 2-3
Nutrition Info = 89 calories
Serving Size = 1 serving
---
RECIPE INGREDIENTS
» Golden Milk (Haldi Doodh) //
2 cups (500ml) of an whole milk (You can also use almond, cashew nuts, coconut or soy milk)
1/2 tablespoon of ground turmeric (or 1 tablespoon chopped or grated fresh turmeric root)
1 tablespoon chopped / grated fresh ginger (or 1/2 tsp of ginger powder)
1/2 teaspoon ground cinnamon (or 2 inch cinnamon stick)
1/2 teaspoon ground cardamom (optional)
1/4 teaspoon of ground black peppercorns or as per taste
1/4 teaspoon ghee or coconut oil
Sweetener to taste (honey / maple syrup / sugar / jaggery)
---
RECIPE INSTRUCTIONS
» How to make Golden Milk (Haldi Doodh) //
To make the golden milk, add milk to a saucepan or pot on medium heat.
Bring it to a low boil.
Add turmeric powder, cinnamon, cardamom, black peppercorns, and ginger.
Stir well. Bring to a boil.
Simmer for 7-8 minutes or until fragrant and flavorful.
Add ghee and mix well.
Turn off the heat sweeten to taste (if desired).
Stir well. Strain the golden milk through a fine strainer into a jug.
Pour warm golden milk into serving glasses or mugs.
Sprinkle with some ground cinnamon. This step is optional.
Drink it warm before bedtime.
---
RECIPE NOTES
Turmeric might stain hands, and clothes so makes sure your wear an apron and work with caution.
You can also make golden milk in advance and store it in refrigerator for up to 3-5 days. Just reheat it before serving.
I love haldi wala doodh along with some earthy spices. Thus, I add a handful of spices in my Golden milk recipe. You can easily remove any of the spices except black peppercorns from this recipe.
---