Gingerbread Biscotti Recipe
This Homemade Gingerbread Biscotti Recipe makes a crispy and spicy Winter/Christmas Holiday delight. This spiced up biscotti is the perfect crunchy cookie.
---
« Go back
Print this recipe »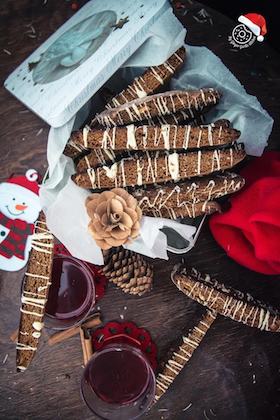 ---
Prep Time = 5 minutes
Cook Time = 60 minutes
Total Time = 1 hour(s) 05 minutes
Category = Brunch
Cuisine = World
Serves = 22-24
Nutrition Info = 45 calories
Serving Size = 1 biscotti
---
RECIPE INGREDIENTS
» For Gingerbread Biscotti
4 Tablespoons Vegetable Oil
1/2 Cup Brown Sugar
2 Eggs
3 Tablespoons Dark Syrup/molasses
1 1/2 Cup All-Purpose Flour Or Whole Wheat Flour
2 1/4 Teaspoons Ground Ginger
1 1/2 Teaspoons Baking Powder
1 Teaspoon Ground Cinnamon
1/2 Teaspoons Ground Pepper
1/2 Teaspoons Vanilla Extract
1/8 Cup Sliced Almonds
3/4 Teaspoon Ground Cloves
100g White Chocolate, Melted
---
RECIPE INSTRUCTIONS
» Baking Gingerbread Biscotti
Heat oven to 350°F/175C.
Line/grease 2 baking trays and set aside.
To a large bowl add together oil, sugar, eggs, and molasses.
Beat at medium speed, until well mixed.
Add ginger, clove, cinnamon, pepper, baking powder, vanilla extract, baking soda, and flour.
Mix with a spatula to form a stiff dough.
Add almonds and mix well to combine.
Divide dough in half; place halves on lined/greased trays.
Using lightly floured hands, shape each portion into a flat log which is 12-inch high and 8-inch wide. Thickness should be 1/2 inch.
Bake 22-25 minutes or until lightly browned and tops are slightly cracked. Remove from oven, and set aside to cool.
When cool enough to touch, cut into 1/2 inch thick diagonal slices.
Place slices, cut sides down, on a baking sheet, and bake an additional 7 minutes on each side, or until toasted and crispy.
Remove from pan, and cool completely on a wire rack. Drizzle with melted white chocolate.
Let them set at room temperature until chocolate drizzle hardens.
---
RECIPE NOTES
They also taste wonderful when they are plain, but you can surely add some texture by adding any of your favorite nuts or chocolate to them.
You can add any of your favorite nuts or chocolate to them, but I like my gingerbread biscotti plain with gingerbread cookie frosting drizzled over the top.
I have added cloves to this recipe, but if you don?t have cloves, you can also substitute cloves with the same amount of allspice.
This recipe only makes 24 biscotti, but you can surely double the recipe if you are planning to bake them as a holiday gift.
These can be served as a midday snack, or even a light after meal dessert.
---