Frozen Mango Yogurt
This 4 ingredient Frozen Mango Yogurt is so deliciously creamy, smooth, tangy, sweet, luscious, and is everything you want on a summer day.
---
« Go back
Print this recipe »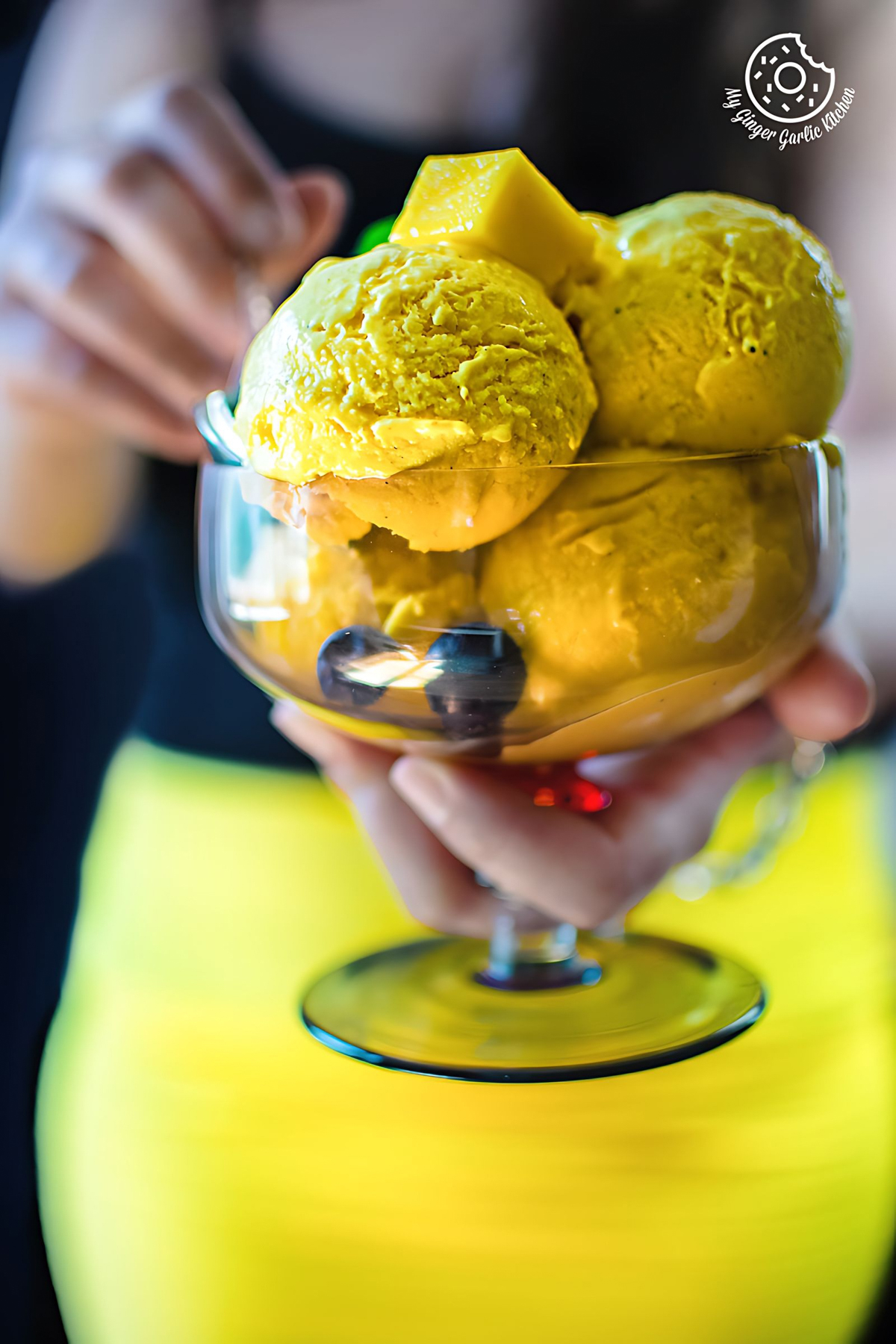 ---
Prep Time = 01 minutes
Cook Time = 04 minutes
Total Time = 06 hour(s) 5 minutes
Category = Dessert/Snack
Cuisine = International
Serves = 8
Nutrition Info = 44 calories
Serving Size = 1 scoop
---
RECIPE INGREDIENTS
» For Frozen Mango Yogurt //
2 cups frozen mango chunks
1/4 cup sugar, or as per taste (you can also use honey or agave nectar)
2 cups chilled full cream Turkish / Greek or Strained yogurt (matha or chakka)
1/2 teaspoon cardamom powder (you can also add vanilla extract)
A few drops of yellow food coloring, (optional), I only added because my mangoes were not bright yellow
---
RECIPE INSTRUCTIONS
» How To Make Frozen Mango Yogurt //
Add frozen mangoes, yogurt, cardamom powder, and sugar to a food processor or a blending jar.
Process or blend until smooth and creamy. You can also stop and scrape if it is hard to blend.
Once the mixture is until light and fluffy, turn off the blender. And add yellow food color.
Blend for 1 minute or until combined.
Using a spatula, transfer the mixture into a freezer-safe container or pan.
Cover the pan with a cling wrap and freeze for 2 hours.
After 2 hours, remove the pan from the freezer.
Use a fork or spatula to stir the frozen edges into the still-soft center.
Whisk to mix everything well together until smooth or simply blend everything using a hand blender.
Cover the pan with cling wrap again, and freeze for 4-6 hours, if you want firm and scoopable consistency of yogurt. Freeze only for 2 hours if you want soft serve texture of yogurt.
When the mixture is frozen and hard, take it out from the freezer and let it sit at the kitchen counter for 15-20 minutes before scooping, to allow it to soften.
Scoop out into dishes or onto cones with an ice cream scoop.
Enjoy delicious frozen mango yogurt.
---
RECIPE NOTES
If you want some nutty texture in your frozen yogurt, then you can also add some chopped pistachios or almonds to the mixture before freezing.
To make it more tropical, you can also add some mango chunks to the mango yogurt mixture before setting it.
To freeze the leftovers again, stir the mixture and cover with a cling wrap. Freeze and eat whenever your heart craves for some chilled mango treat.
Non-fat or low-fat yogurt can also be used for this recipe, but then it would be a bit icy, and wont come out so creamy.
To make it vegan, use coconut or cashew yogurt for this frozen mango recipe. Also, use maple syrup or agave for sweetening.
To add some nice tang, you can also add lemon or lime zest and juice to this frozen mango yogurt recipe.
Flavoring of cardamom enhances the taste and the aroma of this frozen yogurt but using it completely optional. So feel free to omit or replace it with other flavorings.
Some crushed saffron strands can also be added to the yogurt mixture.
The frozen yogurt will stay fresh in the freezer for up to 1 month.
You can add 1 frozen banana for a more creamy texture of this mango frozen yogurt. If adding bananas, then you can also reduce the amount of sweetener, because the banana also boosts the natural sweetness.
You can also add sweetened condensed milk for a creamy and rich texture of this frozen mango yogurt. Use coconut condensed milk if making a vegan version of this recipe.
---