Bread Rice Pulav
Pulav in general is an Indian dish where rice is cooked with spiced vegetables or meat. Bread Rice Pulav is a vegetable pulav with a bread variation.
---
« Go back
Print this recipe »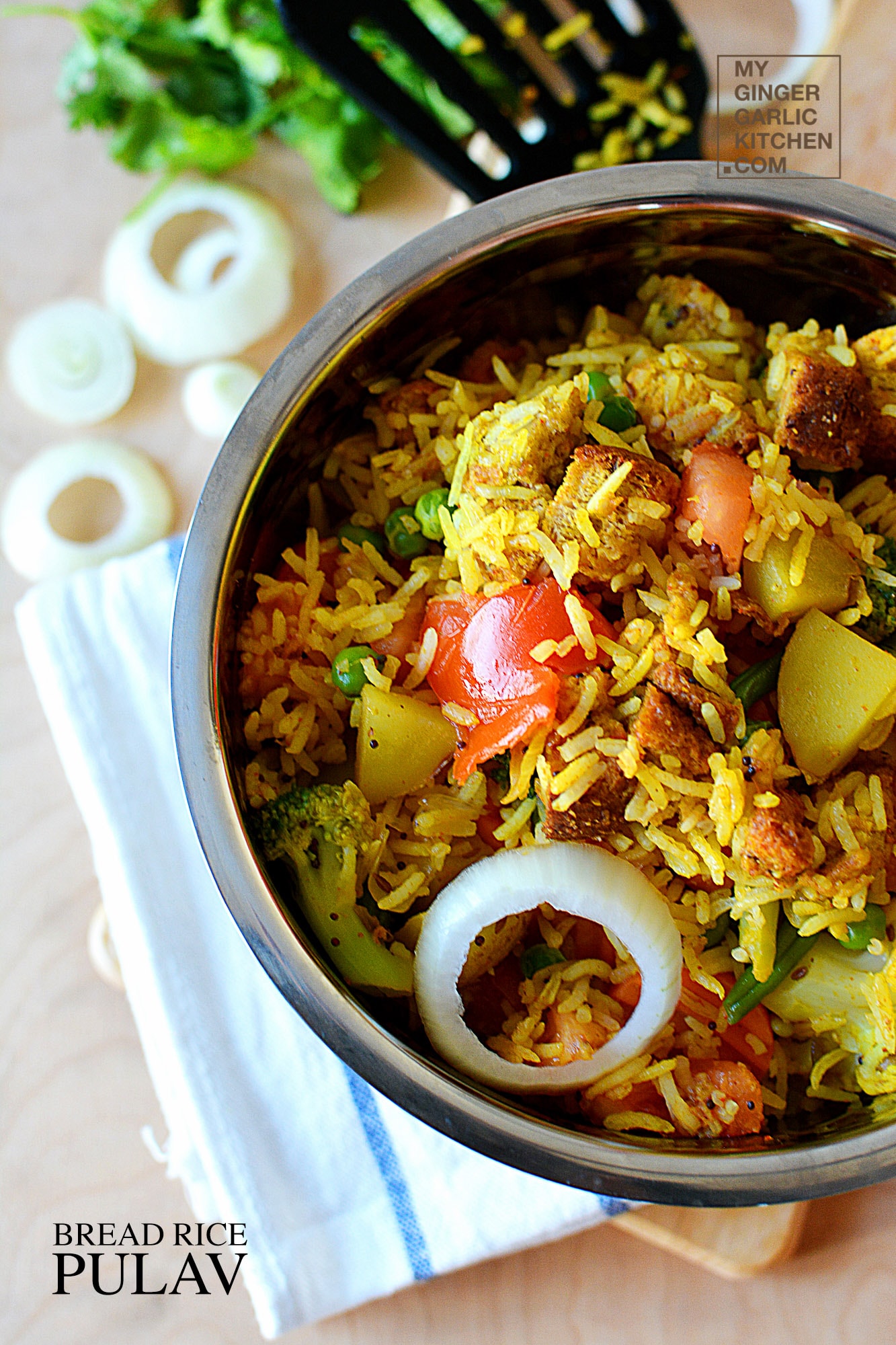 ---
Prep Time = 10 minutes
Cook Time = 15 minutes
Total Time = 25 minutes
Category = Main
Cuisine = Indian
Serves = 4
Nutrition Info = 310 calories
Serving Size = 1 Serving
---
RECIPE INGREDIENTS
» For Bread Rice Pulao:
1 cup cooked rice
1 1/2 cups mixed vegetables, diced (I used carrots, green beans, broccoli, green peas and cauliflower)
2 medium-sized onions, cubed
1 large-sized potato, cubed
3 tablespoons cooking oil
4 toasted bread slices, cut into squares (I used whole grain)
1 teaspoon mustard seeds
1 teaspoon ginger-garlic paste
1 green chili, finely chopped
1 large-sized tomato, roughly chppped
1/2 teaspoon turmeric powder
1/2 teaspoon red chili powder (you can also use cayenned pepper)
1/4 teaspoon garam masala powder (can be replaced with curry powder)
Salt to taste
Coriander (cilantro) leaves, for garnishing
1 teaspoon lemon juice
---
RECIPE INSTRUCTIONS
» How to Make Bread Rice Pulao //
Heat oil in a pan. Once hot, add mustard seeds and let them splutter for a few seconds. - Now add onions, potatoes, and salt to it. Mix well. Let them cook until potatoes are soft.
Now add chopped green chili, mixed vegetables, and peas. Mix well, and let them cook for 5 minutes or till vegetables become soft.
Add cooked rice, and bread pieces along with turmeric powder, red chili powder, and garam masala. Mix well and cook for a minute.
Add cubed tomatoes, and cook for 3 minutes. Remove from heat and add lemon juice to it. Mix well, and garnish with cilantro leaves. Serve hot with your favorite raita.
---
RECIPE NOTES
I used toasted bread pieces, but you can also use fried bread pieces.
---