Exotic Aloo Paratha - Spiced Potato Stuffed Flatbread
Aloo paratha is one of the popular Indian stuffed flat bread made with spiced potato mixture. This is a quick, easy and healthy recipe of Aloo paratha.
---
« Go back
Print this recipe »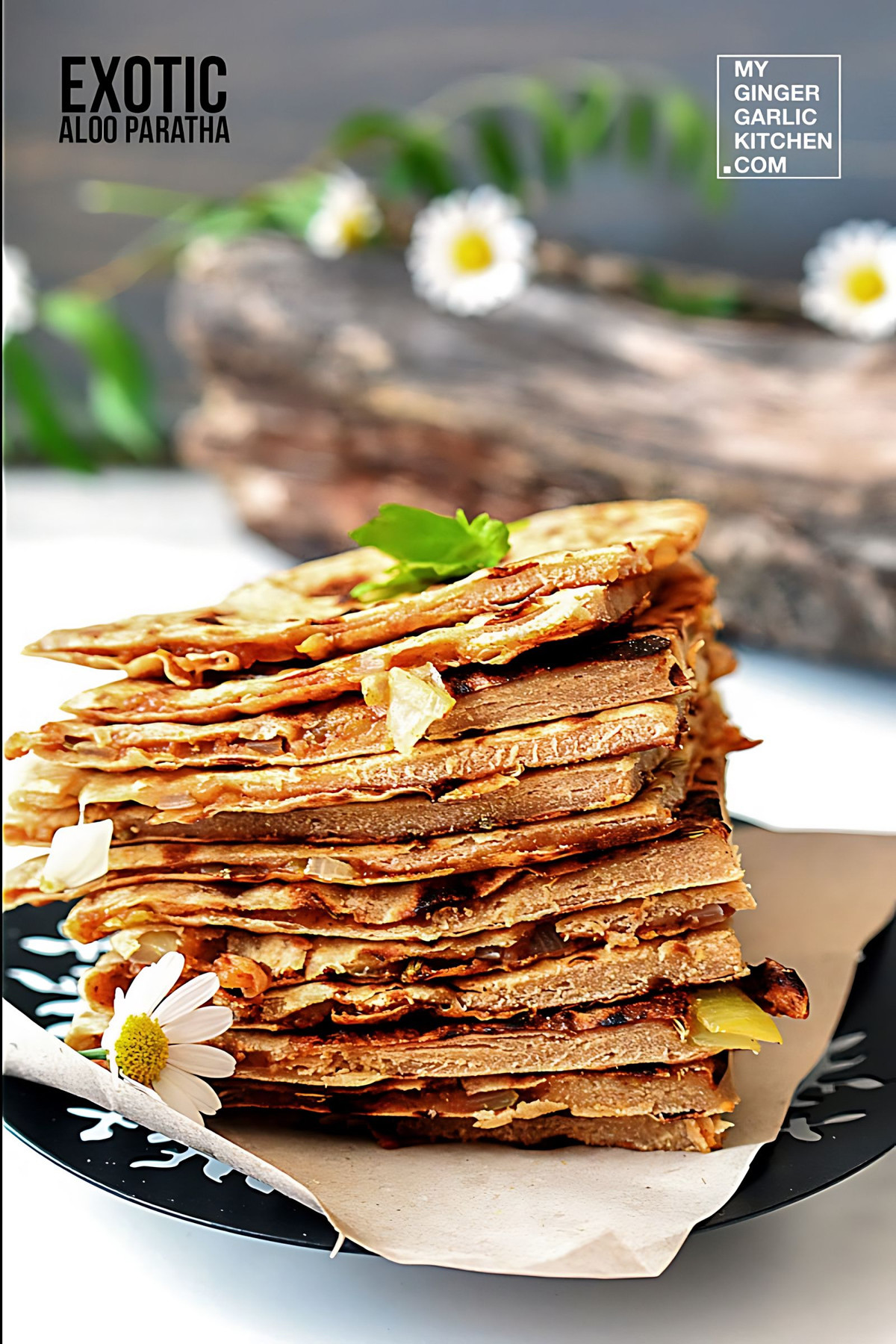 ---
Prep Time = 10 minutes
Cook Time = 20 minutes
Total Time = 30 minutes
Category = Breakfast
Cuisine = Indian
Serves = 8
Nutrition Info = 185 calories
Serving Size = 1 serving
---
RECIPE INGREDIENTS
» For The Dough //
2 cups whole wheat flour
1/4 teaspoon salt
Oil/ghee for roasting paratha
» For Stuffing //
4 large-sized potatoes, peeled & boiled
1 medium-szied onions, chopped
2-3 small-sizedgreen chillies, chopped
2 teaspoons dried mango powder / amchur powder
1/2 teaspoon garam masala powder
1/2 teaspoon chili powder
1/2 teaspoon cumin seeds
2 teaspoons fennel seeds
Salt to taste
---
RECIPE INSTRUCTIONS
» How to Make Aloo Paratha Dough:
Take a mixing bowl. Add all the dough ingredients, along with enough water. And knead well to make a semi-soft dough. Cover with cling film and keep aside. For Stuffing:
Take another mixing bowl. Add potatoes and mash coarsely.
Add chopped onions, chopped green chilies, and all the spices.
Mix well all the spices with mashed potatoes. Divide the potato mixture into 6-8 equal-sized balls.
» How to Make Aloo Paratha :
Divide the dough into 6-8 equal-sized balls.
Roll out one portion of the dough into a circle of 4 inch diameter.
Apply a little oil, and place one mixture ball in the center of the dough circle.
Bring together all the sides in the center and seal tightly.
Roll out again into a circle of 6 inch diameter with the help of some flour.
» How to Roast Aloo Paratha Dough:
Heat a pan and roast rolled circles from both sides.
Apply a little oil on both sides, and roast until golden brown.
Repeat with the remaining dough and filling to make more parathas.
Serve hot with your favorite pickle and raita.
---
RECIPE NOTES
No notes for this recipe.
---