Egg Bhurji
Egg Bhurji or Anda Bhurji is a spicy, delectable, and flavourful Indian version of scrambled eggs where eggs are scrambled with onion, tomato, and spices.
---
« Go back
Print this recipe »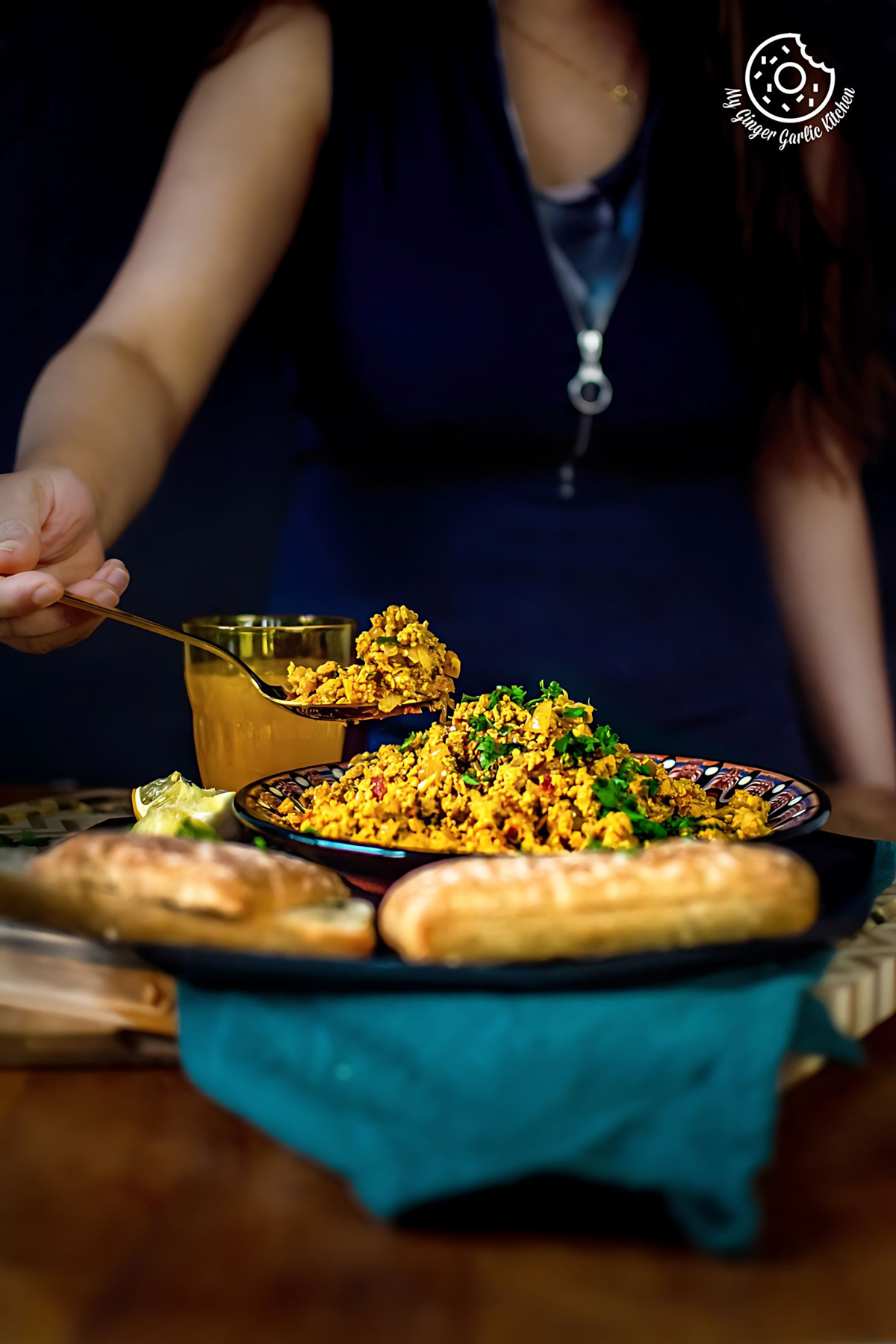 ---
Prep Time = 05 minutes
Cook Time = 10 minutes
Total Time = 15 minutes
Category = Side
Cuisine = Indian
Serves = 4
Nutrition Info = 165 calories
Serving Size = 1 serving
---
RECIPE INGREDIENTS
» For Egg Bhurji //
4 large Eggs
3 tablespoons oil (you can also use butter)
1 tablespoons butter
2 medium-sized onions, chopped finely
2 medium tomatoes chopped finely
2 green chilies, chopped finely
1-inch ginger, finely chopped or minced
1 teaspoon regular or Kashmiri red chili powder, or to taste
1/2 teaspoon turmeric powder
Salt, as per taste
1/4 teaspoon freshly ground black pepper
1/2 teaspoon turmeric powder
1.5 teaspoon pav bhaji masala
1/4 teaspoon garam masala powder
1 teaspoon tomato ketchup (optional)
» For Serving //
1 tablespoon chopped coriander leaves
2 lemon wedges
---
RECIPE INSTRUCTIONS
» How to make Egg Bhurji //
Break the eggs and add them to a mixing bowl. Whisk the eggs well.
Once the eggs are light and airy, season them with salt and black pepper powder. Whisk them again and keep them aside.
Heat a nonstick pan over medium heat and add 3 tablespoons of oil to it.
Once the oil is hot add onions and sauté them for 2 minutes.
Next, add chopped ginger, chopped green chilies and mix well. Sauté for 1 more minute.
After that add chopped tomatoes and stir well. Cook for 2 minutes.
Then add red chili powder, turmeric powder, and pav bhaji masala powder.
Mix everything well and cook for 2 more minutes.
Then add garam masala powder, salt to taste, and tomato ketchup. Mix everything well until combined.
Cook for 1 minute. Add butter and stir until butter is melted.
Now, turn the heat to medium-low and add whisked eggs.
Stir gently until the eggs are combined with onion-tomato mixture.
Once the eggs are combined start scrambling vigorously until eggs are cooked perfectly and the mixture breaks into pieces.
Turn off the heat. Transfer hot bhurji to ta serving bowl.
Garnish with chopped cilantro, and drizzle with freshly squeezed lemon juice.
Serve hot with lightly toasted bread, pav, roti or paratha.
---
RECIPE NOTES
For a richer taste, you can also add a dollop of butter at the time of serving.
Butter is highly recommended for this egg bhurji recipe. So do not skip the butter part.
I cooked egg bhurji in oil and added butter at the end. If you want, you can also cook it entirely in butter.
Make sure to lightly season your eggs while whisking. It escalates the taste of Egg Bhurji.
This is a hot version of Egg Bhurji and I added red chilies, red chili powder, pav bhaji masala, and garam masala powder. If you want it less hot then feel free to reduce the amount of masala powders. Or you can plainly omit red chili powder or green chilies.
---