Indian Style Curried Potato Cauliflower Naan Pizza
Learn to make Curried Potato Cauliflower Topped Naan Pizza with step-by-step video tutorial. This is an amazing blend of Indian flavors in an Italian way.
---
« Go back
Print this recipe »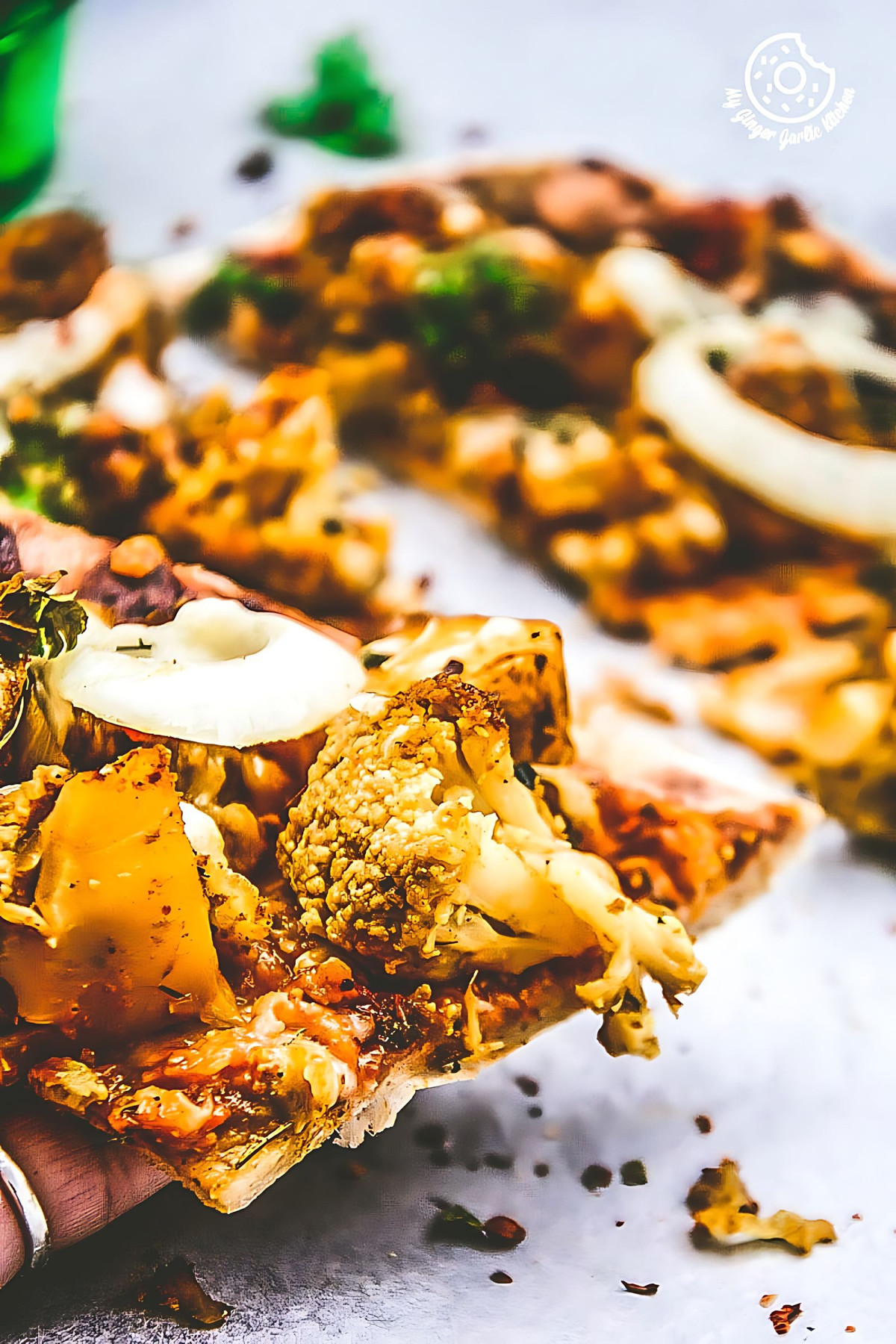 ---
Prep Time = 10 minutes
Cook Time = 40 minutes
Total Time = 50 minutes
Category = Main
Cuisine = Indian
Serves = 3
Nutrition Info = 350 calories
Serving Size = 1 Large Pizza
---
RECIPE INGREDIENTS
» For Naan //
2 cups all-purpose flour
1 teaspoon instant dry yeast
1 cup milk
1 teasooon oil
1/2 teaspoon salt
1/2 teaspoon sugar
Warm water to knead the dough
Some extra flour for rolling
» For Cauliflower Curry //
cauliflower florets
1 cup potato, diced
2 tablespoons cooking oil
1 medium-sized onion, chopped
1 teaspoon crushed ginger
1 tablespoon crushed garlic
1 teaspoon cumin seeds
1 bay leaf
1 teaspoon chili powder
2 teaspoons coriander powder
1/2 teaspoon turmeric powder
1/4 teaspoon garam masala powder
1 teaspoon lemon juice
1 tablespoon kasuri methi (dried fenugreek leaves)
Salt to taste
A pinch of asafetida
» For Pizza //
2 cups aloo gobi (cauliflower potato curry)
3 large naan
1/4 cup onion rings
5 tablespoons cilantro leaves
1 cup shredded mozzarella cheese
3 tablespoons pizza sauce
1 teaspoon pizza spices mix
1 teaspoon garlic powder
1 teaspoon chili flakes
---
RECIPE INSTRUCTIONS
» Making Naan:
In a bowl, dissolve the dry yeast, sugar, salt, oil with 3/4 cup warm water. Let it sit until it's frothy, it would take about 10 minutes.
Take a large bowl, and sift the flour into a large, deep bowl.
Add milk to the yeast mixture. Pour this mixture into the large flour bowl. Knead well until the dough comes together.
Don?t worry if the dough is sticky. This would make a nice soft naan. The dough should be sticky.
Cover the dough with plastic wrap or a damp tea towel and let it sit in a warm place for 1 to 2 hours.
At this stage, the dough will be extremely soft and sticky.
This is good! If the dough is hard to manage and sticks to hand too much then use a little bit of oil on hand and then punch into the dough. Separate the dough into 4-8 equal portions.
Set oven to broil on high.
Now lightly roll each one in the extra flour to keep them from sticking to each other.
Roll each piece of dough into a teardrop shape using a rolling pin.
Repeat this method with the rest of the dough.
Place the rolled naan on a baking tray.
Place this tray on an upper rack into the oven. Flip it after 2 mins. And let it cook for another minute.
If you are having this naan with curry, you can brush it with a bit of butter.
Place the naan in a tea towel-lined dish. Repeat the same process with the rest of the dough balls and serve.
But here, we will not apply butter as this one will be used as a pizza base.
» Making Cauliflower Potato Curry:
Add cauliflower florets and potatoes to a pan.
Add enough water and some salt to it, and let it boil for 5-7 minutes. Drain water and set aside.
Heat oil in another pan. Add asafetida, bay leaf, and cumin seeds.
When seeds start to crackle add chopped onions and saute till they turn light brown.
Add crushed ginger and crushed garlic and saute for 2 more minutes.
Now add boiled cauliflower florets, potatoes, coriander powder, chili powder, turmeric powder, salt, and garam masala powder.
Mix well and cook for 3-4 minutes.
Add lemon juice and Kasuri methi and mix well.
Cook covered for another 2 minutes and remove from heat.
Curry is ready. You can have this curry with the naans you have prepared.
» Making Curried Potato Cauliflower Naan Pizza:
Spread pizza sauce evenly over naan.
Sprinkle garlic powder and some pizza spice mix.
Layer with cauliflower curry. Top with cheese.
Preheated oven to 375° F.
Place prepared Naan on a baking tray and bake pizza in the oven for 5-10 minutes, or until cheese is totally melted, and the crust is golden brown. Remove from the oven.
Top with sliced onion and cilantro, and sprinkle some crushed red pepper. Slice and serve!
---
RECIPE NOTES
You can also top Curried Potato Cauliflower Naan Pizza with some spiced yogurt or raita.
---