Corn Cream Cheese Flatbread with Orange Vinaigrette
Corn Cream Cheese Flatbread with Orange Vinaigrette is a cheesy flatbread but different from pizza. It has all the goodness of cheese, fruits and veggies.
---
« Go back
Print this recipe »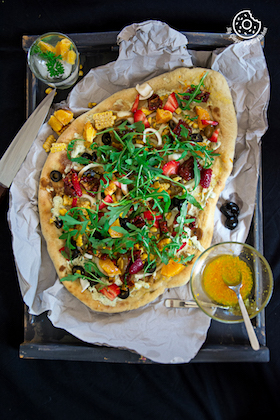 ---
Prep Time = 8 minutes
Cook Time = 10 minutes
Total Time = 18 minutes
Category = Main
Cuisine = World
Serves = 2-4
Nutrition Info = 162 calories
Serving Size = 1 serving
---
RECIPE INGREDIENTS
» For Grilled corn //
Sweet corn- 1
Garlic oil spray
Garlic powder
» For flatbread //
Homemade or store bought pizza dough, at room temperature - 250g ( I have used homemade)
Extra virgin olive oil - 2-3 tbsp
Himalayan sea salt - ¼ tsp
» For cream cheese pesto spread //
Cream cheese - 1 cup
Basil pesto - 1 tbsp
Honey - 1 tbsp
Parsley, chopped - ? cup
Ground pepper - 1 tsp
Himalayan sea salt to taste
» For orange vinaigrette
Olive oil - 4 tbsp
Fresh orange juice - ¼ cup
Ornage of - 1 tbsp
Apple cider vinegar - 1 tbsp
Ground pepper - 1 tsp
Salt to taste
» For toppings //
Grilled corn kernels, chopped, - ¼ cup
Onion sliced - ¼ cup
Olives, sliced - 2 tbsp
Sun-dried tomatoes - ¼ cup
Orange, cubed - ? cup
Pickled jalapenos - 2 tbsp or more if desired
Strawberry, sliced - ? cup
Pepper and salt for sprinkle
---
RECIPE INSTRUCTIONS
» For Grilled Corn //
Spray garlic oil on corn and sprinkle some garlic powder.
Grill the corn until it is smoky and charred.
Cut corn off the cob and set it aside.
» Making Flatbread //
Preheat the oven to 250°C. Roll the dough on a lightly floured surface until it is thin.
Grease a large baking tray with olive oil.
Transfer the dough to the prepared baking tray.
Brush with some olive and and sprinkle lightly with himalayan sea salt and pepper if you desire. Place the tray in the oven and bake for 8­-10 minutes or until the crust is crisp and golden.
» For Cream Cheese Pesto Spread //
Add cream cheese, pesto, honey, parsley, ground pepper and salt to mixing bowl.
Mix well until combined. Keep it aside. Also, in a small bowl, whisk together all of the orange vinaigrette ingredients, add salt to taste.
» Assembling //
Remove the flatbread from the oven and top with the cream cheese and pesto mixture.
Spread chopped corn. Add sliced onions, sliced olives, sun-dried tomatoes, pickled jalapenos, chopped orange slices and sliced strawberries.
Finally, top with arugula leaves.
And drizzle with orange vinaigrette! Sprinkle pepper and salt and enjoy!
---
RECIPE NOTES
No notes for this recipe.
---