Coconut Rose Modak
Coconut rose modak or nariyal gulab ke modak is a deliciously melt-in-mouth Indian sweet dish which has a stunning combo of rose and coconut flavors.
---
« Go back
Print this recipe »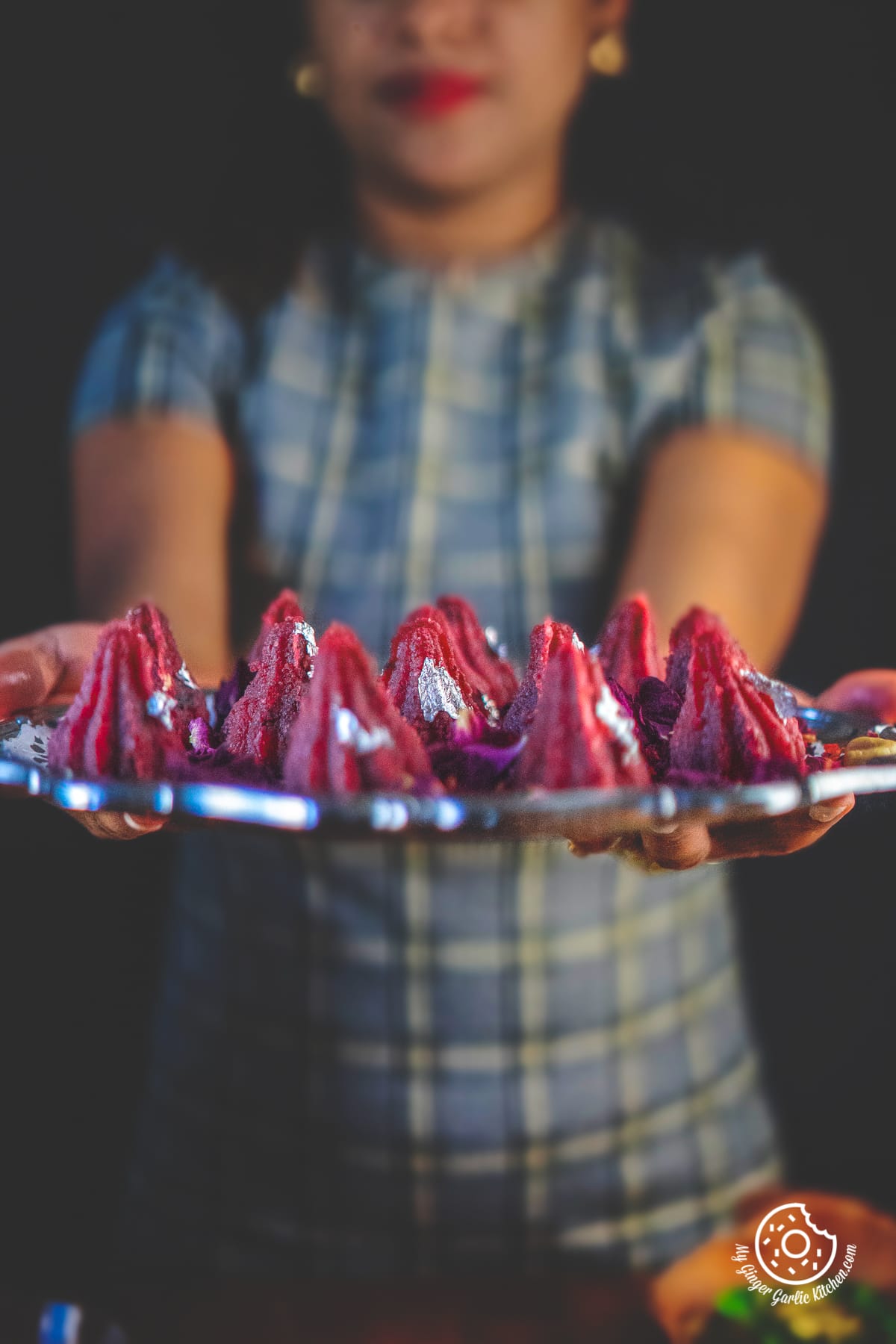 ---
Prep Time = 05 minutes
Cook Time = 25 minutes
Total Time = 30 minutes
Category = Dessert
Cuisine = Indian
Serves = 15-16 small modaks
Nutrition Info = 124 calories
Serving Size = 1 serving
---
RECIPE INGREDIENTS
» For Coconut Rose Modak //
1 cup regular milk (use coconut milk to make it vegan)
1 cup tightly packed unsweetened desiccated ground coconut (in a blender, ground coconut for a few seconds)
1 tablespoon any rose syrup (rooh-afza can also be used)
1/2 cup gulkand (rose petal jam or preserve)
2 tablespoons cashews (or any other nut), for stuffing
1 teaspoon cardamom powder (elaichi powder)
2 tablespoons + 1 teaspoon ghee (clarified) (use coconut oil for vegan version)
2 tablespoons sugar, or to taste
---
RECIPE INSTRUCTIONS
» Making Coconut Rose Modak //
First, make rose milk. To make it, add 1 cup milk and gulkand to a blender.
Blend until smooth. Keep it aside.
Heat 2 tablespoons ghee to a heavy-bottomed pan over medium-low heat.
Add unsweetened desiccated ground coconut and sauté in ghee until barely starting to smell fragrant which is about 1-2 minutes.
Now add rose milk, sugar to this and mix everything well to combine.
Next, add rose syrup and mix again.
Cook for 15-18 minutes. At first, the mixture will start out looking very loose and soupy, so cook until the coconut has absorbed all the moisture, comes together.
Now add Cardamom powder and mix well.
After that add 1 teaspoon of ghee and mix well to combine. Cook for 2-5 more minutes or it resembles mashed potatoes.
To test, take a tiny piece of mixture and roll between palms. If the mixture forms a non-sticky ball then it is ready.
Turn off the heat, and transfer the hot coconut rose mixture to a greased plate, and flatten it using a greased spoon. Keep it aside for 5 minutes.
You can dust your modak mould with icing sugar, or grease it with some melted ghee. This way you can easily pull out modaks from the mould.
Once the mould is ready for use, take mould and put some coconut rose mixture on both sides of the mould.
Using fingers, press down the mixture firmly to get a fine shape.
Add cashew, almond, or pistachio and close the mould.
Discard the excess mixture from the sides and the bottom. Seal the bottom by pressing it with fingers.
Gently open the mould.
Press it lightly from the bottom to take it out from the mould. Similarly, make all the coconut rose modaks until all the mixture is used up.
Arrange them on a serving plate, and garnish with edible silver leaves.
Now you can serve these delicious coconut rose modaks!
---
RECIPE NOTES
I have filled my modaks with a simple cashew. You can choose any other nut of your choice. And you can omit the nut part.
If you are into the more nutty filling, then add powder of some of your favorite nuts and mix them with honey or with a paste of juicy dates. Mix well and fill about 1/2 teaspoon of this mixture inside the modak.
To go overboard with fragrant and sweet rose flavors, you can also fill modaks with some gulkand.
To increase the floral notes for this modak you can add a splash of rose water, rose essence or kewra water the mixture. Once the mixture is cooked, add flower water and mix again.
To get a nice texture and a better hold of the mixture, I have powdered unsweetened desiccated coconut for this recipe. To make powder, add Use unsweetened desiccated coconut a blender and blend for a few seconds.
Be careful not to over-process the coconut, to avoid turning the coconut into the sticky buttery coconut.
Make sure to use unsweetened desiccated coconut for this recipe.
Gulakand and rose syrup both are sweet, so you really dont need any extra sweetener in this recipe. I added 2 tablespoons of sugar for this rose modak because I used homemade gulkand which was not overly sweet.
You might not get the same deep color. This is because the deep red-ish color of this modak is due to gulkand which had some beet juice. If you want similar color, then add about 1-2 teaspoons of fresh juice.
This recipe makes about 15 small modaks. But you can easily double or triple this recipe.
If the modak mixture is sticky after cooling, then apply some ghee to coconut rose mixture and knead for a minute or until you get the non-sticky texture.
These Coconut Rose Modaks can be stored in the refrigerator for up to 7-8 days, so you can easily make them ahead of time.
Make sure to cook the mixture on medium-low heat, or else it would burn. And the burnt mixture wont taste good.
I added ghee in two parts here. In the beginning for toasting coconut, and in the end for an enhanced caramelized flavor. The addition of the ghee at the end gives these modaks an enticing and enriched aftertaste, so it is highly recommended.
---