Aloo Shimla Mirch - Potato Bell Pepper Stir-Fry
Aloo Shimla Mirch or Classic Potato Bell Pepper Stir-fry is a simple, easy and delicious side dish for lunch or dinner. A perfect side for rice or flatbread.
---
« Go back
Print this recipe »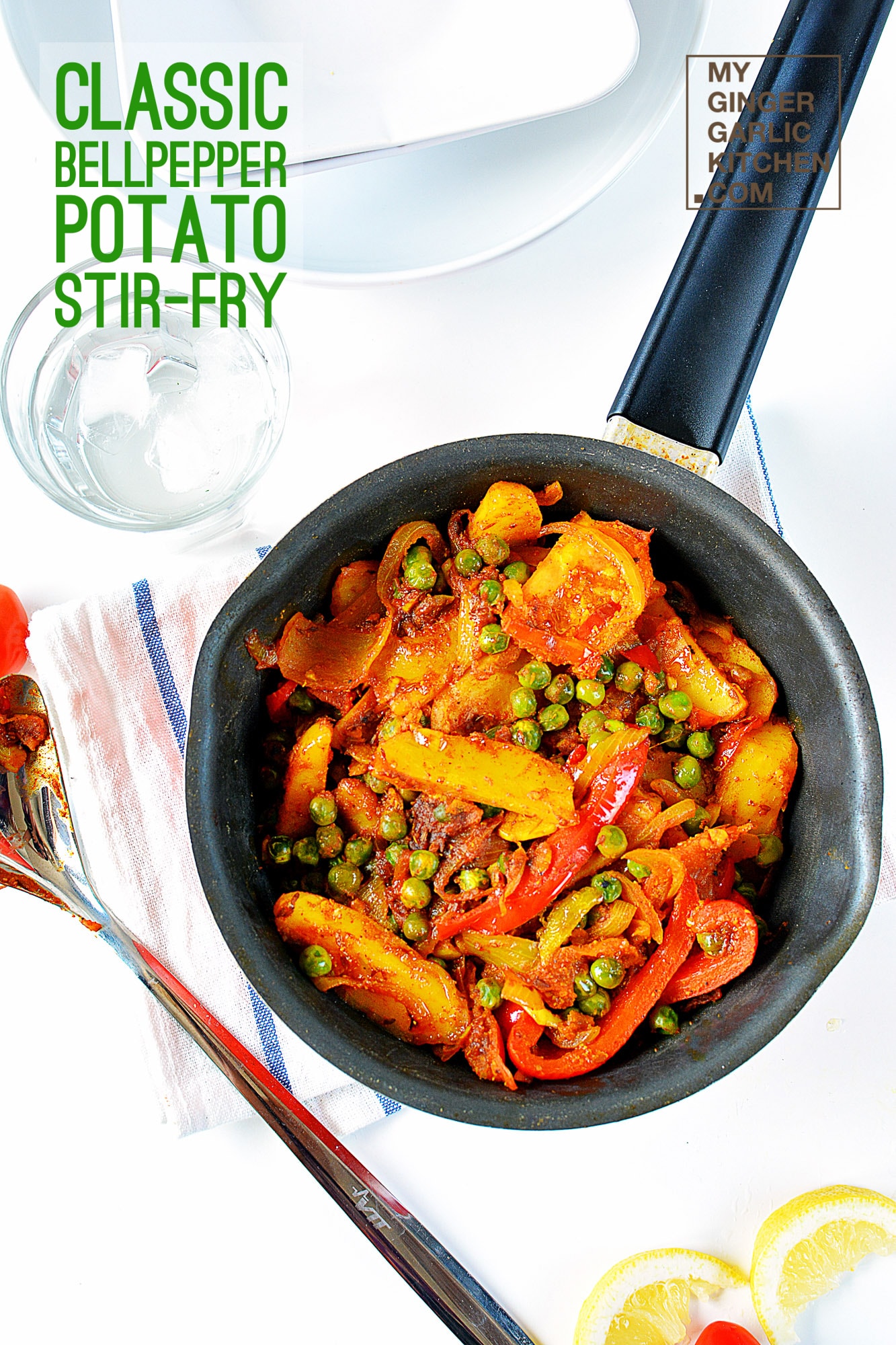 ---
Prep Time = 10 minutes
Cook Time = 20 minutes
Total Time = 30 minutes
Category = Side
Cuisine = Indian
Serves = 4
Nutrition Info = 317 calories
Serving Size = 1 Serving
---
RECIPE INGREDIENTS
» For Classic Potato Bell Pepper Stir-Fry //
2 medium-sized potatoes peeled and sliced
1 medium-sized bell pepper sliced
1 medium-sized onion sliced
1 medium-sized tomato sliced
1/2 cup green peas, boiled
1 teaspoon garlic, chopped
1 teaspoon ginger, chopped
1/2 teaspoon cumin seeds
1/2 teaspoon red chili powder
1/4 teaspoon turmeric powder
2 teaspoons coriander powder
1/4 teaspoon garam masala
1 fresh chili chopped (optional)
2 tablespoons olive oil
1 teaspoon lemon juice
Salt as per taste
---
RECIPE INSTRUCTIONS
» How to Make Potato Bell Pepper Stir-Fry //
Heat oil in a pan. Add cumin, and when they start to splutter, add sliced onions and sliced potatoes.
Cook for 3 minutes, and add salt, turmeric powder to it, and mix well.
Let them cook till potatoes are almost cooked. Add bell pepper, chopped chilies, and cook for 2 minutes. Now add coriander powder, chopped ginger, and cook for another 2 minutes.
Add tomato slices, chopped garlic, red chili powder. Mix and stir all the vegetables together for 2 minutes.
Now add green peas, garam masala powder and cook for 3 more minutes. Remove from heat and add lemon juice. Mix well, and serve with any of your favorite bread. Enjoy!
---
RECIPE NOTES
No notes for this recipe.
---