Chocolate Peanut Butter Banana Smoothie
This super creamy, cool, refreshing, and delicious Chocolate Peanut Butter Banana Smoothie is a perfect breakfast, snack, or a light guilt-free dessert.
---
« Go back
Print this recipe »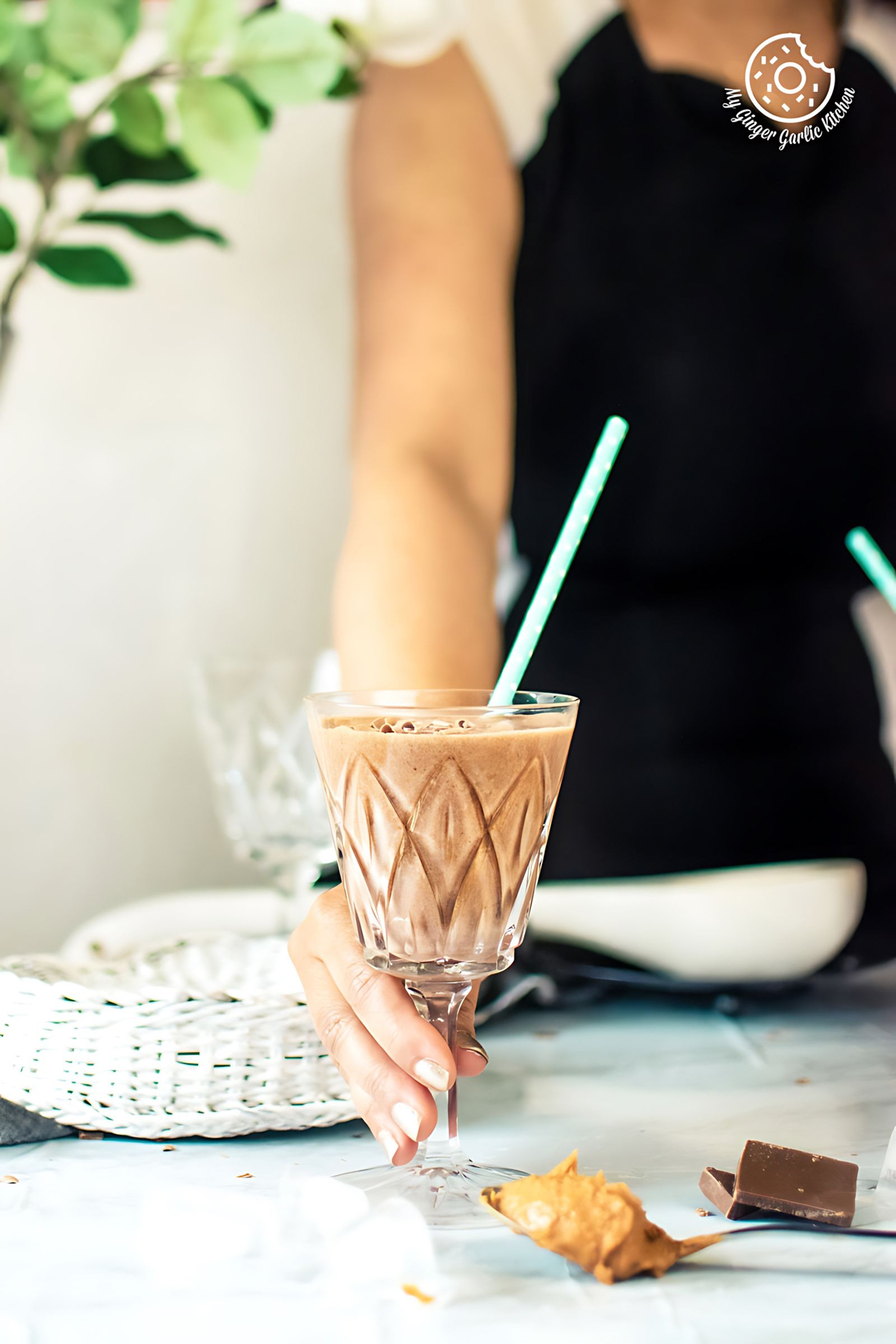 ---
Prep Time = 02 minutes
Cook Time = 03 minutes
Total Time = 05 minutes
Category = Breakfast, Snack
Cuisine = International
Serves = 2 Large
Nutrition Info = 370 calories
Serving Size = 1 serving
---
RECIPE INGREDIENTS
» For Chocolate Peanut Butter Banana Smoothie //
2 large sized bananas, sliced
2 tablespoons smooth peanut butter salted
2 tablespoons Greek-style yogurt, plain (or use coconut, almond yogurt)
1 teaspoon vanilla extract
1 tablespoon unsweetened cocoa powder or cacao powder
3/4 cup Ice cubes
1 & 1/2 cups almond milk (or any other milk of your choice)
» For serving // (optional)
chocolate shavings or chocolate chips
---
RECIPE INSTRUCTIONS
» How to make Chocolate Peanut Butter Banana Smoothie //
Place the bananas, milk, yogurt, peanut butter cocoa powder, and vanilla in a blender or a food processor and blend until creamy and smooth. Taste and adjust flavors, by adding some sweetener, or cacao, peanut butter or milk, if if required.
Pour into tall glasses, and top with some chocolate shavings.
Serve and enjoy!
---
RECIPE NOTES
This smoothie recipe makes 2 large smoothies or 4 small smoothies.
Add a pinch of salt to the smoothie, if using unsalted peanut butter.
I do not add sweetener to this smoothie, but feel free to add some honey, maple syrup, agave, dates, or any other sweetener of your choice.
If you have peanut allergies then you can substitute peanut butter with almond butter, cashew butter, or pecan butter.
Add some quick oats or rolled oats to make chocolate peanut butter banana oat smoothie. You can also use rolled oats. Just coarsely pulse them before making smoothies.
---