Chocolate Lassi Egg Cups
These tiny egg shells are filled with chocolate lassi, topped with some whipped cream and cocoa powder. A perfect tiny treat to celebrate Easter.
---
« Go back
Print this recipe »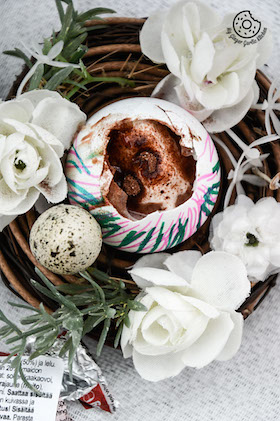 ---
Prep Time = 2 minutes
Cook Time = 2 minutes
Total Time = 4 minutes
Category = Dessert
Cuisine = Indian
Serves = 6
Nutrition Info = 293 calories
Serving Size = 1 serving
---
RECIPE INGREDIENTS
» For Chocolate Lassi Egg Cups
Empty egg shells, washed and dried - 6 (try to break eggs only quarter from top, so that you will get large cup to fill in)
Whole milk - ? cup
Ground cinnamon - ¼ tsp
Ground cardamom - ¼ tsp
Nutella - 1 tbsp
Milk chocolate, melted - 2 tbsp
Creamy yogurt, chilled - ¾ cup
Maple syrup - 2 tbsp cocoa powder for serving - 1 tsp
Whipped cream for serving
---
RECIPE INSTRUCTIONS
» How to Make Chocolate Lassi Egg Cups //
Take a bowl. Add melted chocolate and Nutella to it.
Mix well. Add yogurt, milk, maple syrup, ground cinnamon, ground cardamom.
Using a hand blender blend well until smooth and frothy.
Pour the lassi into eggshells. Keep the egg cups in the refrigerator for 1 hour. Top with some whipped cream, and sprinkle with some cocoa powder. Enjoy!
---
RECIPE NOTES
No notes for this recipe.
---