Easy Chocolate Covered Grapes
Chocolate Covered Grapes are luscious, and scrumptious desserts. They are super simple to make, look appealingly appetizing, and the taste is delicious.
---
« Go back
Print this recipe »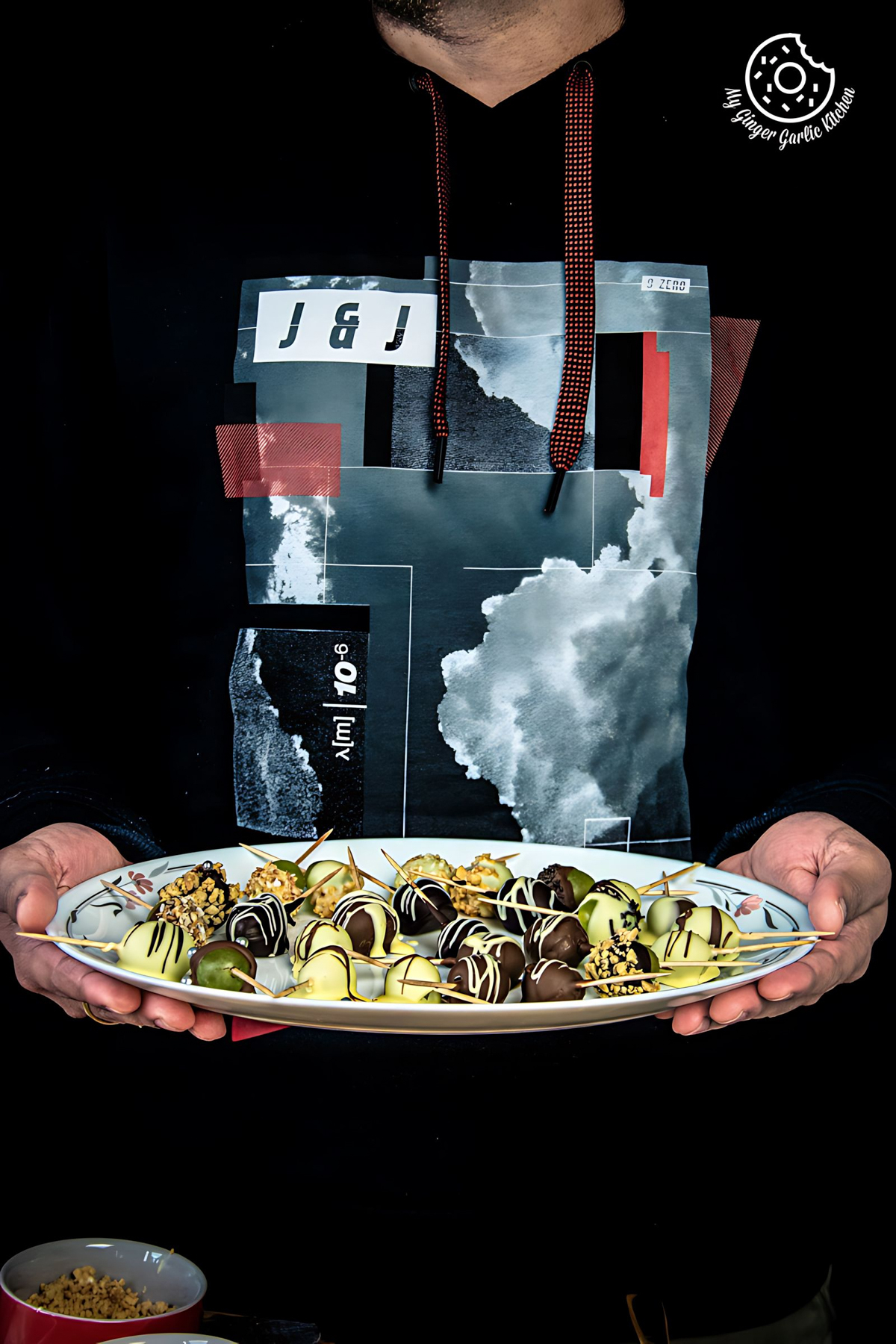 ---
Prep Time = 30 minutes
Cook Time = 10 minutes
Total Time = 40 minutes
Category = Dessert
Cuisine = Europen
Serves = 1
Nutrition Info = 37 calories
Serving Size = 1 serving
---
RECIPE INGREDIENTS
» For Chocolate Covered Grapes //
400 grams grapes (any grapes of your choice)
100 grams chocolate (milk, dark 80%, milk) each, or any other chocolate of your choice
» For Toppings //
A handful of crushed, salted peanuts (you can also use almonds or cashews)
A handful of sprinkles of your choice (I have used chocolate nibs and silver sugar pearls)
3-4 tablespoons of toasted coconut
» Equipment //
---
RECIPE INSTRUCTIONS
» Preparation //
Rinse grapes and let them dry completely. Put toothpicks into the grapes. Now, chill them in the refrigerator for about 30 minutes.
Line 2 trays with parchment paper and keep them aside.
» Melt chocolate //
Break each chocolate into pieces, and transfer them to a microwave-safe bowl.
Microwave at high for 1 minute or until melted. Keep stirring at 30-second intervals. Alternatively, place the chocolate in a small double boiler and heat until fully melted. It would take about 5 minutes.
» How To Make Chocolate Covered Grapes //
Dip the grapes in the chocolate and shake off the excess chocolate.
Top with your favorite toppings. Repeat until all the grapes are used.
Arrange them on the lined tray and refrigerate for 30 minutes or until set.
Alternatively, dip grapes entirely in the chocolate and then place them on the lined tray in a single layer. After that, drizzle them with melted chocolate. Chill in the refrigerator for 30 minutes or until set.
They taste best when served cold. These stay firm, and fresh in the refrigerator.
---
RECIPE NOTES
You can add 1 teaspoon of coconut oil or butter to each chocolate while melting. This would give you a firm coating.
For an interesting presentation, you can also dip the small bunch of grapes entirely in chocolate.
Make sure to rinse and dry grapes well completely before dipping them in the chocolate. This would ensure that the chocolate would coat to the grapes well.
These stay fresh in the refrigerator for up to 3-4 days.
These last for up to 3-4 months when kept in the freezer.
---