Carrot Zucchini Rice Pilaf Recipe
A few mouthful of this flavorsome carrot zucchini pilaf with natural plain yogurt, that is all you need to make a complete, comfy and cozy meal.
---
« Go back
Print this recipe »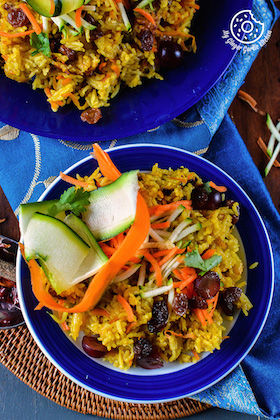 ---
Prep Time = 10 minutes
Cook Time = 30 minutes
Total Time = 40 minutes
Category = Main
Cuisine = Indian
Serves = 4
Nutrition Info = 244 calories
Serving Size = 1 serving
---
RECIPE INGREDIENTS
» Carrot Zucchini Rice Pilaf Recipe:
1 cup basmati rice (soaked at least for one hour in water)
2 cups hot water
1 cup grated carrot
1 cup grated zucchini
Salt as per taste
1/2 cup tomatoes, chopped
1/2 cup onion chopped
2 tablespoons garlic, grated or finely chopped
4 pods green cardamom (hari elaihci)
2 pods black cardamom (moti elaichi)
1 inch cinnamon stick (dalchini)
1 star anise (chakraphool)
2 dried red chili (sukhi lal mirch)
1 teaspoon cumin seeds (jeera)
2 teaspoons curry powder
1/4 teaspoon garam masala powder
1/2 teaspoon red chili powder (you can also use cayenne pepper)
1 tablespoon coriander powder
2 tablespoons raisins
1/4 cup grapes (I used purple)
2 tablespoons oil (I used olive oil)
1 tablespoon ghee (clarified butter), optional
---
RECIPE INSTRUCTIONS
» How to Make Carrot Zucchini Pilaf:
Heat oil in a heavy bottom pan.
Add cumin seeds, green cardamom, cinnamon stick, dried red chili, black cardamom, and star anise.
Saute for a few seconds or until they start to splutter.
Add chopped onions, chopped garlic, and saute for 3-4 minutes.
Now add tomatoes, green chilies and saute for 3-4 minutes.
Add grated carrot, grated zucchini, salt, and saute for 5 minutes.
Add curry powder, red chili powder, garam masala powder, and mix well to combine.
Add drained rice, and 2 cups of water. (Use boiling water for faster cooking).
Mix well, and let the water come to boil.
Once boiling, cover the pan with a lid and cook on low flame for about 10 minutes or until the rice is well cooked. Do not overcook the rice.
Then drizzle 1 tablespoon of clarified butter on top, if you want.
Garnish with coriander leaves, grapes, raisins, and fresh salad.
Serve hot with raita and some pickle.
---
RECIPE NOTES
No notes for this recipe.
---