Sago Pudding with Blueberry Sauce
Candied Sago Pudding With Blueberry Sauce is a super tasty, beautiful, and excellent pudding. Made with sago, milk, sugar and flavoured with blueberry sauce.
---
« Go back
Print this recipe »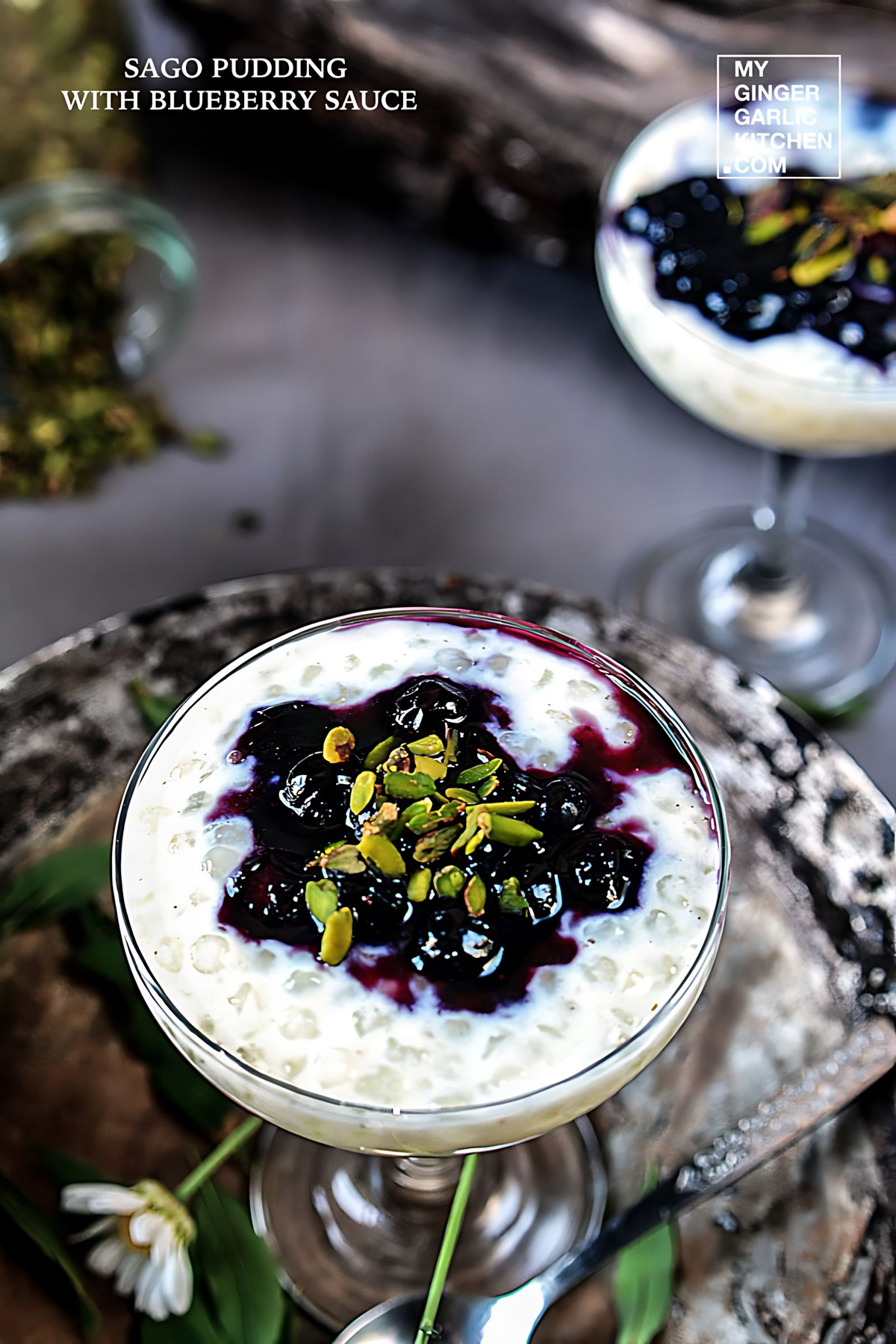 ---
Prep Time = 5 minutes
Cook Time = 20 minutes
Total Time = 25 minutes
Category = Dessert
Cuisine = Indian
Serves = 4
Nutrition Info = 288 calories
Serving Size = 1 Serving
---
RECIPE INGREDIENTS
» For Blueberry Sauce //
fresh blueberries - 2 cups
sugar - ¼ cup
lemon juice - 2 tbsp
cornstarch - 1 tbsp
vanilla extract - ½ tsp
» For sago pudding //
sabudana (sago or tapioca pearls) - 1 cup
milk - 2 cups
sugar - 1/4
cardamom powder - 1 tsp
---
RECIPE INSTRUCTIONS
» Making Blueberry Sauce //
Take a mixing bowl. Add cornstarch & lemon juice to it and whisk well to create a quick slurry.
Heat a medium saucepan. Add blueberries, sugar and cook over medium heat for a couple of minutes, or until the berries start to release their juices and break down slightly.
Add the lemon juice-cornstarch slurry, vanilla extract and bring to a boil.
Reduce heat and cook on low heat for a minute , or until the blueberry mixture starts to thicken. Remove from heat and keep aside to cool off completely.
» Making Sago Pudding//
Wash and soak the sabudana covered in 1 1/2 cups of water for about 40-50 minutes. Drain extra water, and cover with a film. Keep aside for about 30 minutes.
Heat a pan. Add milk to it, stir constantly until it comes to boil. Once milk has boiled, add sago and cook on medium heat for 3 minutes, or till sago turns translucent. Do not overcook.
Add sugar, and cardamom and let it cook for another 4-5 minutes. Remove from heat and keep aside.
» Serving //
Take 4 serving glasses. Pour about 2 tbsp of blueberry sauce into each glass. Cover each glass with sago pudding. And top with with some blueberry sauce. Garnish with chopped pistachios.
Refrigerate for 5-6 hours or overnight. Serve chilled, and enjoy!
---
RECIPE NOTES
No notes for this recipe.
---