Bhel Puri (Step-By-Step Video Recipe)
Bhel Puri is a popular street food from Mumbai. This sweet, spicy & sour-tasting chaat is made with puffed rice, papdi, peanuts, veggies, chutneys, and sev.
---
« Go back
Print this recipe »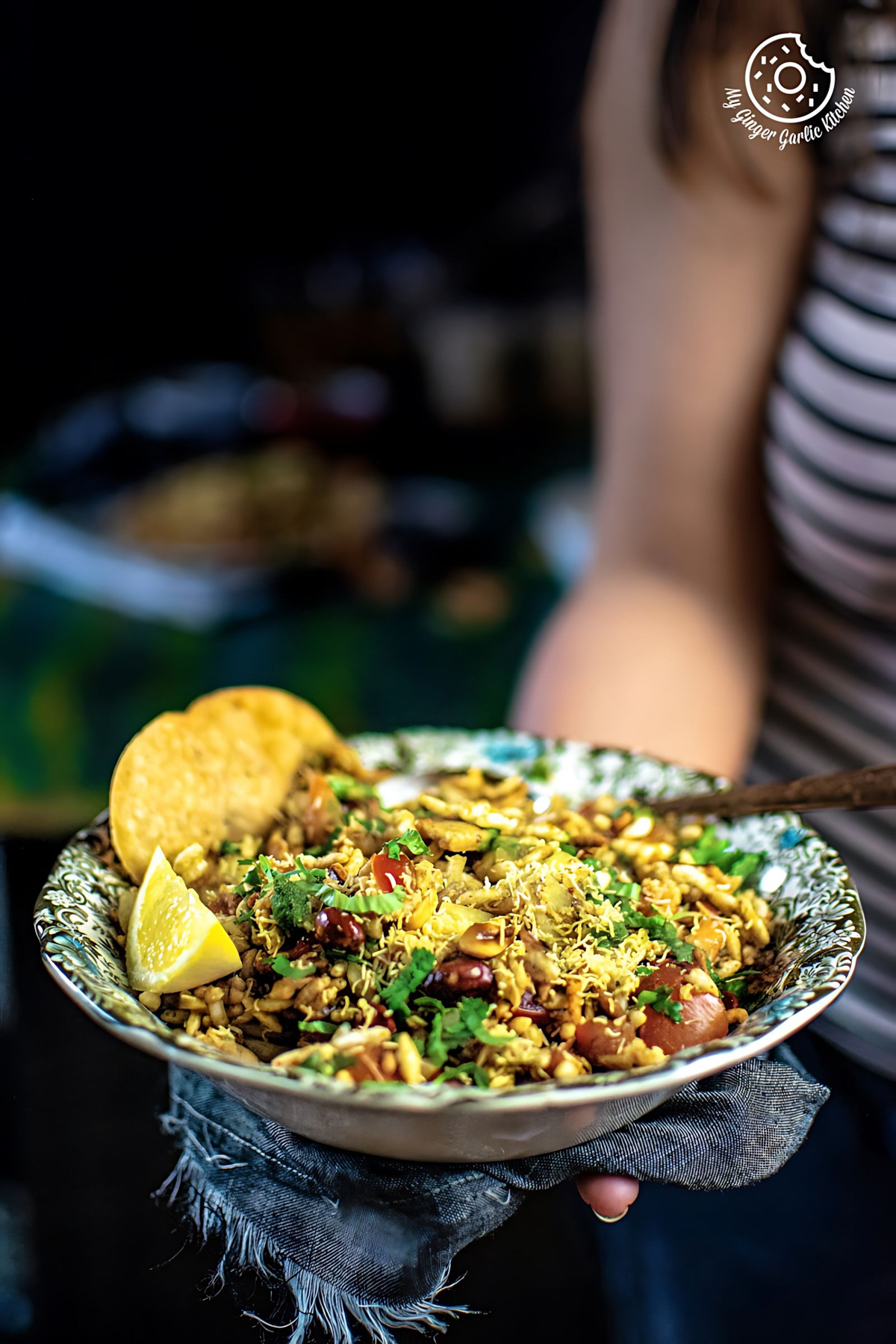 ---
Prep Time = 10 minutes
Cook Time = 05 minutes
Total Time = 15 minutes
Category = Snack
Cuisine = Indian
Serves = 4
Nutrition Info = 135 calories
Serving Size = 1 serving
---
RECIPE INGREDIENTS
» For Bhel Puri //
2.5 cups puffed rice (murmura, parmal)
1/4 cup peanuts (fried or roasted)
1/2 cup potatoes boiled, peeled, and chopped into small cubes
1 large onion, finely chopped
1 large tomato, finely chopped
4 tablespoons fresh coriander leaves, finely chopped
2 teaspoon finely chopped green chilies (or as per taste)
Tamarind chutney to taste
Mint coriander chutney to taste
5-6 papdis (fried salted wafers / crackers)
1/3 cup sev and moti sev (fried gram flour crunchy noodles snack) (easily available at Asian grocery stores)
1/4 cup nylon sev (available at Asian grocery stores)
Salt to taste
1/2 tsp Red Chilli Powder
1 tsp Chaat Masala
2 tbsp Lemon Juice or add as required
» For Garnishing //
2-3 tablespoons nylon sev
chopped coriander (cilantro) leaves
1 tablespoon Fried peanuts
---
RECIPE INSTRUCTIONS
» How to make Bhelpuri //
In a large mixing bowl, add chopped onions, chopped tomatoes, chopped green chilies, chopped coriander leaves, salt, red chili powder, chaat masala powder, boiled and cubed potatoes, lemon juice, tamarind chutney, and mint coriander chutney. (Add chutneys according to your taste preferences).
Mix everything well to combine.
Next, add puffed rice, and sev.
Break 5-6 papdis into pieces and add to the same mixing bowl.
Also, add roasted or fried peanuts and nylon sev to the mixing bowl.
Toss everything well.
Transfer the bhelpuri in serving bowls.
Garnish with coriander leaves, nylon sev, papdis and peanuts.
Serve immediately along with a lemon wedge. Enjoy!
---
RECIPE NOTES
Make sure to serve the bhel puri immediately, because it tends to get soggy due to wet ingredients like chutneys and tomatoes. Soggy bhelpuri doesnt taste good. So be quick when serving bhelpuri.
For making bhel puri you can use homemade papdi or store-bought papdi. Both taste good here.
---