Bharwa Shimla Mirch - Potato Stuffed Bell Peppers
Bharwa Shimla Mirch Recipe | Stuffed Bell Peppers | Stuffed Capsicum Recipe is a flavourful Indian style side dish cooked using a spicy potatoes filling.
---
« Go back
Print this recipe »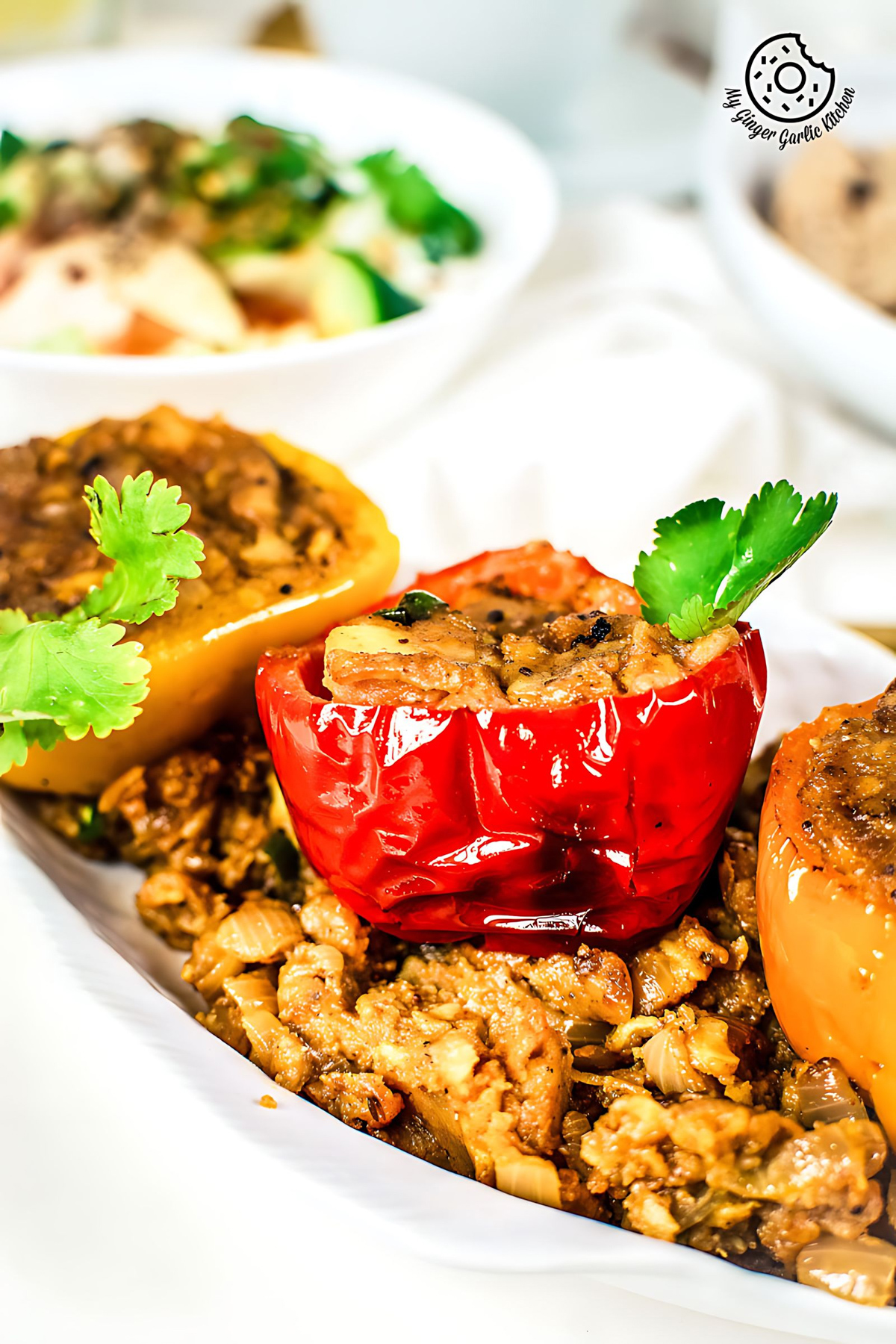 ---
Prep Time = 15 minutes
Cook Time = 25 minutes
Total Time = 40 minutes
Category = Side
Cuisine = Indian
Serves = 5-6
Nutrition Info = 185 calories
Serving Size = 1 piece
---
RECIPE INGREDIENTS
» For Bharwa Shimla Mirch/stuffed Capsicum/stuffed Bell Peppers:
4 medium potatoes, boiled, halved and peeled
3 large, bell peppers (you can choose any color)
1 cup onions, chopped
2 green chilies, chopped
1 teaspoon cumin seeds (jeera)
1 teaspoon mustard seeds (rai)
3 tablespoons + 1 tablespoon oil
1 teaspoon red chili powder (lal mirch powder)
1/4 teaspoon turmeric powder (haldi powder)
1 1/2 teaspoons amchoor powder (dried mango powder)
1/4 teaspoon garam masala powder
Salt to taste
---
RECIPE INSTRUCTIONS
» Cut Capsicum/Shimla Mirch/Bell Peppers:
Slice the capsicums/peppers into half and cut out the stems from the tops.
Cut the core from the inside of the peppers and strip away any seeds.
Rinse them in water and pat dry with a kitchen towel. Set it aside.
» Make Stuffing:
Mash or grate the boiled potatoes, set them aside.
Heat 3 tablespoon oil in a broad pan over medium heat.
Add mustard seeds and cumin seeds.
Once the seeds start to crackle add the chopped green chilies and saute for 1 minute.
Add the chopped onions and saute for 3-4 minutes, do not overcook, we want slightly crunchy onions.
Add mashed potatoes, red chili powder, turmeric powder, garam masala powder, amchoor powder, and salt to taste.
Mix everything well to combine.
Cook on medium heat for 5 minutes. Turn off the heat.
Transfer the potato mixture onto a plate, and let it cool off completely.
» Stuff Shimla Mirch/Capsicum:
Spoon the hollowed capsicum/shimla mirch with potato mixture. Press tightly with a spoon, to make sure that stuffing doesn?t come out while cooking.
» Cook Shimla Mirch/Capsicum In a Pan:
Heat 1 tablespoons oil in a pan. Add the stuff capsicums to the pan and shake the pan slightly to make sure that all the capsicums are coated well with oil.
Cover the pan with a lid and cook over medium heat for 7-8 minutes.
Open the lid. Flip the capsicum and cook cover for 7-8 minutes.
Cover the pan, and cook for 7 more minutes or until the capsicum is cooked through.
Do a knife test by inserting a knife on the sides of capsicum, if it slides easily that means the capsicum is done.
Add the remaining masala and sauté for few more minutes.
For serving, first, arrange the masala on a serving platter.
Place stuffed capsicum on the bed of potato mixture.
Garnish with coriander leaves and serve this bharwa shimla mirch/stuffed capsicum hot as a side dish along with roti or paratha.
» Alternatively Bake Shimla Mirch/Capsicum In an Oven:
Preheated oven to 375°F/190°C.
Simply brush the stuffed bell peppers with oil.
Arrange them in a baking pan.
Bake in 375°F/190°C preheated oven for 25-30 minutes or until the peppers are tender. If you want the brown spots, then after 30 minutes, turn the oven to broiler settings and broil on high for 2-3 minutes.
---
RECIPE NOTES
If you want to skip stir-frying the potatoes, then you can stuff capsicum with raw potato mixture.
To prevent capsicum/pepper from burning, keep stirring them frequently.
Capsicum takes some time in cooking, so keep flipping and cooking them from all the sides until they are tender and well-cooked from all the sides.
I chose 3 different colors of Capsicum for this recipe, but you can surely choose any color you like.
If the peppers have an unbalanced bottom, then you can also cut away a very thin slice of pepper from the bottoms so the peppers can stand upright.
Also, you can poke about some tiny holes in the bottoms to let juices drain out.
I like to serve this bharwa shimla mirch with extra potato mixture. But, if you don?t want extra stuffing use only 2 large potatoes.
---