Beet Potato Peas Patties
Beet Potato Peas Patties are delicious, healthy and colorful snacks made with beetroot, boiled potatoes, green peas, spices, and herbs. A perfect light meal.
---
« Go back
Print this recipe »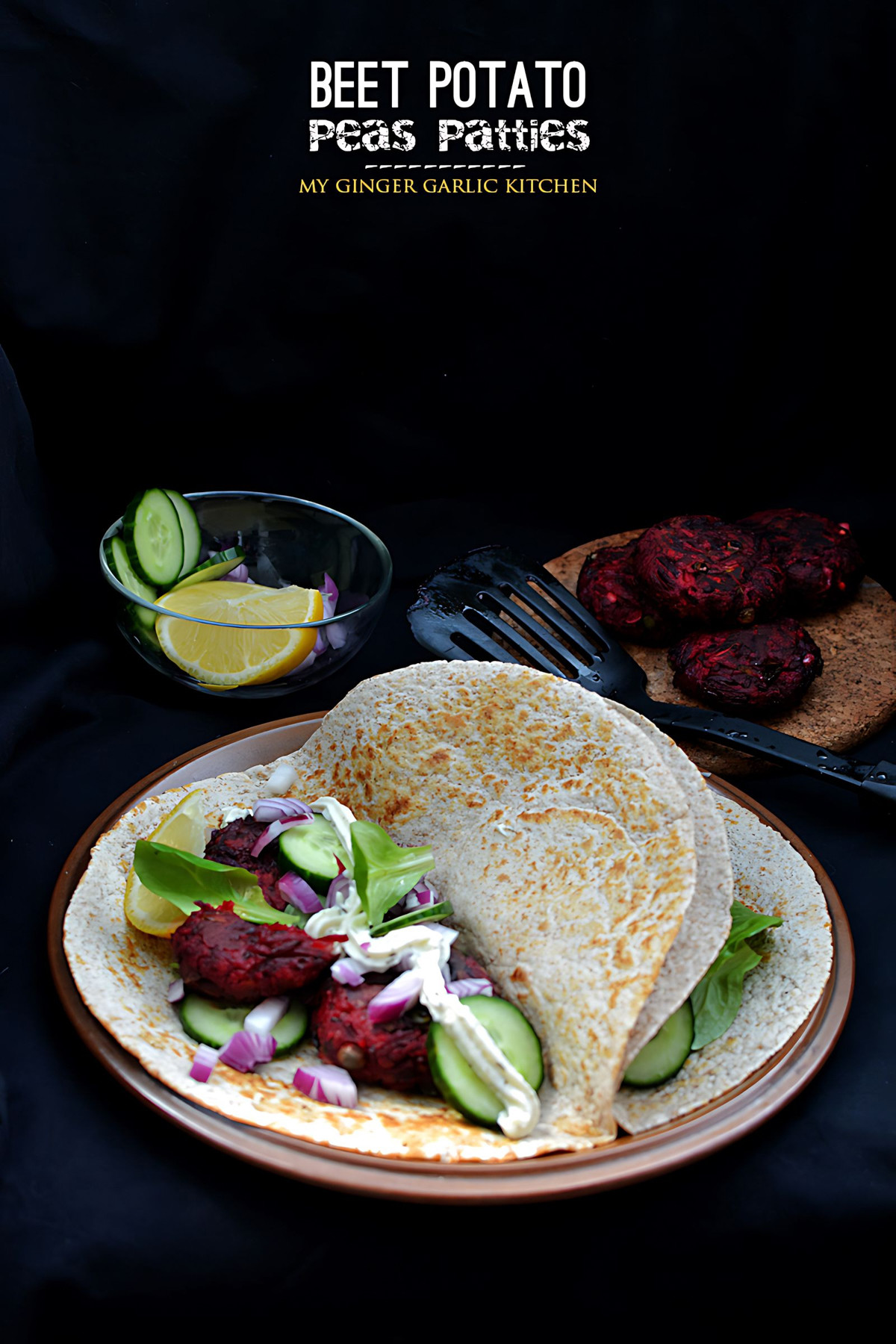 ---
Prep Time = 10 minutes
Cook Time = 25 minutes
Total Time = 35 minutes
Category = Snack
Cuisine = Indian
Serves = 16 cutlets
Nutrition Info = 56 calories
Serving Size = 1 Cutlet
---
RECIPE INGREDIENTS
» For Beet Potato Peas Patties //
2 cups beetroots, grated
4 medium-sized boiled potatoes
1 medium-sized onion, chopped
1 tablespoon garlic, crushed
1 tablespoon ginger, finely chopped
1 cup peas
Pinch of asafetida
1 teaspoon black pepper powder
1/2 teaspoon garam masala powder
2 small-sized green chilies, finely chopped
1/4 cup bread crumbs
Salt as per taste
Oil for roasting
» For serving //
1 medium-sized red onion, chopped for serving
1 small-sized onion cucumber, sliced for serving
Roasted tortillas or breads for serving
4-5 lemon slices
---
RECIPE INSTRUCTIONS
» How to Make Beet Potato Peas Patties //
Take a large mixing bowl. Add all the ingredients except oil to it. Mix well, and shape into small rounds balls, and flatten them to make patties.
Keep these patties in the refrigerator for about 20 minutes.
Preheat oven at 200°F/400°C.
In a flat pan, heat 2 tbs oil and fry the patties in medium heat for about 4 minutes on each side.
Transfer patties onto a baking sheet and bake for about 15 minutes. Remove from oven.
» For Serving //
Spread hot roasted tortilla on a flat surface. Add some of your favorite dressings.
Add cucumber slices, herbs, and chopped red onion. Top with the sizzling beet potato peas patties.
Squeeze over some lemon juice. Roll up and patties ready to eat.
You can use these patties as sandwich filling, or simply have them with your favorite dip. Enjoy!
---
RECIPE NOTES
No notes for this recipe.
---