Banana Chocolate Muffins
Banana Chocolate Muffins with wheat Flour is the healthier version of usual banana chocolate muffins. These delicious no-mess muffins are easy to make.
---
« Go back
Print this recipe »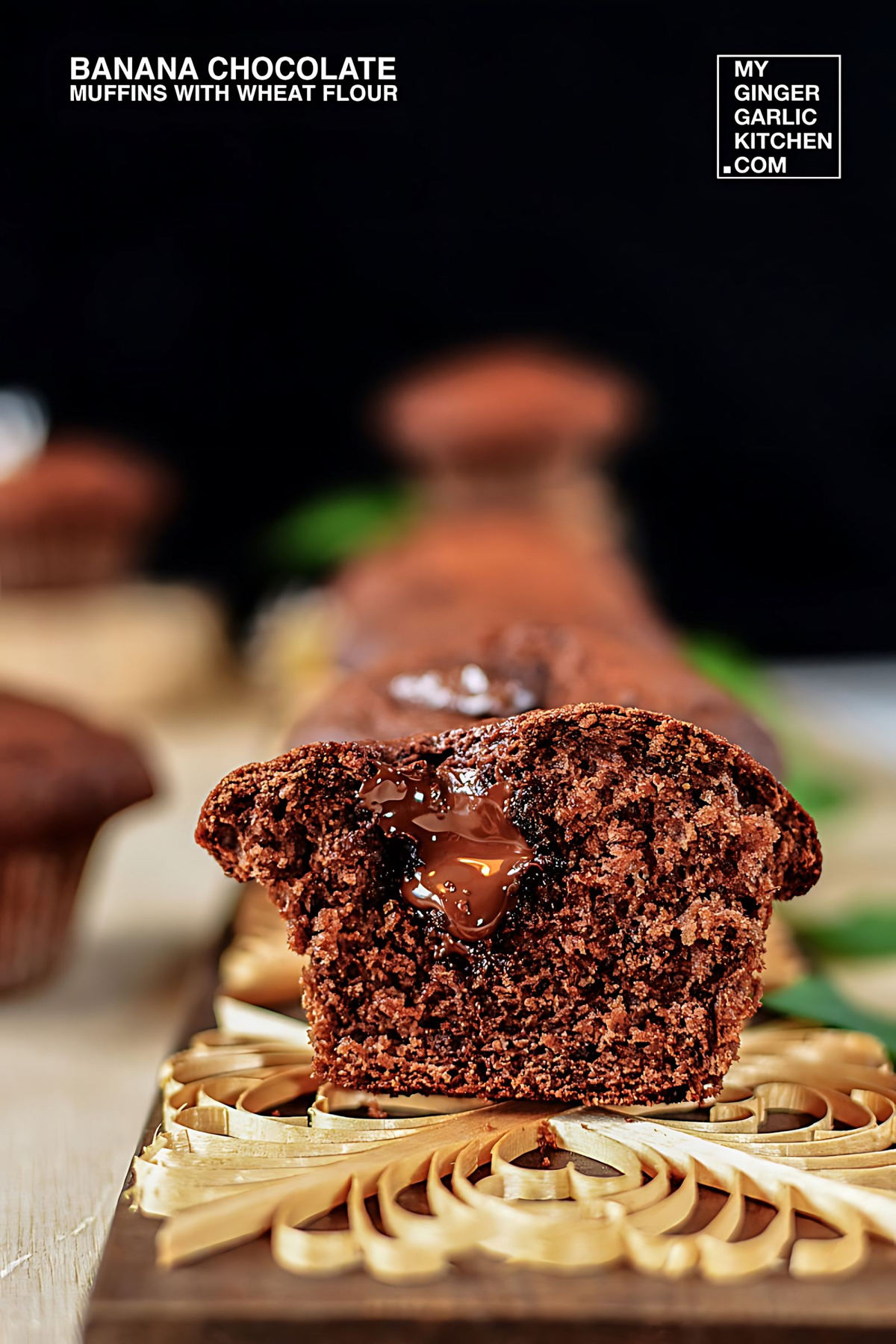 ---
Prep Time = 10 minutes
Cook Time = 25 minutes
Total Time = 35 minutes
Category = Dessert
Cuisine = World
Serves = 6
Nutrition Info = 183 calories
Serving Size = 1 serving
---
RECIPE INGREDIENTS
» For Banana Chocolate Muffins
All-Purpose Flour - ½ Cup
Wheat Flour - ½ Cup
Baking Soda - ¾ Tsp
Baking Powder - ¾ Tsp
Salt - ½ Tsp
Sugar - ¾ Cup (Or As Per Taste)
Ripe Bananas, Mashed - 3
Egg, Lightly Beaten - 1
Cup Vegetable Oil - ? Cup
Vanilla Essence- ½ Tsp
Cocoa Powder - ½ Cup
Baking Chocolate For Topping
---
RECIPE INSTRUCTIONS
» How to Make Banana Chocolate Muffins //
Preheat oven to 375° F/ 190° C. Line muffin tray with liners.
In a bowl, mix flour, baking powder and baking soda, and cocoa powder.
In another bowl, mix bananas, sugar, egg and oil, and vanilla essence.
Gradually add the flour mixture into the banana mixture and whisk well.
Evenly distribute the batter into muffin pan. Add some baking chocolate bars on top.
Bake for 20-25 minutes or until muffins are golden and a toothpick inserted into the center comes out clean.
Allow them to cool for few minutes.
Remove from pan, and enjoy with your favorite coffee or tea.
---
RECIPE NOTES
No notes for this recipe.
---