Banana Chai Cake
Banana Chai Cake is a fruity spicy cake filled with delectable flavour of tea. A perfect recipe for breakfast.
---
« Go back
Print this recipe »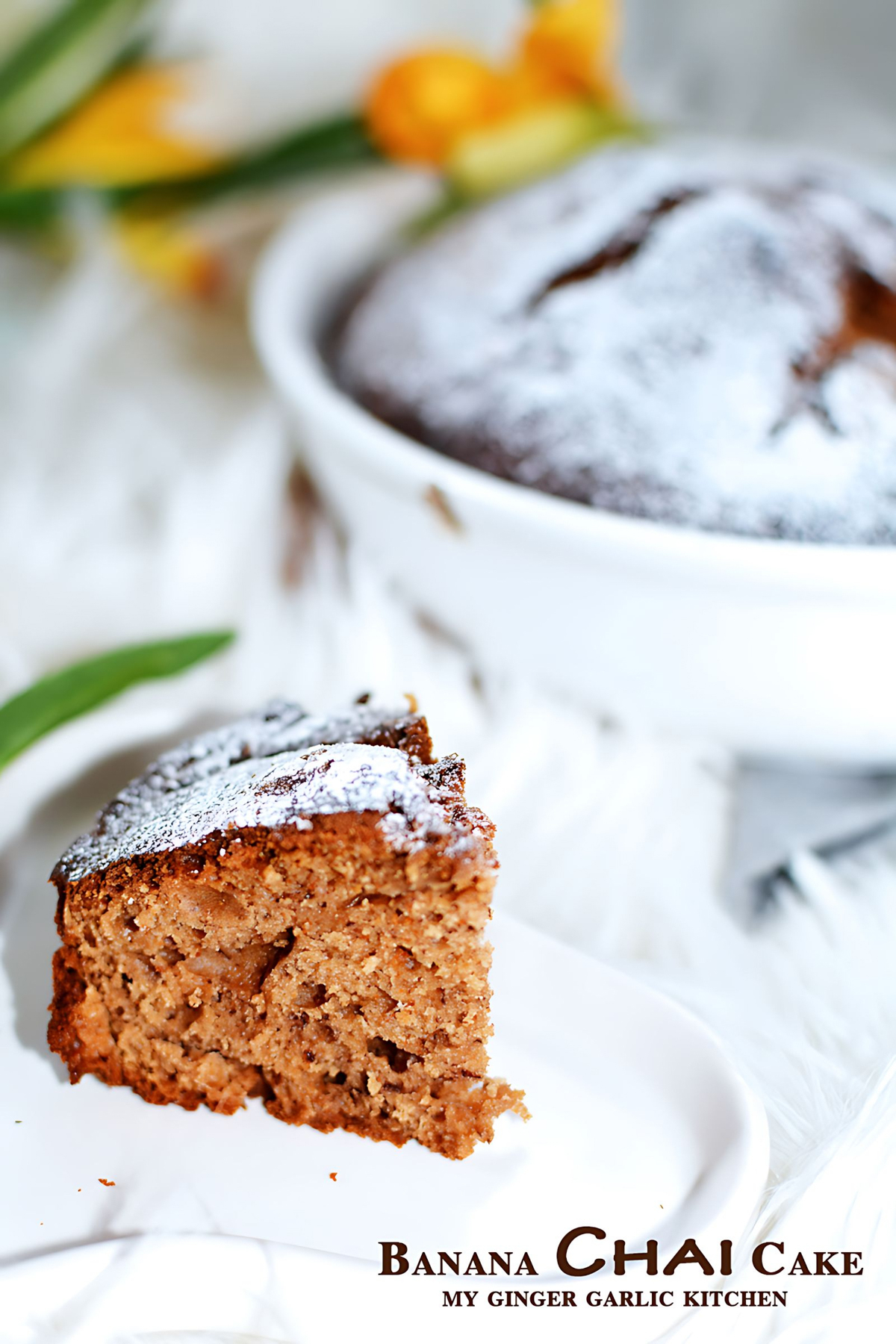 ---
Prep Time = 10 minutes
Cook Time = 1 hour(s) 40 minutes
Total Time = 1 hour(s) 50 minutes
Category = Dessert
Cuisine = International
Serves = 6
Nutrition Info = 223 calories
Serving Size = 1 Slice
---
RECIPE INGREDIENTS
» Ingredients for Banana Chai Cake //
2 1/2 cups all purpose flour
3 large-sized overripe bananas
1 tablespoon crushed ginger
1 teaspooon black pepper powder
1 teaspooon ground cardamom
1 teaspooon ground cinnamon
1 teaspooon baking powder
1 teaspooon baking soda
1 1/2 cups whole milk
3 tea bags or 2 tablespoons loose black tea (chai)
1 cup brown sugar
2 large-sized eggs
1/2 cup butter or margarine, softened
1 teaspooon vanilla extract
Icing sugar for topping
---
RECIPE INSTRUCTIONS
» How to Bake for Banana Chai Cake
Add milk, chai leaves to a saucepan, and bring to a rolling boil.
Once it starts boiling, reduce the heat to low and add 1/2 tablespoon crushed ginger to it.
Let it boil over low heat for about 10 minutes. Remove from tea from the heat and let it cool down completely.
Strain the cooled milk chai and add it to a blender jar.
Also, add bananas along with ½ tablespoon of crushed ginger. Blend everything until smooth. Keep the mixture aside.
In a mixing bowl, sift all-purpose flour, baking powder, baking soda, ground cardamom, 1 teaspoon ground cinnamon, black pepper powder into it.
Mix everything well until combined. Set all the dry ingredients aside.
Using a handheld or stand mixer, beat the butter and brown sugar together on high speed for about 2 minutes or until smooth and creamy.
At medium speed, add the eggs one at a time and, beat well after each addition.
To the same mixing bowl, add vanilla extract, and banana chai mixture. Mix everything well.
Now add the dry ingredients into the wet ingredients and fold until fully combined and no flour pockets remain.
Preheat oven to 325°F/160°C.
Grease a baking dish, and pour in the banana cake mixture.
Sprinkle some icing sugar and ground cinnamon on top.
Bake for 1 hour 20 minutes to 1 hour 30 minutes or until the center of the cake is cooked. You can check this by inserting a toothpick in the center. The cake is ready if the toothpick comes out clean.
Remove from the oven and allow the cake to cool completely before removing it from the baking dish.
Sprinkle some icing sugar on the top, slice, and serve at room temperature with any of your favorite beverages.
---
RECIPE NOTES
To store, cover the banana chai cake with parchment paper first and then with plastic wrap and store it at room temperature for 2 days or in the refrigerator for up to 1 week.
To prevent the top and sides from getting too brown, you can also loosely cover the cake with aluminum foil after 30 minutes of baking.
---