Apple Cucumber Mozzarella Pearls Salad
This easy Apple Cucumber Mozzarella Pearls Salad is so fresh, and is literally bursting with color and flavor! It is trouble-free to put together too.
---
« Go back
Print this recipe »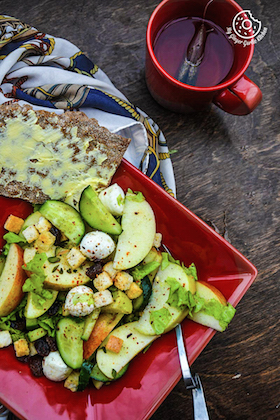 ---
Prep Time = 5 minutes
Cook Time = 5 minutes
Total Time = 10 minutes
Category = Main
Cuisine = World
Serves = 4
Nutrition Info = 233 calories
Serving Size = 1 serving
---
RECIPE INGREDIENTS
» List of Ingredients
Following are all the ingredients
» Ingredients
2 medium-sized apple, sliced
4 medium heads lettuce, roughly chopped
1 cup fresh mozzarella cheese pearls, drained
2 cups halved, and sliced cucumber
1 tablespoon parsley, fresh minced
2 tablespoons lemon juice
2 tablespoons olive oil
1/4 teaspoon salt, or to taste
1/4 teaspoon ground black pepper, or to taste
1 cup croutons
2 tablespoons raisins
2 tablespoons pistachio, chopped
1 teaspoon crushed red pepper
---
RECIPE INSTRUCTIONS
» How to Make Apple Cucumber Mozzarella Pearls Salad //
In a large bowl, combine the cucumber, apple, lettuce, cheese, parsley, and keep it aside.
Take a small bowl, and whisk the lemon juice, oil, salt, crushed red pepper, and ground black pepper.
Pour over cucumber mixture, and toss well to coat.
Just before serving, add croutons, raisins, pistachio, and sprinkle some chili pepper.
Serve it along with buttered crisp bread. Enjoy!
---
RECIPE NOTES
No notes for this recipe.
---