Almonds Oat Cookies - Eggless
Eggless Almonds Oat Cookies are healthy because they are made with oatmeal and almond flour. These easy to make cookies are a healthy option for breakfast.
---
« Go back
Print this recipe »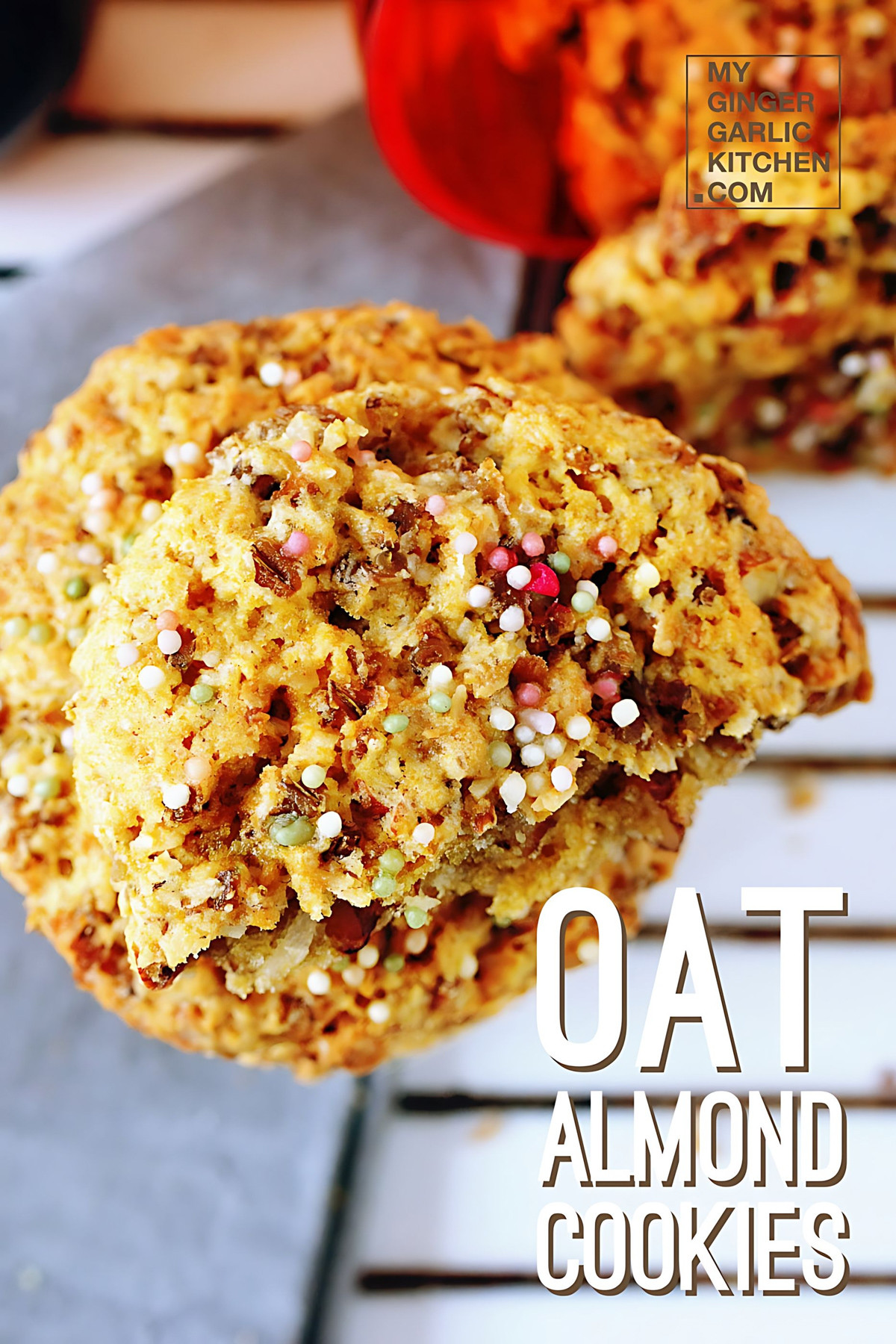 ---
Prep Time = 10 minutes
Cook Time = 15 minutes
Total Time = 25 minutes
Category = Snack
Cuisine = Indian
Serves = 12-14
Nutrition Info = 145 calories
Serving Size = 1 serving
---
RECIPE INGREDIENTS
» For Almonds Oat Cookies
1 cup quick cooking oats
1/2 cup all purpose flour
1/2 cup almond flour
1/2 cup unsweetened shredded coconut
1 tsp almond extract
1/2 cup brown sugar
1/8 tsp. salt
1/2 cup butter or vegetable margarine
1/2 tsp baking soda
1/2 tsp baking powder
1/2 cup toasted almonds, chopped
2 tbsp of sprinkles (optional)
---
RECIPE INSTRUCTIONS
» How to Make Almonds Oat Cookies
Preheat the oven at 350F/180C for 15 minutes. Line 2 baking sheets with baking paper.
In a large bowl cream together sugars, (margarine)butter, and almond extract with an electric mixer until blended and smooth.
Sift together all purpose flour, almond flour, baking soda, baking powder, salt, and mix well.
Stir in oats, and sliced almonds to the flour mix and mix well again.
Add this flour mixture to butter and mix well to make a dough.
Take the cookie dough, and roll into walnut sized balls. This would make 12-14 balls.
Flatten with the palm of your hand and spread sprinkles on the top of cookies.
Place all the cookies on baking tray, and bake for 12 minutes. At this time cookies are just setting, so they will be really doughy and delicious.
If you like them more crisp, cook for 3 more minutes, or until just they turn light brown in color.
Remove the cookies from the sheet, and let them cool for completely on the wire cooling rack.
Enjoy these delicious warm cookies with a glass of milk, coffee, or tea.
---
RECIPE NOTES
No notes for this recipe.
---