Mint Chickpea Cornmeal Tart - Pudina Chola (Zero Oil)
Zero-Oil Mint-Chola Cornmeal Tart is an entire Indian meal in tart form. They are light, crispy, sweet, spicy, aromatic and filled with all healthy things.
---
« Go back
Print this recipe »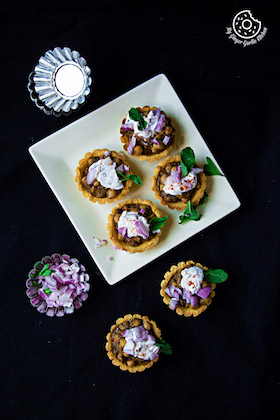 ---
Prep Time = 10 minutes
Cook Time = 40 minutes
Total Time = 50 minutes
Category = Main
Cuisine = Indian
Serves = 8-10
Nutrition Info = 160 calories
Serving Size = 1 serving
---
RECIPE INGREDIENTS
» For Zero Oil Mint Chola //
Cooked chickpeas - 2 cup
Mint leaves - 1.5 cup
Ginger, chopped - 1 tablespoon
Garlic - 4 cloves
Tomato, diced - 2
Green chilies - 2
Onion, diced - 2
Dried mango powder (amchur) - 2 teaspoons
Chili powder - 1.5 teaspoons
Chana masala - 2 teaspoons
Salt to taste
Sugar - 1 teaspoon (optional)
Tamarind puree - 1 tablespoon
Garam masala powder - 1/2teaspoon
Kasuri methi - 1 tablespoon
Water - 1/8 cup
» For Herbed Greek Yogurt //
Greek-style yogurt - 1/2 cup (use dairy-free yogurt to make it vegan)
Cilantro, chopped - 2 tablespoons
Green chili, chopped - 1
Cumin powder - 1/2 teaspoon
Salt to taste
» For Cornmeal Tart //
Cornmeal / Makki ka atta - 1 1/2cups
Salt to taste
Warm water for kneading dough
» For Serving //
Chopped onions
Mint leaves
---
RECIPE INSTRUCTIONS
» For zero oil mint chola //
Add mint leaves, ginger, garlic, tomato, green chilies, onion, dried mango powder, chili powder, chana masala, salt to taste, garam masala powder, water to a food processor.
Blend well into a smooth paste.
Heat a non-stick pan on a medium heat and add mint paste.
Also, add cooked chola. Mix everything well.
Cook covered for 15 minutes while stirring occasionally.
After 15 minutes, uncover the pan and add tamarind puree, salt, sugar and kasuri methi.
Mix well and cook for 5 minutes. Then remove the pan from heat and set aside.
» For Herbed Greek Yogurt //
In a small bowl, add all the Herbed Greek Yogurt ingredients.
Whisk all ingredients together. Taste and adjust the seasoning. Keep it aside.
» For Cornmeal tart //
Add salt to the cornmeal to a mixing bowl.
After that, add warm water and knead well to make a medium soft dough.
Divide the into 10-12 lemon sized balls. Flatten each ball and place into a tart pan, pressing in gently.
Generously prick crusts with fork.
Transfer all tart pans to a baking pan, and bake in 180°C preheated the oven for 25 to 30 minutes or until they turn very light golden brown.
Once baked, remove crust from the tarts pan; let them cool.
Fill tart shells with chickpea curry and top a dollop of herbed yogurt.
Sprinkle some onions and garnish with a mint leave. Enjoy!
---
RECIPE NOTES
No notes for this recipe.
---