Whole Wheat Peach Muffins
It is a single bowl whole wheat peach muffin recipe, which is super easy and simple enough to make in the morning for breakfast, or in brunch.
---
« Go back
Print this recipe »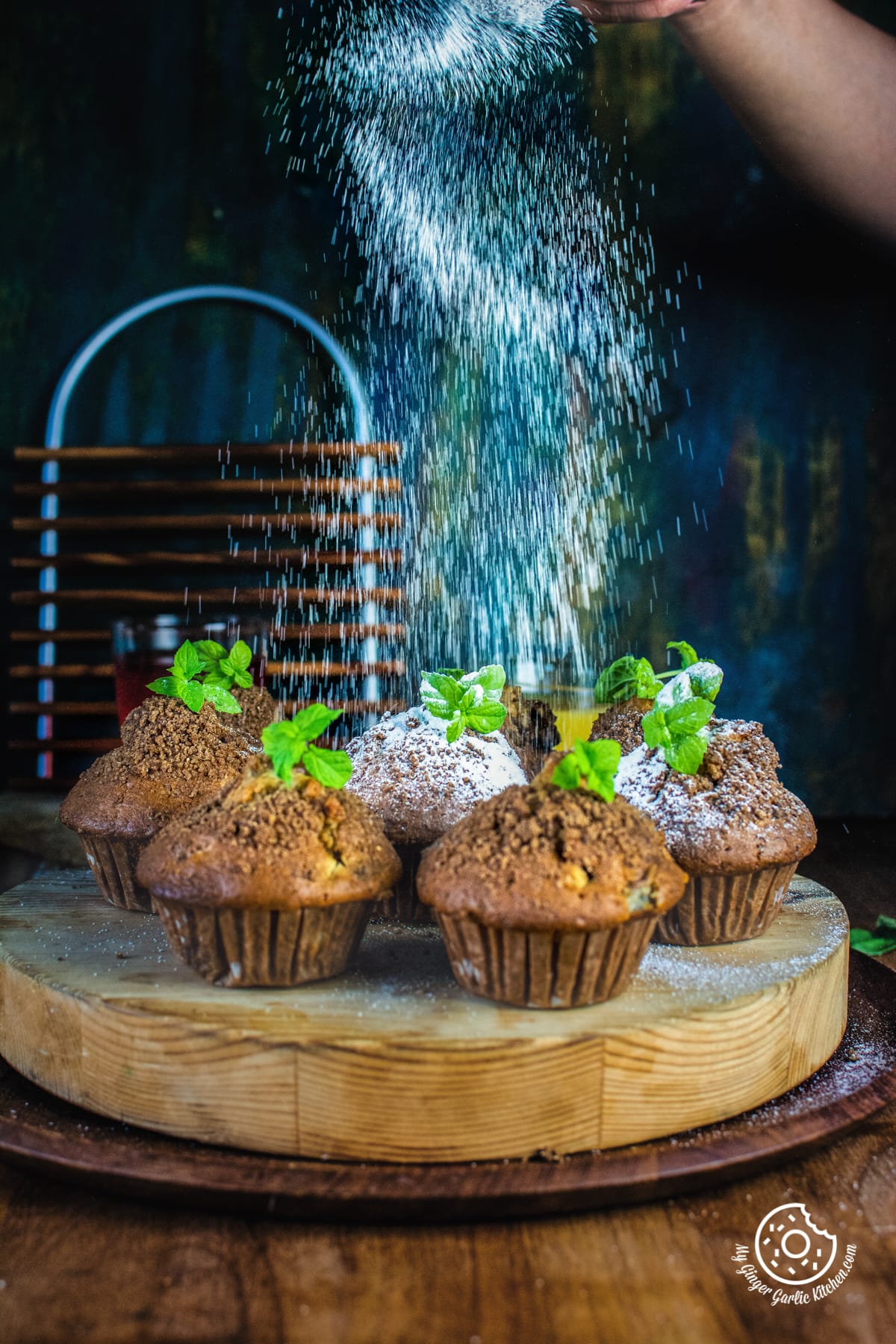 ---
Prep Time = 05 minutes
Cook Time = 20 minutes
Total Time = 25 minutes
Category = Breakfast
Cuisine = International
Serves = 9 large
Nutrition Info = 260 calories
Serving Size = 1 serving
---
RECIPE INGREDIENTS
» For Peach Muffins //
1 1/2 cups (195 grams) whole wheat flour (you can also use all-purpose flour)
2 teaspoons baking powder
3/4 cup (150 grams) brown sugar (white sugar can also be used)
1 teaspoon ground ginger
1 teaspoon ground cinnamon
1/2 teaspoon salt
1/3 cup (80 ml) vegetable oil
2 medium-sized eggs
1/3 cup (80ml) milk, plus 20ml more if needed (you can use 1.5% or whole milk)
1 1/2 teaspoons vanilla extract
1 1/2 cups peach, pit removed and chopped
» For Sugar Topping For Muffin Tops //
2 tablespoons brown sugar
1/2 teaspoon ground ginger
1/2 teaspoon ground cinnamon
---
RECIPE INSTRUCTIONS
» Prepare Batter //
Heat oven to 375 degrees F (190°C).
Line nine standard-size muffin cups with paper liners. To make sure that the muffin tops don't stick to the pan, you can also spray the tray top with some non-stick cooking spray. Keep the prepared tray aside.
In a large mixing bowl, whisk eggs and oil.
Then add milk, vanilla extract, and whisk again to combine well.
In the same bowl, sift together whole wheat flour, salt, ground ginger, ground cinnamon, and baking soda.
Add 3/4 brown sugar and whisk until well blended.
The batter should be thick yet scoopable. So you can add some more milk if needed (I added 20ml more milk here).
Once the batter is ready, add the chopped peaches and fold gently.
In a small mixing bowl, add ground ginger, ground cinnamon, and brown sugar.
Mix well until combined. Keep it aside.
» Bake Peach Muffins //
Heap the muffin batter into the prepared muffin cups; the cups should be very full. So fill the cups full with the batter, or until the batter comes to the tops of the paper liners.
Add 2-3 tablespoons of water to the 3 empty muffin cups. Adding water to empty cups helps the muffins bake evenly.
Lightly sprinkle sugar toppings on top of each muffin.
Bake muffins 18 to 20 minutes or until they're golden, risen high. To check, insert a toothpick into the middle, and if it is no longer wet comes out clean, then muffins are baked.
Remove the muffins from the pan, and cool them completely on a wire rack.
Enjoy them warm or at room temperature.
» Storing //
To store, place them in a ziplock bag or in an air-tight container lined with kitchen tissue. You can also wrap them in aluminum foil. After wrapping, store them on the counter for 3 days; or in the fridge for up to 5 days. You can have them cold, or if you like warm muffins, then just pop them in the microwave for 20 seconds.
These muffins can also be stored in the freezer for up to 3 months.
---
RECIPE NOTES
These muffins would come out brown in color, because of the whole wheat flour and brown sugar. If you want lighter muffins, then replace whole wheat flour with all-purpose flour and brown sugar with white sugar.
The batter should be thick for these muffins, which means it is thick yet scoopable. So if your batter is too runny, then add 1 tablespoon flour at a time until you get the correct consistency. And if the batter is too dry or too thick, then add 1 tablespoon milk at a time until you reach the desired consistency.
I used donut peaches, but you can use any other peaches of your choice.
The skin of donut peaches turns blackish after baking, so if you don't like blackish skin then feel free to remove the skin before adding to the batter.
You can also add allspice or nutmeg to these muffins.
Blueberries and peaches make a great combination, so feel free to add blueberries to your muffin batter.
Milk can also be replaced with buttermilk.
Fresh peaches work best here, but you can also use frozen or canned peaches for this peach muffin recipe.
I added vanilla extract to these muffins, but you can also add almond extract along with vanilla.
---