Watermelon Smoothie
This 6-ingredient watermelon smoothie is made with frozen watermelon, frozen strawberries, banana, and chia seeds. Ideal breakfast drink.
---
« Go back
Print this recipe »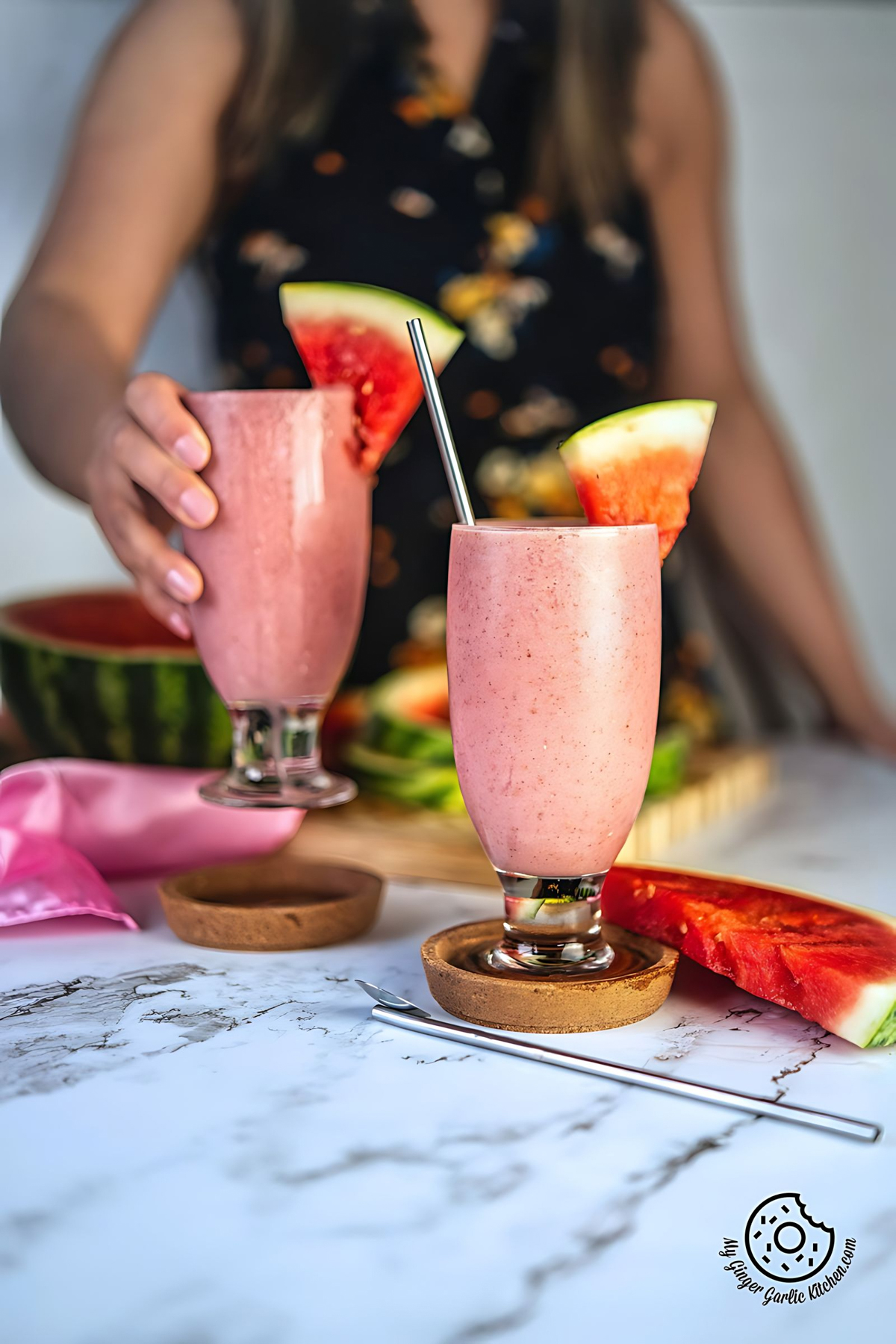 ---
Prep Time = 2 minutes
Cook Time = 2 minutes
Total Time = 4 minutes
Category = Drinks
Cuisine = International
Serves = 2 large
Nutrition Info = 171 calories
Serving Size = 1
---
RECIPE INGREDIENTS
» For Watermelon Smoothie
2 cups frozen watermelon cubes
1 medium-sized banana
1 cup frozen strawberries
1 cup milk (unsweetened almond or regular)
1/2 cup water or as needed
1.5 teaspoon chia seeds
1 tablespoon honey or maple syrup to make vegan
» For garnish (optional):
Watermelon triangles
Chia seeds
---
RECIPE INSTRUCTIONS
» How to Make Watermelon Smoothie
Add banana, watermelon, strawberries, honey, chia seeds, and milk to a blender jar.
Blend everything until smooth.
Smoothie will be super thick at this point. Now add water to adjust the consistency the smoothie.
Blend again until smooth.
Pour watermelon smoothie into serving glasses.
Enjoy immediately, with a garinsh of watermelon slice and chia seeds.
---
RECIPE NOTES
Instead of water, you can also use some Greek yogurt or coconut yogurt for this watermelon smoothie.
I have added some honey for extra sweetness. If you don't like too sweet smoothies then feel free to omit it entirely.
I added chia seeds for a fiber boost. You can replace chia seeds with hemp seeds or flaxseeds.
If you don't want to add honey, then substitute it with sugar, agave, or maple syrup.
Instead of regular water, you can also use coconut water.
---