Watermelon Cucumber Feta Salad
Watermelon Cucumber and Feta Salad is perfectly sweet, salty, cheesy, and a bit tangy salad to enjoy during summer. Ideal for light lunch.
---
« Go back
Print this recipe »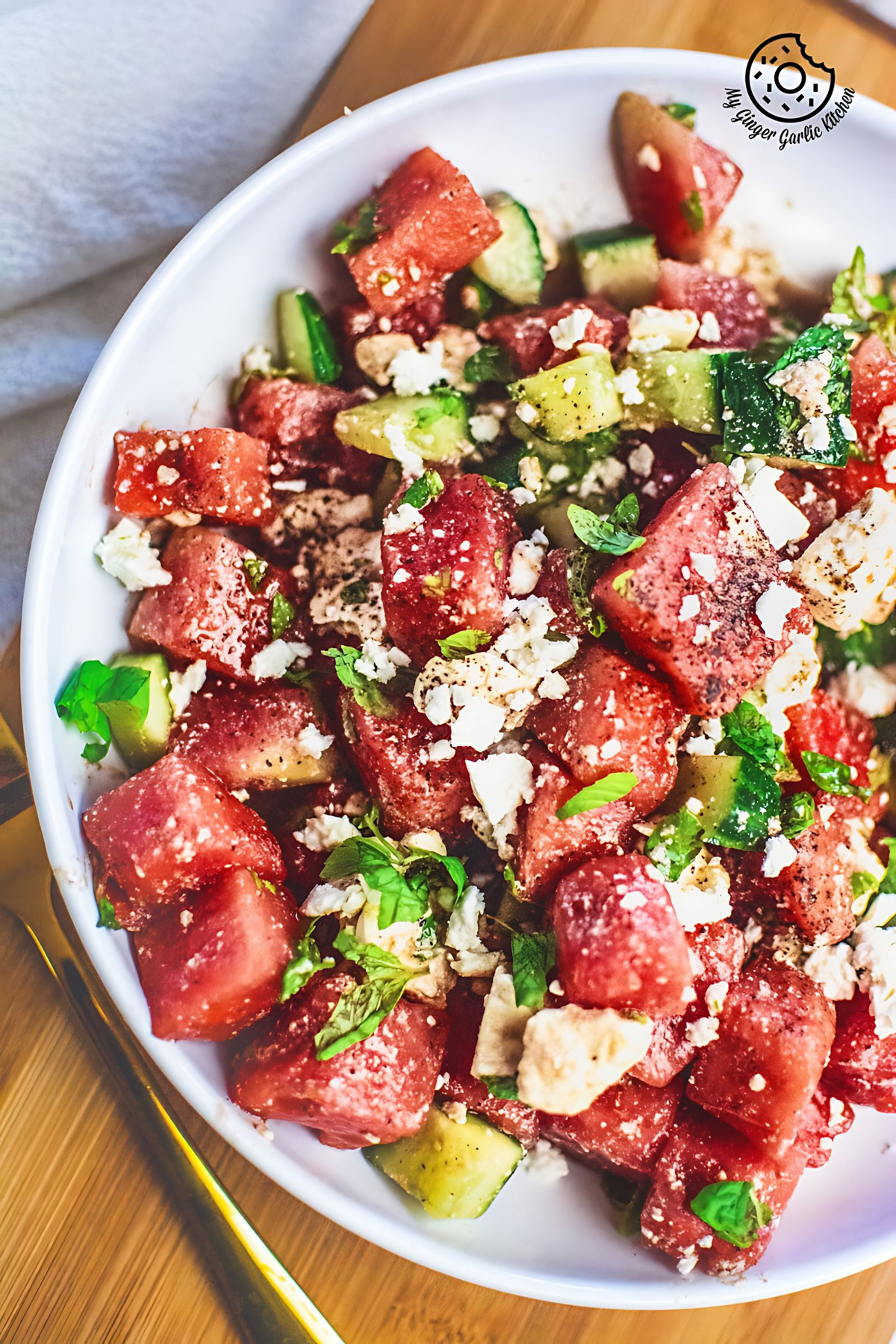 ---
Prep Time = 05 minutes
Cook Time = 05 minutes
Total Time = 10 minutes
Category = Side
Cuisine = International
Serves = 4
Nutrition Info = 154 calories
Serving Size = 1 serving
---
RECIPE INGREDIENTS
» For Watermelon Cucumber Feta Salad //
1/3 cups cucumber diced and seeds removed
1/3 cup feta cheese crumbled + more for garnishing
1/4 cup balsamic vinegar
2 tablespoons honey
Half medium-sized watermelon, chilled (you need about 3 cups watermelon cubes)
3 tablespoons olive oil
3 tablespoons olive oil
A handful of mint + 1 tbsp more for garnishing thinly sliced or small mint leaves
Salt and ground black pepper to taste
---
RECIPE INSTRUCTIONS
» How To Make Balsamic Vinegar Honey Dressing //
In a small bowl, whisk together the balsamic vinegar, honey olive oil, salt, and pepper.
Keep this dressing aside.
» How To Make Watermelon Cucumber Feta Salad //
Cut watermelon into cubes and remove the seeds. Keep it aside.
Chop mint leaves and set them aside.
Add watermelon cubes, crumbled feta cheese, diced cucumbers, mint leaves to a large mixing bowl.
Drizzle the dressing over the watermelon mixture.
Toss well to coat.
Sprinkle with mint leaves, crumbled feta, some freshly ground pepper, and serve.
---
RECIPE NOTES
I used watermelon with seeds for this recipe, but this recipe would be a lot easier when you use seedless watermelon. Then you don't have to remove the seeds from it.
I used freshly chopped mint leaves for that herby touch. You can also swap the fresh mint with basil leaves. Or you could use the combination of both herbs.
If you have cut watermelon in advance, and it has released too much juice, then discard the juice before making the salad.
Make sure to use chilled watermelon and cucumbers in this salad. This watermelon salad tastes great when served chilled.
I cut my watermelon into cubes because this way it is faster and easier to cut. But if you want to go fancier, then use a melon baller.
If you dont want to use balsamic vinegar, then simply substitute it with fresh lime juice or lemon juice.
Adding honey to the dressing is optional. So if desired, you can omit it.
Don?t buy pre-crumbled feta cheese. Always buy blocks of feta cheese for making salad, because they taste more fresh and flavorful.
You can also add avocado, fresh arugula to this watermelon salad.
---