Vermicelli Fruit Custard - Semiya Custard
Vermicelli Fruit Custard or Semiya Custard is a super delicious, creamy, and flavorful Indian fusion dessert where vermicelli pudding (Semiya Kheer) is combined with fruit custard.
---
« Go back
Print this recipe »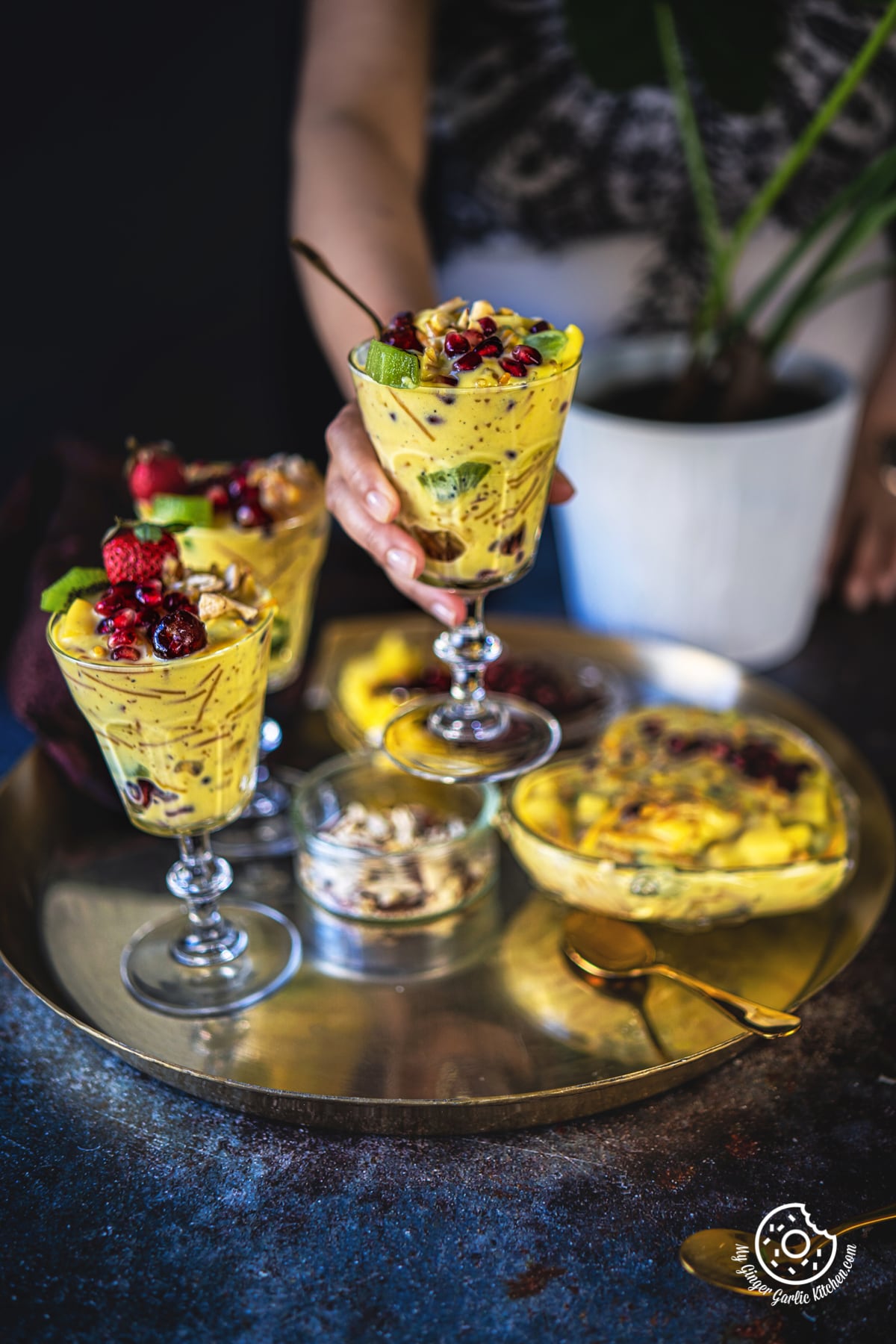 ---
Prep Time = 2 hour(s) 20 minutes
Cook Time = 10 minutes
Total Time = 2 hour(s) 30 minutes
Category = Dessert
Cuisine = Indian
Serves = 6
Nutrition Info = 204 calories
Serving Size = 1
---
RECIPE INGREDIENTS
» For Vermicelli Fruit Custard
2 tablespoons vanilla custard powder
1 tablespoon ghee/clarified butter
1/2 cup vermicelli/semia/seviyan
3 1/2 cups milk, I used whole milk
1/2 teaspoon cardamom powder
1/2 teaspoon (15-16) saffron strands
1/2 cup sugar
2 tablespoons almonds and cashews, chopped
2 cups chopped fruits (I used banana, kiwi, grapes, pomegranate arils, apple, and mango)
» For serving: (optional)
Fruits of your choice
Glazed cherry
Chopped almonds and cashews
Candied fruits
---
RECIPE INSTRUCTIONS
» How to make Vermicelli Fruit Custard
In a small bowl, add 1/2 cup milk and 2 tablespoons custard powder.
Mix well until combined. Make sure there are no lumps in the mixture. Keep it aside.
In a heavy bottom pan, add ghee and vermicelli. Roast the vermicelli on medium heat for around 2-3 minutes, or until it changes to golden brown and turns aromatic.
Now add 2.5 cups of milk to the pan and stir well. After that, crush the saffron strands between palms and add it to the pan.
Also, add ground cardamom. Mix well and let it come to a boil. Once it starts to boil add 1/2 cup of milk and stir again.
Let it cook on medium heat for 8-10 minutes or until the vermicelli is cooked completely. Keep scraping the sides of the pan.
Now add sugar and stir well. Let it cook until the sugar dissolves completely. After that, add chopped almonds, chopped cashews and mix well.
Now stir the custard mix and add it to the pan. Mix well, and cook for 3-4 minutes or until it starts to thicken.
Keep stirring continuously to prevent it from turning lumpy and sticking to the pan. At this point, you can add more milk if it seems too thick. Now, turn off the heat add rose water to the pan. Mix well.
Transfer it a large mixing bowl and let it cool down completely at room temperature. After that, chill it for 3-4 hours.
Remove the custard from the refrigerator and add chilled fruits to the custard. Mix everything well until combined.
To assemble vermicelli fruit custard, add 1-2 tablespoons of fruits to a serving dish. Then fill the dish with vermicelli fruit custard.
Top it with strawberry, kiwi, pomegranate arils, chopped nuts, candied fruits, and a glazed cherry. Serve vermicelli fruit custard chilled as an after-meal dessert.
---
RECIPE NOTES
If possible, use full cream milk, it tastes best in this dessert. You can also use semi-skim milk. But never use fat-free milk here, it would stick to the pan and it would not taste good.
Custard dishes thicken once they cool down, so never overcook the vermicelli custard, else you will end up with thick pudding.
If you can?t find vermicelli, then you can swap vermicelli with spaghetti.
Roasting vermicelli in ghee adds a nice aromatic buttery touch to this dessert. If you don't have ghee then use unsalted butter for roasting.
You can also serve this vermicelli fruit custard with a dollop of vanilla ice cream or mango ice cream.
---