Curry Stuffed Bun
Curry Stuffed Bun is a perfect snack dish made with curry stuffing and pizza dough. These buns are soft and the curry stuffing adds nice texture and taste.
---
« Go back
Print this recipe »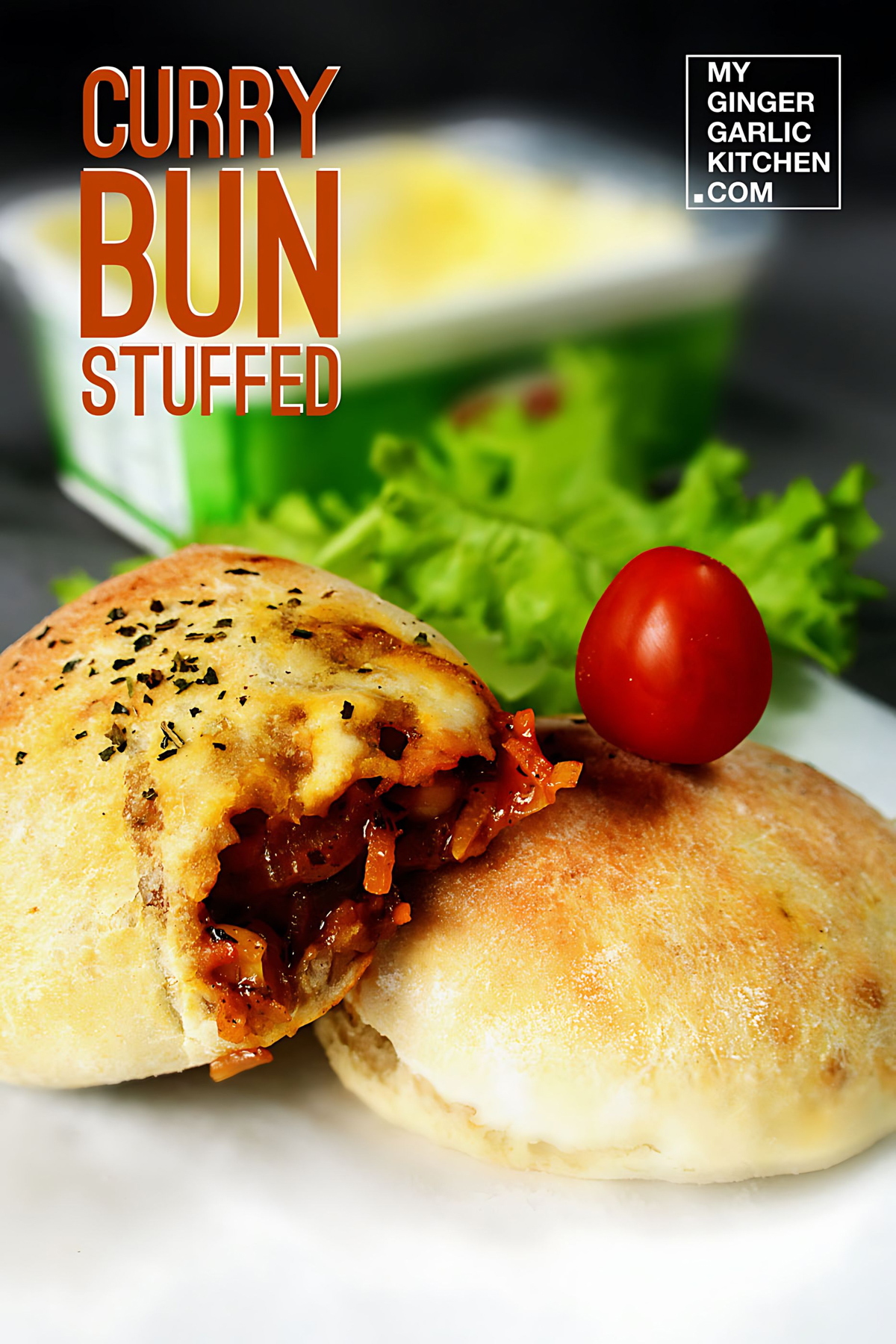 ---
Prep Time = 10 minutes
Cook Time = 40 minutes
Total Time = 50 minutes
Category = Snack
Cuisine = Indian
Serves = 10
Nutrition Info = 78 calories
Serving Size = 1 Bun
---
RECIPE INGREDIENTS
» For the stuffing //
1 red onion, chopped
2 tablespoons garlic cloves, chopped
4 button mushrooms, chopped
1 teaspoon black pepper powder
1/4 teaspoon garam masala powder (optional)
1 small green bell pepper, grated
1 small yellow bell pepper, grated
2 carrots, grated
1 cup mozzarella cheese, cubed
1/2 cup green peas
1/2 cup corn kernels
4 tablespoons tomato ketchup
salt as per taste
1 teaspoon oregano
» For Bun //
1 packet active dry yeast
1/2 cup warm water
2 cups all-purpose flour (maida)
1/2 teaspoon salt
1 tablespoon sugar
2 tablespoons oil
1 tablespoon oregano
---
RECIPE INSTRUCTIONS
» How to make curry filling //
Heat oil in a pan, and add chopped onions to it. Saute onions for 2 minutes, and add chopped garlic cloves to it.
Cook for 2 more minutes, and add all the vegetables except mushrooms.
Cook for 5 minutes. Now add chopped mushrooms, salt, pepper powder, garam masala powder and mix well.
Cook for another 3 minutes, and add tomato ketchup to it. Mix well, and cook for 2 more minutes.
Add chopped mozzarella cheese, oregano, and cook for 2 minutes. Mix well and remove from heat. Your curry stuffing is ready. Keep it aside to cool down.
» How to Make Curry Stuffed Bun //
Take a bowl, and add 1/2 cup warm water to it. Add sugar, yeast, salt, and mix gently. Keep aside for 10 minutes, or till yeast becomes frothy.
In a large mixing bowl, add all-purpose flour and oil. Mix well, and add the yeast mixture to it. Knead the mixture to make a smooth dough.
Apply a few drops of oil on the dough surface, and cover the dough bowl with a plastic wrap. Keep this mixing bowl in a warm place for 2 to 4 hours.
At this stage, bun dough would have doubled in size.
Preheat the oven to 375 degrees F/200 degrees Celsius.
Knead the dough again, and divide the dough into 10 balls of equal portions.
Roll each ball into a circle of about 4 to 5 inches in diameter. Apply a little oil to the dough circle, and place 2 tbsp curry filling in the center.
Close the sides of the circle together carefully, and shape into a ball again.
Repeat the same process with all the dough balls. Brush little oil on top of the ball and sprinkle oregano.
Sprinkle some flour on the baking tray, and place all the stuffed dough balls.
Bake dough balls for 15 to 20 minutes, or till they turn slightly brown.
Serve hot with ketchup and tea. Enjoy!
---
RECIPE NOTES
No notes for this recipe.
---