Vegan Coconut Blueberry Ice-Cream
Blueberries are gently swirled into a coconut whip cream base, which creates a colorful dessert that tastes as delish as coconut and blueberries themselves.
---
« Go back
Print this recipe »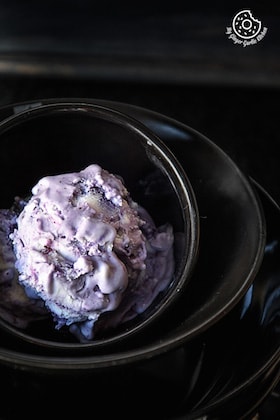 ---
Prep Time = 10 minutes
Cook Time = 5 hour(s)
Total Time = 5 hour(s) 10 minutes
Category = Dessert
Cuisine = World
Serves = 5-6
Nutrition Info = 209 calories
Serving Size = 1 serving
---
RECIPE INGREDIENTS
» For Blueberry Sauce //
1/4 cup blueberries (frozen or fresh)
2 tablespoons sugar
» For Ice-Cream //
400 ml full fat coconut milk, chilled
1/2 cup sweetened coconut condensed milk
1 teaspoon vanilla extract
5-6 tablespoons blueberry sauce
---
RECIPE INSTRUCTIONS
» For Blueberry Sauce //
Blend together blueberries and sugar in a blender or food processor. Blend until smooth.
Pass it through a sieve and set aside.
» For Vegan Coconut Blueberry Ice-Cream //
Remove water from chilled coconut milk (400 ml) and carefully scoop the cream into a mixing bowl.
Using an electric beater, whip up the coconut cream on high speed until it's light and fluffy, or 4-5 minutes.
Add the condensed coconut milk and whip on high speed for another 3-4 minutes.
Add vanilla extract and fold gently. Add blueberry sauce and gently swirl to create a marbled effect.
Transfer to a an airtight container and top with shredded coconut and chocolate chunks.
Freeze for 4 hours or overnight.
Keep ice-cream at room temperature for 3-4 minutes, to make it easier to scoop. Serve in waffle cones or cups! Enjoy!
---
RECIPE NOTES
No notes for this recipe.
---