Vegan Chocolate Mousse with Aquafaba
This beautiful vegan mousse is airy and creamy, without egg whites, cream, or gelatin. The good thing is that you won't even taste chickpeas here.
---
« Go back
Print this recipe »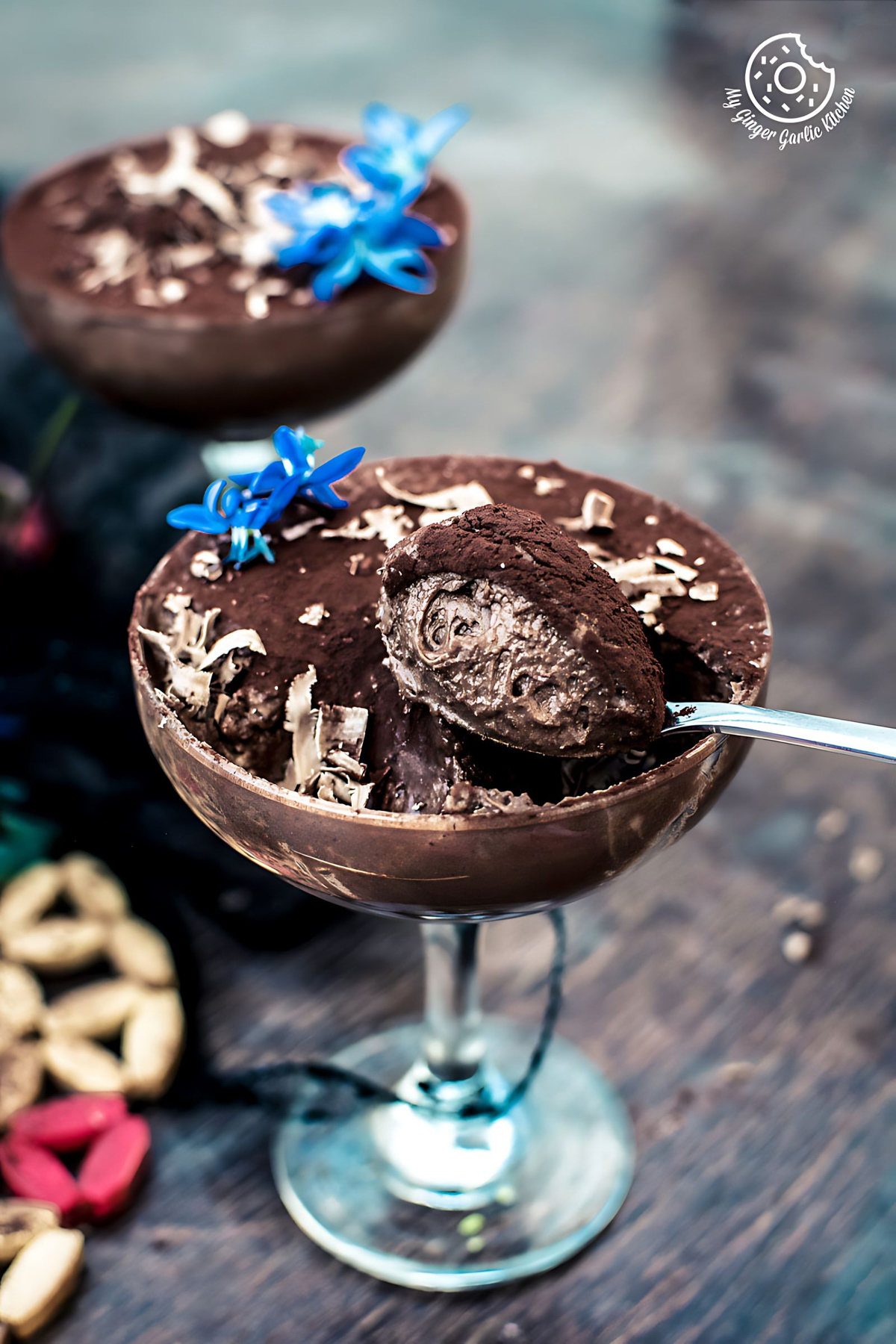 ---
Prep Time = 10 minutes
Cook Time = 20 minutes
Total Time = 30 minutes
Category = Desserts
Cuisine = French
Serves = 6
Nutrition Info = 10 calories
Serving Size = 6
---
RECIPE INGREDIENTS
» For Aquafaba //
Chickpeas - 1 1/2 cup
Water
» For Vegan chocolate Mousse //
Aquafaba - 1 1/2 cup
Dark chocolate, roughly chopped - 200g (I used vegan dark chocolates Ñ a combo of 84% and 70% cocoa)
Icing sugar - 5 tbsp (You can also use maple syrup or agave syrup)
vanilla extract - 1/2 tsp
Freshly brewed coffee - 2 tbsp (or 1 tbsp instant coffee diluted with 2 tbsp water)
---
RECIPE INSTRUCTIONS
» Making Aquafaba
Wash and soak 1 1/2 cup of dry chickpeas overnight in 5 cups of water. Drain and wash it again. Add it to the pressure cooker along with 4 cups of water.
Pressure cook it on high for 8-10 whistles. (If you cook it longer will result in stronger aquafaba and the softer chickpeas.)
When chickpeas are cooked, let the pressure come off naturally. Open the pressure cooker lid.
Strain the liquid into a jar large bowl.
Refrigerate it overnight. Your aqauafaba is ready.
» Making Chocolate Mousse with Aquafaba
Place the chocolate in a double boiler and heat until fully melted. You can also microwave it.
Let the chocolate cool down.
Pour the aquafaba (chilled liquid of your chickpeas) and icing sugar or maple syrup in large mixing bowl.
Whisk with an electric whisk, or blender for 5 minutes.
Add vanilla and whisk more until peaks form and you have a fluffy white consistency.
This whole process would take about 10 minutes).
Add 2 tbsp freshly brewed coffee to the chocolate and stir it well.
Gently stir a third of the whipped aquafaba into the melted chocolate, until fully incorporated.
Fold in the remaining aquafaba in two additions, using a spatula and lifting the mixture in a circular up-and-down motion to avoid deflating it.
Gently fold chocolate into meringue until fully incorporated.
Pour into glasses or bowls.
Transfer to the fridge, and allow to set for at least 2-3 hours before serving.
Dust with cocoa powder and decorate with chocolate shavings or aquafaba whipped cream.
Serve chilled.
---
RECIPE NOTES
You can freeze any unused aquafaba for up to 2 weeks.
---