Vada Pav Recipe - How To Make Mumbai Vada Pav
This popular street food Vada Pav (Vada Pao / Wada Pav / Wada Pao) is a budget-friendly and gratifying Indian Style Burger from the streets of Mumbai.
---
« Go back
Print this recipe »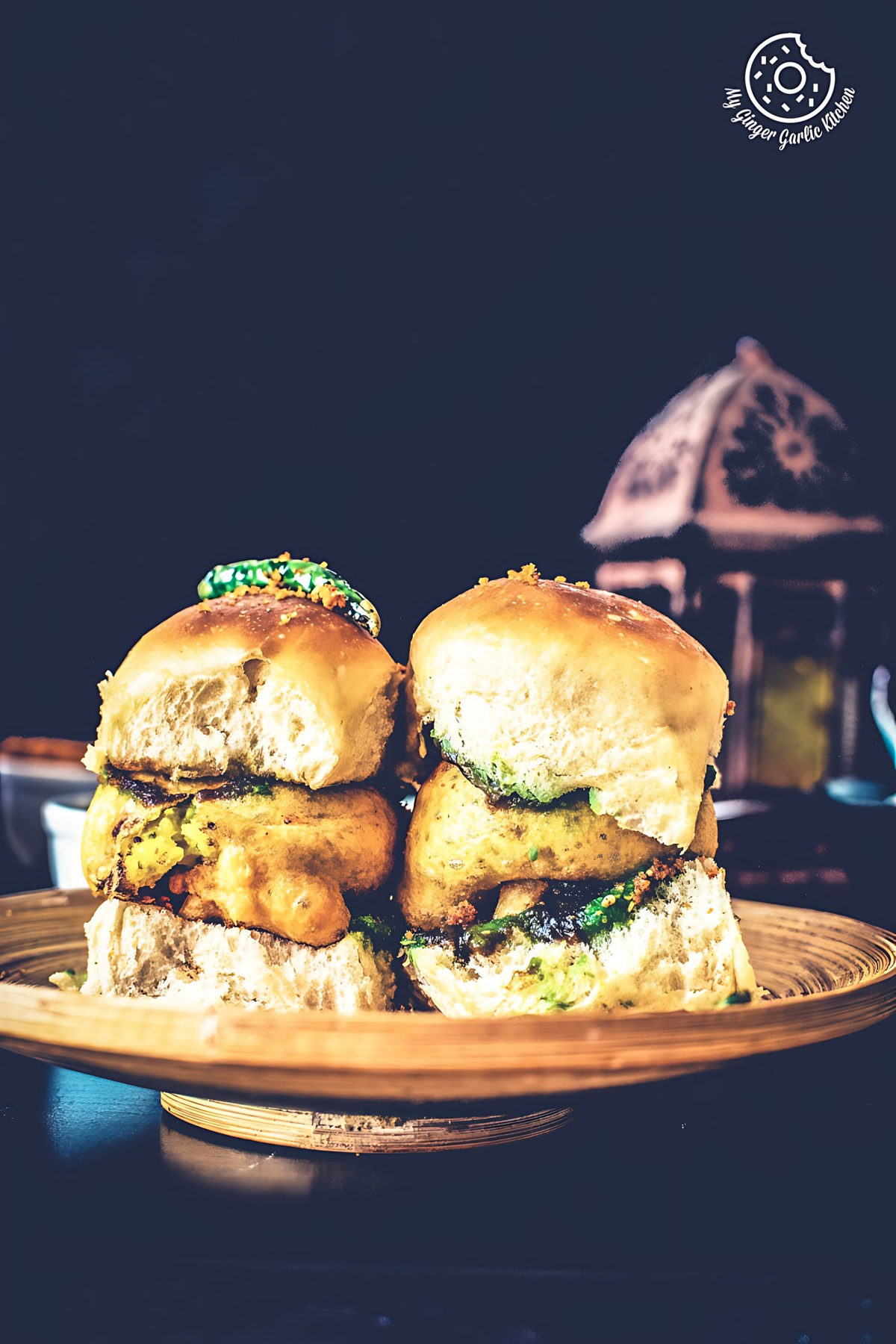 ---
Prep Time = 10 minutes
Cook Time = 30 minutes
Total Time = 40 minutes
Category = Main
Cuisine = Indian
Serves = 8
Nutrition Info = 300 calories
Serving Size = 1 Vada Pav
---
RECIPE INGREDIENTS
» For Batata Vada Stuffing:
2 tablespoons oil
1 teaspoon mustard seeds
3 tablespoons curry leaves (preferably fresh)
3 large garlic cloves peeled
1 inch ginger
3 small green chilies
1/4 teaspoon turmeric powder
2 cups potatoes, boiled, peeled & mashed
Salt to taste
1 tablespoon coriander leaves, chopped
» For Batata Vada Batter:
2 cups besan/gram flour
1 tablespoon rice flour
1/4 tsp salt, or to taste
1/4 teaspoon turmeric
Water, as required for making the batter
Oil for to deep-frying
Pinch of baking soda - optional
» Dry Garlic Chutney:
1/4 cup grated, or desiccated coconut
4 tablespoons peanuts
5-6 small dried red chilies
2 teaspoon sesame seeds
10-12 garlic cloves, peeled
Salt to taste
1-2 tablespoons kashmiri red chili powder
» For Assembling Vada Pav:
8 batata vada
8 ladi pav
Dry garlic chutney
Green coriander chutney
Tamarind chutney
Fried green chilies
---
RECIPE INSTRUCTIONS
» How To Make Batata Vada Stuffing:
In a blending jar, add 3 green chilies, 3 garlic cloves, and 1-inch ginger piece. Pound them to make a coarse paste.
Heat 2 tablespoons oil in a wide pan over medium heat.
Once hot, add in mustard seeds and let them splutter for a few seconds.
Then add in the curry leaves and sauté for 30 seconds.
Now add green chili paste and sauté for 2 minutes on medium heat.
Next, add turmeric powder and saute for another minute.
Then add in the mashed potatoes, salt and mix well. Cook for 2 more minutes.
Remove the mixture from heat and let the potato mixture cool completely.
Divide the potato mixture into 8 balls. You can also flatten these balls. Set them aside.
» How To Make Gram Flour Batter:
In a mixing bowl, add in the besan, rice flour, salt, turmeric and whisk well.
Add enough water to make a thick batter. Whisk well until you get a lump-free batter.
Once the batter is ready, keep it aside for 15-20 minutes.
Then add a pinch of baking soda and whisk well until batter is light and fluffy.
» How To Fry Vada:
Heat oil in a pan over medium heat. Using a spoon, dip each vada into the batter to coat the mixture.
Drop vadas in hot oil, and deep fry batter-coated vadas over medium heat until golden brown from all sides.
Once the vadas are golden and crispy, remove them with a slotted spoon.
Then Drain fried vadas on an absorbent paper and keep them aside. (You can make pakoras using rest of the batter).
» How To Fry Green Chilies:
In the same pan add green chilies and fry them. Be careful, as green chilies tend to splutter.
Drain fried green chilies on an absorbent paper and keep aside.
» How To Make Dry Garlic Chutney:
Heat a broad non-stick pan over medium heat. Add coconut to the pan and dry roast it until golden.
Transfer roasted coconut on a plate, and set aside to cool.
In the same pan, add the peanuts and roast them until golden. Transfer them on a plate, and set aside.
Then in the same pan, add the dried red chilies, sesame seeds and roast them until seeds are golden. Transfer them on a plate, and keep aside to cool.
In the same pan, add the garlic cloves and sauté for 1 minute.
Transfer roasted garlic on the plate, and set aside. Let them cool completely.
Once cooled, add all the roasted ingredients to a blending jar along with some salt.
Pound to make a coarse powder.
Next, add Kashmiri red chili powder and pound for a few seconds or mix well with a spoon.
» How To Assemble Vada Pav:
Slice each pav into the half.
Slather on some green chutney, some tamarind chutney on both sides of the sliced pav.
Sprinkle both sides with some dry garlic chutney.
Arrange one hot vada on each sliced pav, cover with the other half. Press down.
Top with fried green chili and sprinkle more dry garlic chutney on top. Serve immediately.
---
RECIPE NOTES
You can adjust the amount of all three chutneys.
Adding rice flour to batter makes crispy vada. If you cant find rice flour then you can either make your own rice flour by pulsing raw rice or swap it with some corn flour.
You can also re-heat the deep-fried vadas. To keep the re-heated vada crispy, bake them for 8-10 minutes. This way they would stay crisp and won?t turn soggy. For baking, you can either use an oven or a pan.
---