Til Chikki - Sesame Seed Bars
This delicious Til Chikki (sesame seeds brittle) recipe yields flavorful, crunchy, sweet, nutty chikki. Learn to make til chikki with a simple video.
---
« Go back
Print this recipe »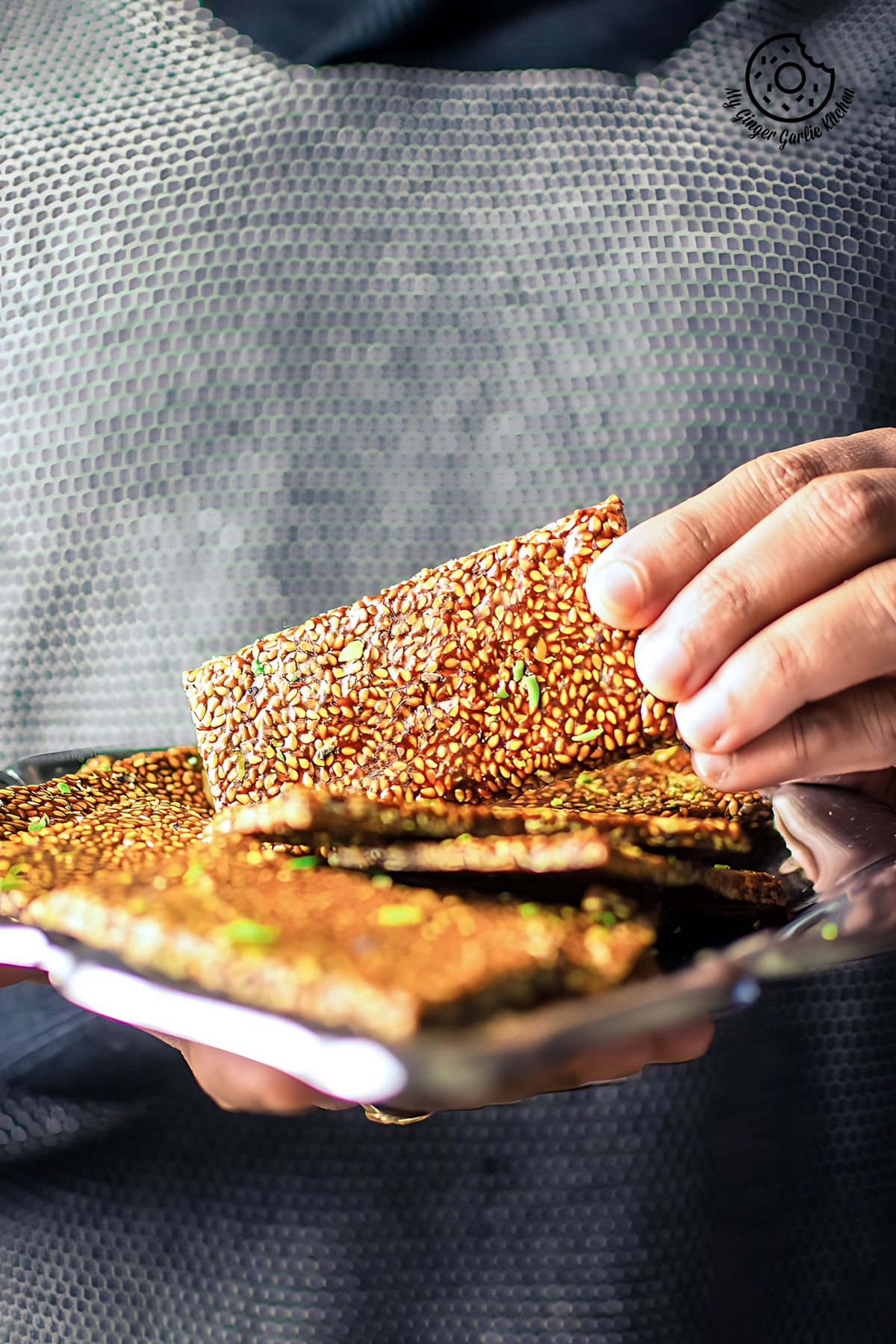 ---
Prep Time = 05 minutes
Cook Time = 10 minutes
Total Time = 15 minutes
Category = Dessers
Cuisine = Indian
Serves = 12 jumbo bars
Nutrition Info = 74 calories
Serving Size = 1 bar
---
RECIPE INGREDIENTS
» For Til Chikki //
1 cup sesame seeds (til)
1 cup jaggery (gud) or sugar (shakkar)
2 tablespoon ghee (clarified butter), use vegan butter for vegan version
1/2 teaspoon ghee for greasing surface, rolling pin and knife
---
RECIPE INSTRUCTIONS
» How To Roast Til (Sesame Seeds) //
Add sesame seeds to a heavy bottomed pan.
Dry roast sesame seeds over medium heat. Keep roasting for 3-4 minutes until you get a nice roasting nutty aroma, and they become light golden in color. They would also swell up and start crackling at this point.
Once done, turn off the heat. Keep the pan aside and let it cool.
» How To Make Jaggery Syrup //
Heat 2 tablespoons ghee to a non-stick pan.
Once the ghee melts, add the powdered jaggery.
Stir constantly and cook over low heat until the jaggery melts completely. This whole process would take around around 4-5 minutes. You can also add 1-2 tablespoons of water at this point if the syrup is too thick.
Once, ths jaggery melts, boil it for 1-2 minutes or until it forms a hard ball. At this stage it will start forming bubbles and become slightly dark in colour.
To check consistency, do a cold water test by pouring a few drops of jaggery syrup to the cold water. Jaggery syrup will harden immediately when dropped to cold water and forms a brittle. Remove it and snap it. It should be easy to brittle like a candy. This is the perfect hard ball stage we are looking for. If it is stringy, cook jaggery syrup further until you get hard ball consistency.(You can also use a candy thermometer. If you are using a candy thermometer, then cook the syrup until it reaches 270 degrees.)
» How To Make Til Chikki //
Add chopped pistachios, sliced almonds, and 1/2 teaspoon cardamom powder to jaggery syrup and give it a mix. Turn off the heat.
Add roasted sesame seeds to the jaggery syrup.
Mix until well combined.
Grease your worktop or a parchment paper with ghee on which you will roll the chikki.
Also, grease a wooden rolling pin and a knife.
Immediately pour this jaggery sesame mixture onto the greased surface.
Quickly shape it to a square using a greased knife or a wooden spatula. Let it cool for a couple of minutes.
With the help of the greased rolling pin, roll it evenly into a thin sheet. You can also use a greased cup to even up the top.
Sprinkle the rolled sheet with chopped pistachios and roll again.
Cut the sesame chikki into desired pieces while it is hot.
Loosen chikki pieces and lift them from the parchment and break along the lines after 10 minutes.
Now let it cool completely for 30 minutes before storing it in an air tight container.
Store sesame chikki in an airtight jar at room temperature for up to 1 month.
---
RECIPE NOTES
Make sure to cook jaggery syrup until it gets the right hard ball consistency.
Don?t over cook or under cook the jaggery jaggery syrup. If you cook syrup too much then the chikkis will turn hard and bitter. If the syrup is undercooked then it will stick to your teeth.
Let the mixture cool down for a couple of minutes before rolling chikki.
Don?t roll the chikki while the mixture is very hot, or else the mixture will stick to the rolling pin.
You can replace jaggery with the same amount of sugar.
It would be hard to cut chikki into pieces if it is firmed up. So always cut chikki when it is slightly hot. This way the chikkis will easily come out.
---