No Cook Thandai Kulfi
5 minute No-Cook Thandai Kulfi is a super creamy, rich, and delicious frozen treat made with milk, cream, thandai powder, and kewra water.
---
« Go back
Print this recipe »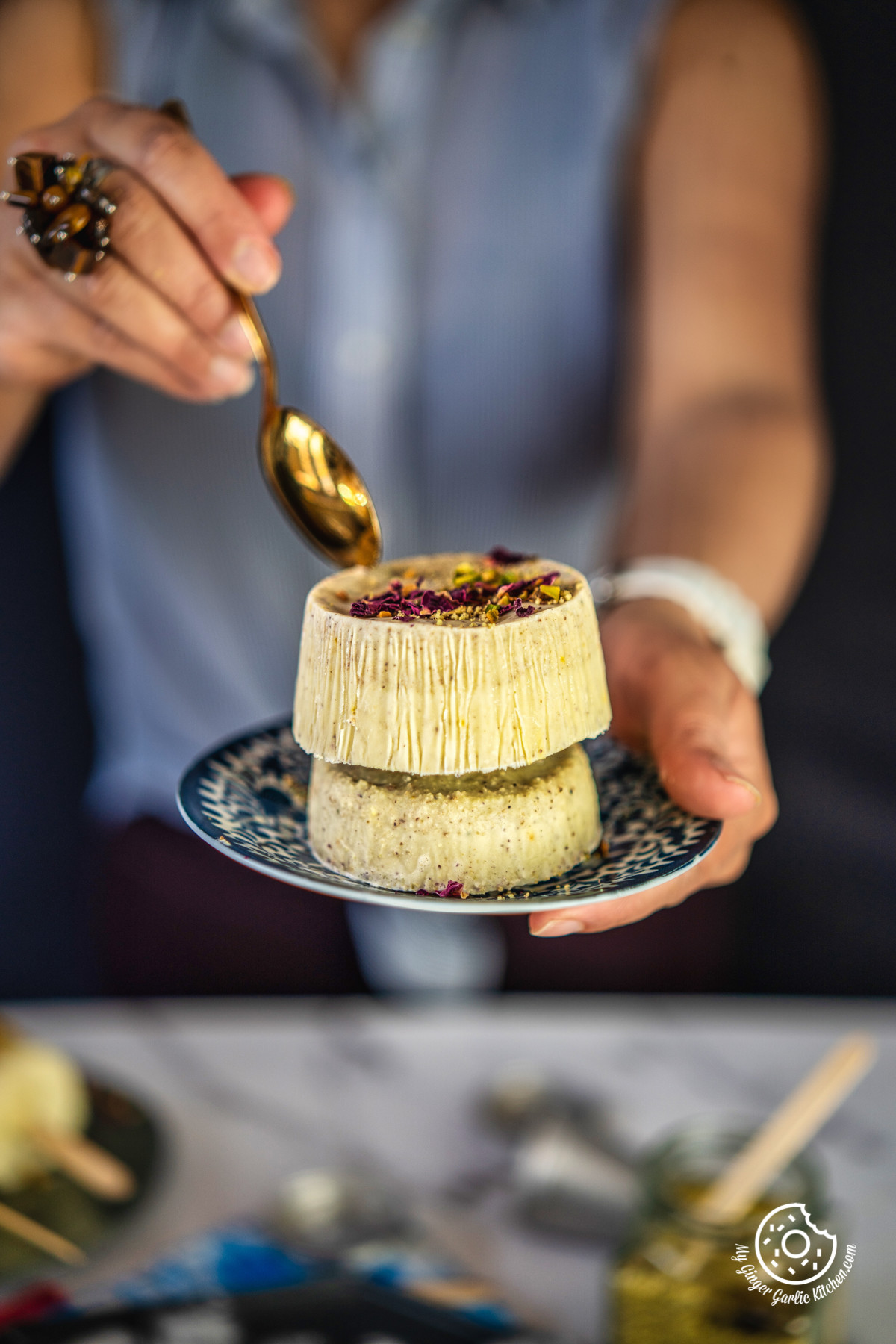 ---
Prep Time = 8 hour(s) 2 minutes
Cook Time = 08 minutes
Total Time = 8 hour(s) 10 minutes
Category = Dessert
Cuisine = Indian
Serves = 10 kulfis
Nutrition Info = 219 calories
Serving Size = 1
---
RECIPE INGREDIENTS
» For No Cook Thandai Kulfi:
1 1/2 cups full-fat or whole milk
1 cup whipping cream (you can also use (malai) regular milk cream)
3 large bread slices (use any bread you like, I used whole grain)
1/2 cup sugar
1/2 cup thandai powder
8-10 saffron strands soaked in 2 tablespoons warm milk
1 teaspoon kewra water, (optional but recommended)
1 tablespoon dried rose petals
2 tablespoons chopped pistachios
» For Garnish:
Thandai Powder
Dried rose petals
Saffron strands
---
RECIPE INSTRUCTIONS
» How To Make Thandai Kulfi:
Roughly chop bread slices and keep them aside.
Add milk, thandai powder, cream, sugar, saffron-soaked milk, kewra water, dried rose petals, chopped bread pieces, and chopped pistachios to a blender jar.
Blend everything well until smooth and creamy.
Pour thandai kulfi mix into kulfi molds.
Close the kulfi molds with the lid.
Alternatively, you can also use popsicle molds/disposable plastic or thick paper cups/foil cups or regular freezer-safe cups. Pour thandai kulfi mix into cups.
Wrap with silver foil, insert ice cream stick.
Freeze for 8 hours or overnight.
Once the kulfi is well set, dip the molds into warm water, or keep them under running water for easy demolding. (You can also rub the molds between palms for a minute.)
Prise the kulfi out with the help of a knife. Kulfi will slide off easily.
To remove kulfi from disposable cups, cut the paper or foil cups. This way kulfi comes out easily.
Garnish thandai kulfi with dried rose petals, thandai powder, and saffron.
Serve immediately.
---
RECIPE NOTES
I added 1/2 cup of thandai powder in this recipe, but you can add thandai masala powder as per your preference.
I have added 1/2 cup of sugar to this thandai kulfi recipe. Feel free to increase or reduce the amount of sugar according to your taste preference.
Use popsicle mold or disposable cups if you don't have kulfi molds.
Use coconut yogurt and coconut milk to make vegan Thandai Shrikhand.
---