Sweet Potato Pumpkin Kebabs - Video Recipe
Sweet Potato Pumpkin Kebabs are crunchy on the outside, soft, cheesy and nutty in the middle, sweet from the sweet potatoes, pumpkin, spiced from spices.
---
« Go back
Print this recipe »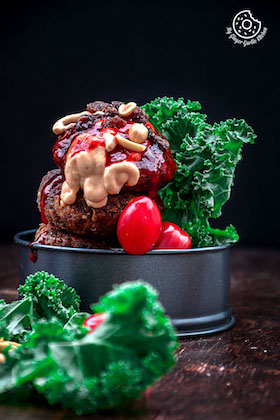 ---
Prep Time = 10 minutes
Cook Time = 30 minutes
Total Time = 40 minutes
Category = Snacks
Cuisine = Indian
Serves = 6 pieces
Nutrition Info = 240 calories
Serving Size = 1 serving
---
RECIPE INGREDIENTS
» For Sweet Potato Pumpkin Kebabs //
chickpea flour - 1/2 cup
grated pumpkin - 1 cup
grated sweet potato - 1 cup
salt to taste
oil - 2 tablespoons
oil for shallow frying
cumin seeds - 1 teaspoon
coriander seeds - 1 teaspoon
ginger, crushed - 2 teaspoons
garlic, crushed - 1 tablespoon
cumin powder - 1 tablespoon
dried mango powder - 1 tablespoon
chili powder - 2 teaspoons
garam masala powder - 1/2 teaspoon
chili flakes - 1 teaspoon
roasted peanuts - 1/2 cup
raisins - 1/2 sup
shredded mozzarella cheese - 1/2 cup
some extra chicken flour for rolling patties
» For sweet potato pumpkin kebabs //
roasted peanut
raisins
mayonnaise
hot pepper sauce
---
RECIPE INSTRUCTIONS
» How to Make Sweet Potato Pumpkin Kebabs //
Heat 2 tablespoons oil in a pan.
Add crushed garlic and saute for 1 minute.
Add crushed ginger and saute for another minute.
Now add cumin and coriander seeds and saute for 1 minute.
After that, add gram flour and roast till it turn golden brown.
Add grated pumpkin and grated sweet potatoes.
Mix well and saute for 2 minutes.
Add salt, chili powder, cumin powder, dried mango powder and chili flakes.
Splash about 1/8 cup water and mix well again. Cook for 2 minutes.
When the mixture comes together like a dough, then remove from heat.
Transfer onto a plate. Let it cool slightly.
Take a lemon sized mixture. Make a ball and flatten it.
Add roasted peanuts, raisins and cheese to the center.
Bring together all sides in the center and seal tightly to make a ball again. Repeat the same process to make 5 more balls.
Roll each ball into chickpea flour and flatten them to make into a compact disc.
Heat oil in a pan for shallow frying.
Add kebabs to the pan and shallow fry these patties on both sides till nice & golden.
Once golden, transfer them onto an absorbent paper.
Top with roasted peanuts and raisins. Serve hot with mayonnaise and hot pepper sauce.
---
RECIPE NOTES
No notes for this recipe.
---