Sweet Potato Cabbage Hot Dog - Vegan Hot Dog
These Sweet Potato Cabbage Hot Dog | Vegan Hot Dogs are pure awesomeness. This makes a great lunch for weekdays. They also make a great snack.
---
« Go back
Print this recipe »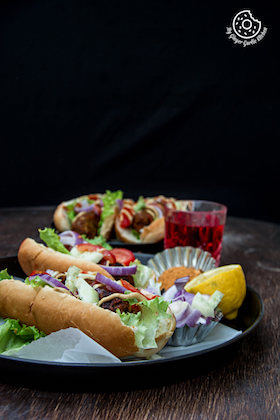 ---
Prep Time = 5 minutes
Cook Time = 20 minutes
Total Time = 25 minutes
Category = Main
Cuisine = Indian
Serves = 4
Nutrition Info = 165 calories
Serving Size = 1 serving
---
RECIPE INGREDIENTS
» For Sweet Potato Cabbage Sausage //
3 tablespoons + 1 teaspoon oil
1 teaspoon mustard seeds
1 green chili, chopped
1 onion, chopped
1 tablespoon ginger, chopped
1 tablespoon garlic, chopped
1/2 cup green peas
3/4 cup cabbage, chopped
3/4 cup sweet potato, boiled peeled, and mashed
1 teaspoon red chili powder
1/2 teaspoon garam masala powder
Salt to taste
1/4 cup cornflour
» For Serving //
4 hot dog buns (use gluten free making them gf)
Tomato ketchup
Tomato slices
Onion slices
Cucumber slices
Chaat masala
Lemon wedges
---
RECIPE INSTRUCTIONS
» For Sweet Potato Cabbage Sausage //
Heat 3 tablespoons oil in a pan over medium heat.
Add mustard seeds.
When they start to sizzle, add chopped ginger, chopped garlic, and chopped onions.
Sauté them for 3-4 minutes.
Add green peas and cabbage and saute 5-7 minutes.
Add mashed sweet potatoes, and mix well.
Now add red chili powder, garam masala powder, and salt. Mix well and cook for 3 minutes.
Add cornflour and mix well.
Cook until it starts coming together and forming a dough. Let it cool completely.
Divide the mixture into 4 large balls. Take a part of the mixture on a flat surface and start rolling the dough evenly to make it into a sausage.
Heat a pan or grill. Drizzle a teaspoon of oil on a grill/pan.
Roast/grill sausages from all the sides for 4-5 minutes or until golden.
Once sausages are cooked, remove them from the grill/pan.
Cut the bun into 2 halves. Add lettuce and then sausage.
Drizzle with tomato sauce & mustard sauce.
Add slices of tomato, cucumber, and onions.
Sprinkle some chaat masala a splash of lemon juice. DONE. Enjoy!
---
RECIPE NOTES
No notes for this recipe.
---