Mini Chocolate Beet Cake
Super Moist Mini Chocolate Beet Cake made with chocolate and beets. Addition of coffee shines the flavour of this cake. You can also make muffins with this.
---
« Go back
Print this recipe »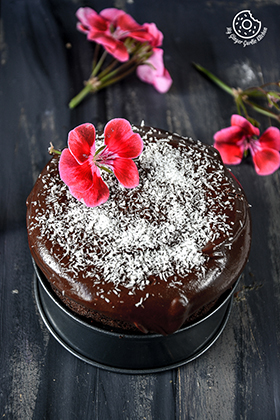 ---
Prep Time = 15 minutes
Cook Time = 40 minutes
Total Time = 55 minutes
Category = Dessert
Cuisine = International
Serves = 8-10
Nutrition Info = 164 calories
Serving Size = 1 serving
---
RECIPE INGREDIENTS
» For Chocolate Beet Cake:
2 cups all­-purpose flour
2?3 cup extra dark cocoa powder
50g fine dark chocolate (I used 70% cocoa)
3 tablespoons freshly brewed coffee
1 teaspoon baking soda
1?2 teaspoon baking powder
1?2 teaspoon salt
1 1/2 cups beets, peeled, cooked, and coarsely puréed
3?4 cup unsalted butter at room temperature
3?4 cup granulated sugar
2 large eggs, at room temperature
1 teaspoon vanilla extract
1 1/4 cups buttermilk
» For Chocolate Frosting:
200g cooking chocolate (I used 52% cocoa)
½ cup butter
4 cups icing sugar
2 teaspoon vanilla extract
3-4 tablespoons whipping cream
2 tablespoons milk
2 tablespoons unsweetened desiccated coconut
---
RECIPE INSTRUCTIONS
» For making cake and muffins batter:
Preheat the oven to 350°F/175°C. Prepare a 4 ­inch cake pan by greasing it. Set it aside for later.
Melt the chocolate in a small bowl set over a pot of simmering water, or cook for 30 seconds on high heat in the microwave. Repeat for 30 seconds more.
Now, add freshly brewed coffee to it, and whisk well. Set it aside.
In a medium bowl, whisk together the flour, cocoa, baking soda, baking powder, and salt. Set it aside.
In a stand mixer, cream the butter and sugars together until light and fluffy.
Add the eggs and beat well. Add the vanilla and beat again.
With the mixer running on low speed, add the flour mixture alternately with the buttermilk and the
grated beets. Continue mixing and scraping down the bowl until the batter is well combined.
» Make chocolate frosting:
Microwave chocolate in large microwaveable bowl on high for 1-1/2 minutes, stirring every 30 sec.
Stir until chocolate is completely melted. Let it cool for 5 minutes.
Add sugar, butter, and vanilla. Gradually add whip cream, beating constantly with mixer at low speed until blended.
If you like a sweeter or thicker frosting add more powdered sugar. Add some milk, if you want thinner frosting.
» Bake mini-cake:
Spread the batter in the prepared pan and bake it for about 40 minutes or until a cake tester poked
through the center of the cake comes out clean.
The cake will begin to pull away from the sides of the pan when it is done.
Let the cake cool completely before frosting.
» Assembling the cake:
Slightly cut off the cake from top to make it flat. Turn it upside down on a plate or cake stand.
Drizzle the cake with a good amount of frosting. With a knife or offset spatula, spread the top with frosting.
Decorate with desiccated coconut or whatever your heart desires. This cake is best served at room temperature.
» Bake muffins:
Line 8-9 medium muffin tins with paper liners. Divide the batter among 8-9 muffins cups.
Bake for 20-25 minutes or until a toothpick inserted into the middle comes out clean.
Allow the muffins to cool slightly and then drizzle with chocolate frosting.
Sprinkle some desiccated coconut on top.
---
RECIPE NOTES
To store, line an air-tight container with tissue paper. Place the cake or muffins in the prepared container Refrigerate for 4-5 days. Serve it cold, or warm in the microwave for 10-15 seconds before serving.
---