Korean Strawberry Milk
This 3 ingredient easy and delicious Homemade Korean strawberry milk is made with freshly chopped strawberries, homemade strawberry syrup, and milk.
---
« Go back
Print this recipe »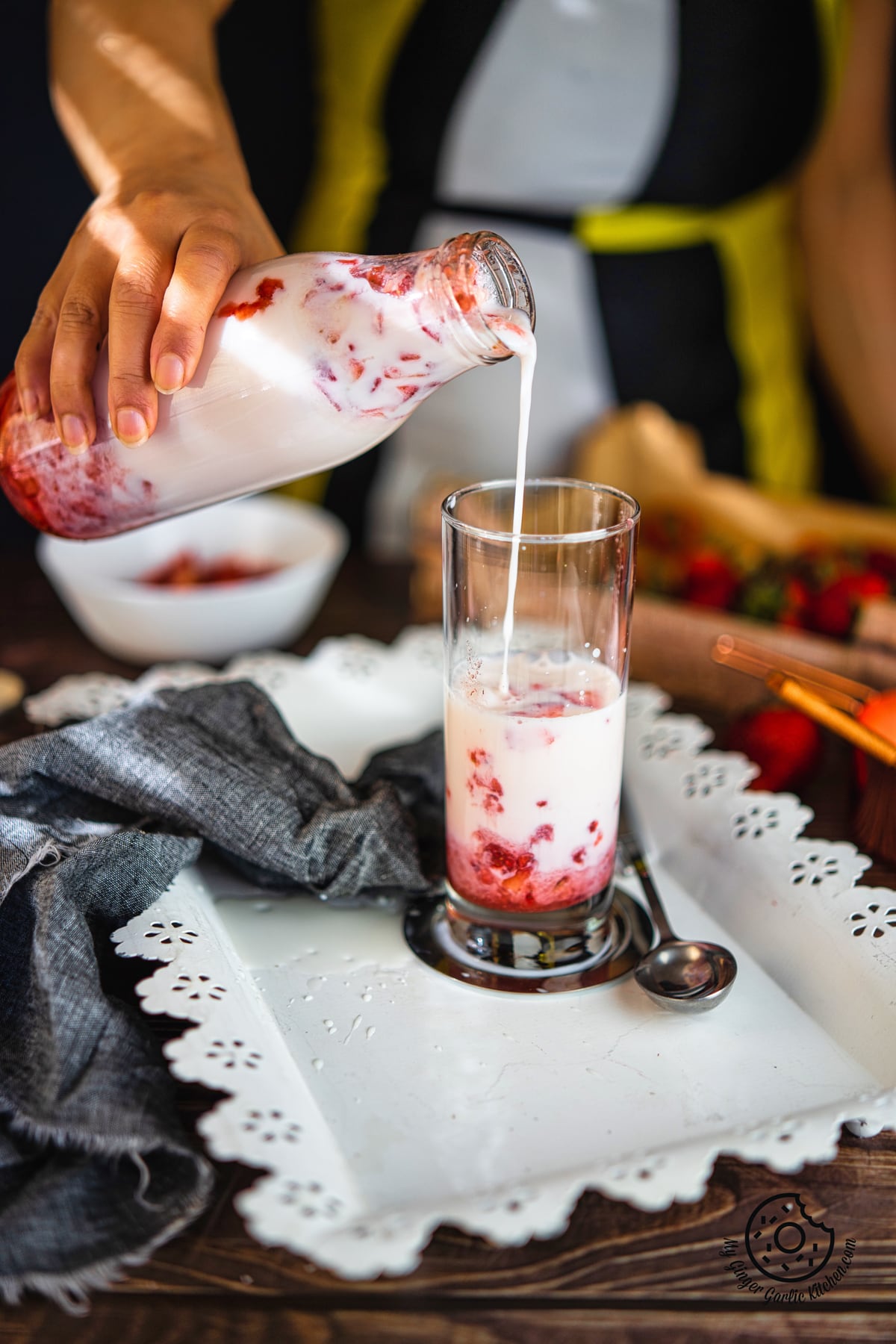 ---
Prep Time = 5 minutes
Cook Time = 2 minutes
Total Time = 7 minutes
Category = Drinks
Cuisine = Korean
Serves = 3
Nutrition Info = 201 calories
Serving Size = 1
---
RECIPE INGREDIENTS
» Ingredients For Strawberry Milk:
250 grams fresh strawberries
1/4 cup sugar
450 ml chilled milk
---
RECIPE INSTRUCTIONS
» How to make Strawberry Milk:
Chop strawberries.
Add half of the strawberries to a heat-proof bowl.
Also, add 1/4 cup sugar to the bowl. Smash and mix using a spoon until strawberries release juice.
Heat in microwave for 30-40 minutes. Alternatively, heat in a saucepan until boiled.
Remove from the microwave, and stir for a couple of seconds. Keep it aside to cool.
Pour strawberry syrup into a sterilized glass bottle.
Top with chopped strawberries.
Then fill the bottle with chilled milk to the rim. Close with the lid, and store in the refrigerator.
Shake the bottle and pour into serving glasses.
Alternatively, add cooled strawberry syrup to a tall glass. Top with chopped strawberries and chilled milk. Stir it and enjoy!
---
RECIPE NOTES
Don't use fat-free milk here, it won't taste so good. Also when choosing dairy-free milk, make sure you don't add too watery milk.
The strawberry syrup I've made has tiny chunks of strawberries. This is because instead of pureeing, I smashed strawberries with the fork. However, if you want pureed syrup then feel free to make a puree with the strawberries and sugar mix.
I have made strawberry syrup with fresh strawberries, but you can also use frozen ones for making syrup.
Always use the chilled milk to make strawberry milk.
---