Strawberry Lassi Recipe - Strawberry Yogurt Smoothie
Strawberry Lassi or Strawberry Yogurt Smoothie is a refreshing, cooling, and delightful beverage made from fresh strawberries, yogurt, milk, sugar.
---
« Go back
Print this recipe »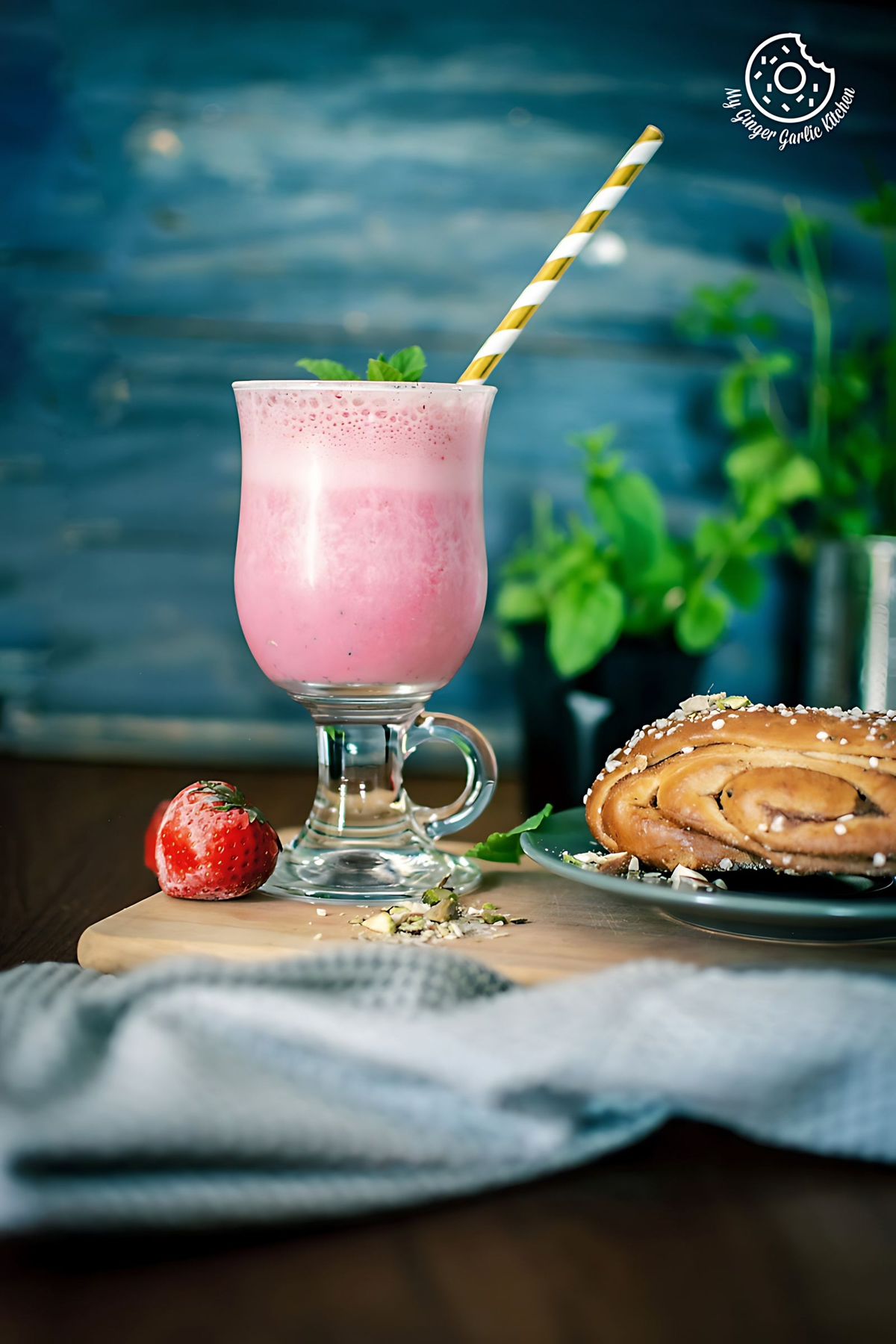 ---
Prep Time = 5 minutes
Cook Time = 3 minutes
Total Time = 8 minutes
Category = Drinks
Cuisine = Indian
Serves = 2-4
Nutrition Info = 155 calories
Serving Size = 1 Serving
---
RECIPE INGREDIENTS
» For Strawberry Lassi:
1 cup fresh strawberries, chopped (you can also use frozen strawberries)
1 cup plain yogurt (I have used low-fat yogurt here)
1/2 cup chilled milk (I have used 1.5% fat milk)
2 tablespoons sugar, or according to taste (you can also add honey or maple syrup)
1/2 teaspoon ground cardamom (elaichi powder)
1 teaspoon rose water (optional)
» For Serving:
Ice cubes for serving (optional)
Sliced strawberries, for garnish (optional)
Mint leaves, for garnish
---
RECIPE INSTRUCTIONS
» Making Strawberry Lassi:
Put chopped strawberries into a blender.
Blend for 1 minute to make a puree.
Now add yogurt, milk, sugar, and cardamom into a blender.
Blend for 1 minute.
Lastly, add rosewater and blend for a few seconds.
To serve, place a few ice cubes in each of 2 tall or 4 small glasses and pour in the freshly made strawberry lassi.
Top with the sliced strawberry and mint leaves.
Serve immediately or keep it in the refrigerator for 30 minutes.
---
RECIPE NOTES
No notes for this recipe.
---