Spiced Rice Lentils with Grilled Pineapple
Spiced rice lentils aka khichdi with grilled pineapple and cucumber honey lemon yogurt is a vibrant platter full of good health and deliciousness.
---
« Go back
Print this recipe »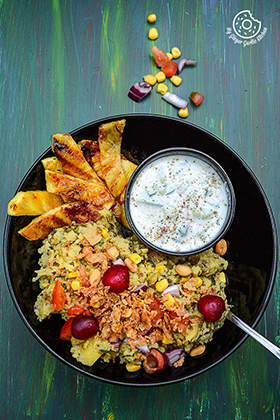 ---
Prep Time = 20 minutes
Cook Time = 40 minutes
Total Time = 1 hour(s)
Category = Main
Cuisine = Indian
Serves = 4
Nutrition Info = 264 calories
Serving Size = 1 serving
---
RECIPE INGREDIENTS
» For Spiced Rice Lentils //
basmati rice - 1 cup
split green gram - 1/2 cup
spinach fresh or frozen - 1 1/2 cup
potatoes, diced - 2 medium-sized
corn kernels - 1/4 cup
olive oil - 1 tablespoon
cumin seeds - 2 teaspoons
garam masala powder - 1 teaspoon
salt, as per taste
green chilies, chopped - 1
turmeric powder - 1/2 teaspoon
» For Grilled Pineapple //
1 fresh pineapple
1/4 cup packed brown sugar
3 tablespoons honey
2 tablespoons lime juice
cooking spray
» For Cucumber Honey Lemon Yogurt //
plain yogurt, chilled - 1 cup
pineapple, chopped - 1/4 cup
cucumber, chopped - 1/4 cup
honey - 2 tablespoons
red chili, chopped - 1 teaspoon
brown sugar - 1 tablespoon
ground pepper - 1/4 teaspoon
salt, as per taste
lemon juice - 2 teaspoons
» For Serving //
pitted cherries
roasted onions
roasted peanuts
red onions, chopped
tomatoes, chopped
corn kernels
---
RECIPE INSTRUCTIONS
» For Spiced Rice Lentils //
Wash rice and lentils together. Soak in water for about 10 minutes. Drain and keep aside. Heat oil in a pressure cooker. Add cumin seeds. When they start to splutter add potatoes and saute for 3-4 minutes.
Now add spinach, green chilies, corn, turmeric powder, salt and garam masala powder.
Sauté for another 5 minutes. Add rice, lentils, with 3 cups of water and give it a stir.
Let it come to boil and close the lid.
Cook on high heat for 7-8 whistles and then remove from the heat.
Let the pressure cool off completely and then open the lid of the cooker. The khichdi will be mushy and soft by now, and this is exactly
what we want.
» For Grilled Pineapple //
Peel pineapple and cut into eight wedges. In a large resealable plastic bag, combine the brown sugar, honey and lime juice; add pineapple. Seal the bag and refrigerate to coat for 1 hour.
Spray grill pan with cooking spray before starting the grill. Drain and remove marinade. Grill pineapple, covered, over medium heat for 3-4 minutes on each side or until golden brown.
» For Cucumber Honey Lemon Yogurt //
In a small bowl, add yogurt, cucumber, pineapple, red chili, honey, brown sugar, lemon juice, salt and pepper. Mix well. Cover and refrigerate for 30 minutes or until serving.
» For Serving //
Top with some butter, onions, corn, tomatoes, peanuts, roasted onions and cherries.
Serve along with cucumber honey lemon yogurt and grilled pineapple.
---
RECIPE NOTES
No notes for this recipe.
---