Quick Rye Irish Soda Bread Recipe Video
This Rye Irish Soda Bread is quick and easy to make and full of flavours. It is made only with 5 ingredients. No oil no butter. A perfect breakfast bread.
---
« Go back
Print this recipe »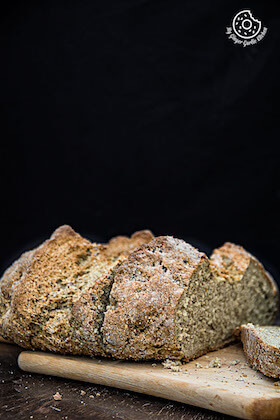 ---
Prep Time = 5 minutes
Cook Time = 30 minutes
Total Time = 35 minutes
Category = Main
Cuisine = Irish
Serves = 1 Loaf
Nutrition Info = 215 calories
Serving Size = 1 serving
---
RECIPE INGREDIENTS
» For Rye Irish Soda Bread:
2 cups bread flour
2 cups rye flour
1 1/2 teaspoon salt
1 1/2 tsp baking soda
2 cups buttermilk
Extra flour for dusting (I used rye flour)
---
RECIPE INSTRUCTIONS
» Making Rye Irish Soda Bread:
Preheat the oven to 200°C/400°F. In a large bowl, mix together the two types of flours, salt, baking soda, and salt.
Add the buttermilk and gradually stir into flour mixture mix until sticky dough forms.
Lightly flour a work surface and transfer the dough.
Gently roll and fold the dough to form a ball. Do not knead well.
Flatten the ball gently with your hand.
Dust the bread with flour and cut a deep cross dividing it into quarters.
Line a baking tray with a parchment paper.
Place the dough ball onto a baking tray lined tray and bake for 30-35 minutes. The loaf should be golden brown.
Leave to cool on a wire rack for about 2 hours before slicing.
This is best eaten on the day of baking. Smear some butter or homemade jam, and enjoy.
---
RECIPE NOTES
You can store this bread at room temperature, in a paper bag for up to 2 days.
---