Chakli Recipe - Instant Rice Chakli (Fried + Baked)
Instant Rice Chakli Recipe is a popular Indian deep-fried namkeen (savory snack). The crispy texture, and spicy flavors of this Chakli makes it delicious.
---
« Go back
Print this recipe »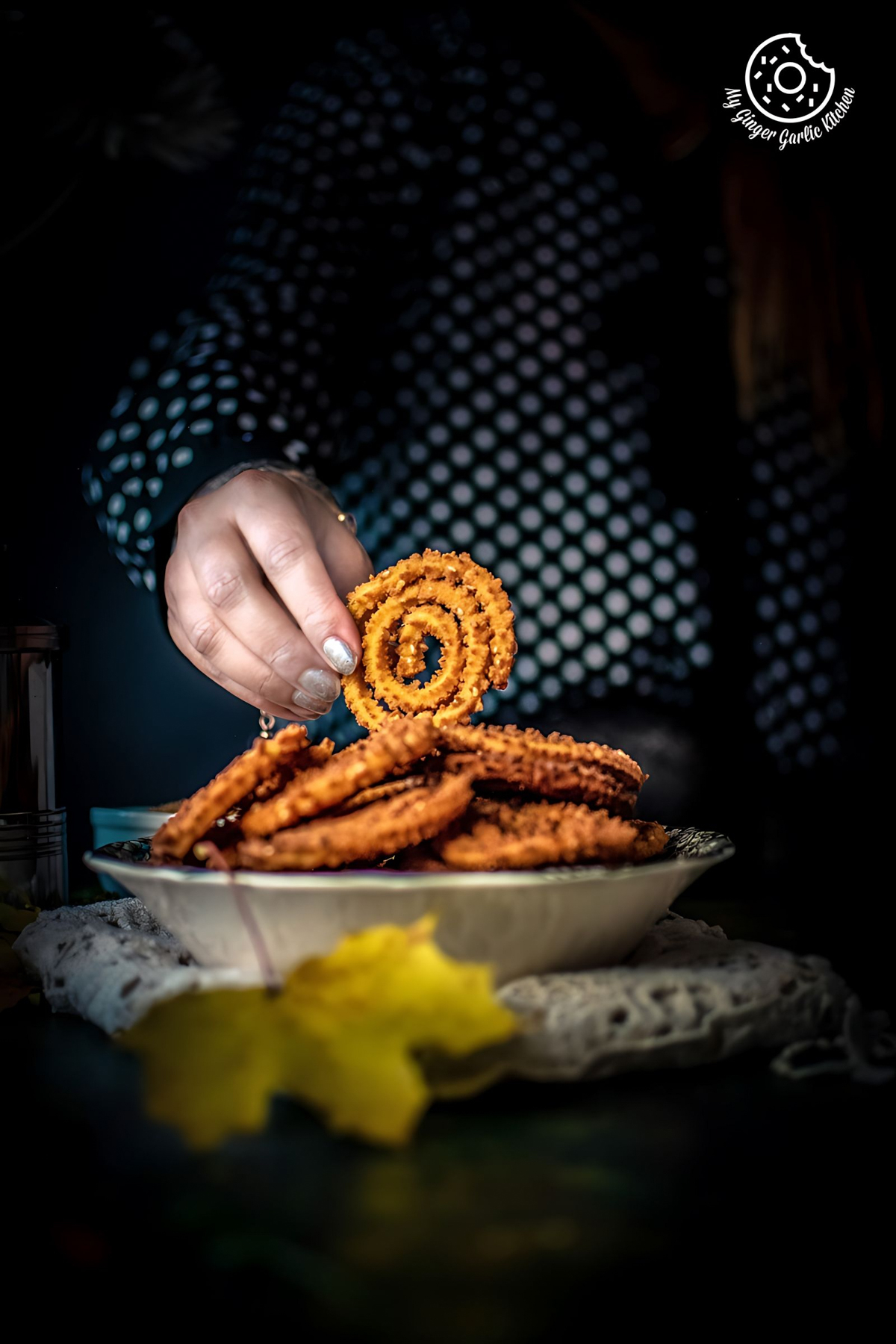 ---
Prep Time = 15 minutes
Cook Time = 25 minutes
Total Time = 40 minutes
Category = Snacks
Cuisine = Indian
Serves = 20
Nutrition Info = 35 calories
Serving Size = 1 Chakli
---
RECIPE INGREDIENTS
» Instant Rice Chakli:
1 cup rice flour (chawal ka atta)
1/4 cup chickpea flour (besan)
2 teaspoons ginger-green chili paste
pinch of asafetida (hing)
1 teaspoon red chili powder (lal mirch powder)
1/4 teaspoon turmeric powder (haldi powder)
3 tablespoons hot, melted butter/oil
3 tablespoons natural yogurt (plain dahi)
2 teaspoons sesame seeds (til)
Salt to taste
Warm water for kneading the dough
Oil for deep frying
---
RECIPE INSTRUCTIONS
» How to make Chakli Dough:
In a large mixing bowl mix together rice flour, besan, ginger-green chili paste, asafetida, salt, red chili powder, turmeric powder, and sesame seeds.
Give it a nice mix.
Add in the hot melted butter, and yogurt.
Mix everything well.
Start adding water little by little to knead into a soft and smooth dough.
You can cover and rest the dough for 30 minutes.
» How to Shape Spiral/Chakli:
Use a star shape filter/jali.
Grease the chakli maker or chakli press with oil and then add some dough into it.
Start piping the spirals/chakli on a tray lined with parchment paper. (Press or roll in a circular motion to make the chaklis/spirals.)
Seal the edges of each spiral by pinching the ends. Use up all the dough and prepare all the chaklis the same way.
Keep the chaklis covered to make sure they don?t dry out.
» Frying Chakli:
Add enough oil to a skillet and heat it over medium-high heat. When the oil is hot enough, turn the heat to medium-low. Slide chaklis in the hot oil.
Deep fry these rice chaklis a few at a time on medium-low heat till they turn golden brown in colour and turn crispier.
Remove from oil drain the fried chaklis onto an absorbent paper.
Let the chakli cool completely before storing them in an airtight container. Serve instant rice chakli with a cup of hot ginger cardamom tea or coffee.
» Baking Chakli:
Arrange chaklis in a baking paper lined tray. Bake these chaklis in a pre-heated oven at 180°C/360°F for 15 minutes.
Flip all the chaklis after 15 minutes and bake for 10-15 more minutes.
Let them cool completely on a wire rack before transferring them to an airtight container.
---
RECIPE NOTES
Always add hot oil/ghee/butter to the chakli dough. Mix and rub it well using the fingers. This would ensure that your chaklis come out really nice and crispy.
Always deep-fry chaklis at medium-low heat. It?s because they will not turn crispy if you fry them on high heat.
I make my chaklis instantly right after making the dough. But if you are a novice at making chakli then you can let the dough rest for 30 minutes, this resting time makes the dough easier to work with.
Pipe chaklis on a tray lined with parchment paper. This way transferring them into hot oil would be easier and they would hold their shape.
Check the oil temperature before frying chaklis. To test the temperature of the oil, drop a tiny piece of dough to the oil and if it comes up steadily then that means the oil is ready for frying.
Keep the dough soft. If your dough is not soft then the chaklis might break when you shape them. If your chaklis are breaking while shaping, then add little water to the dough and give it a nice knead again.
---