Rava Uttapam
Rava Uttapam or Suji Uttapam is a quick, easy, healthy, mouth-watering and filler South Indian breakfast recipe. Best serve with coconut chutney and sambar.
---
« Go back
Print this recipe »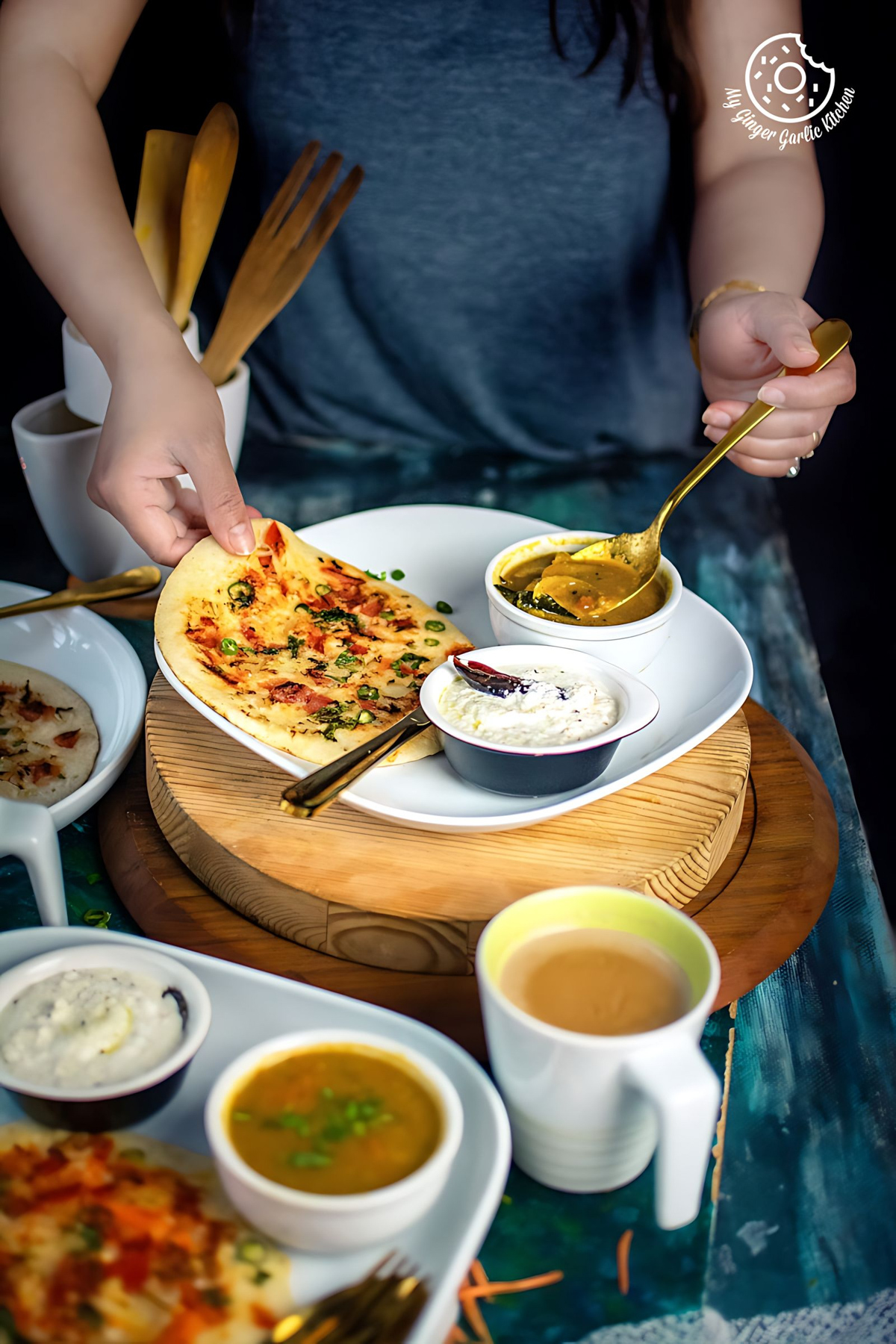 ---
Prep Time = 30 minutes
Cook Time = 10 minutes
Total Time = 40 minutes
Category = Breakfast
Cuisine = Indian
Serves = 4-5 pieces
Nutrition Info = 171 calories
Serving Size = 1 serving
---
RECIPE INGREDIENTS
» For Rava Uttapam Batter:
1 cup semolina (rava suji coarse)
1/2 cup natural yogurt (curd/dahi)
1/2 teaspoon salt or to taste
1 cup water (or as needed)
1 teaspoon baking soda or eno fruit salt (or use 1/2 teaspoon)
» For Toppings:
1 medium-sized onion, finely chopped
1 large carrot, peeled and grated
1 large tomato, finely chopped
2-3 tablespoons coriander (cilantro) leaves, finely chopped
1-2 green chilies, finely chopped
red chili powder and salt for seasoning
» For Cooking:
1-2 tablespoons cooking oil
---
RECIPE INSTRUCTIONS
» How To Make Rava Uttapam Batter:
Add 1 cup of rava/suji (semolina) to a mixing bowl.
Now add 1/2 of sour natural yogurt to it.
Also, add 1 cup of water to it.
Mix everything well until you get a lump-free runny batter. Don't worry if that batter looks too thin. The batter would turn thick as it absorbs liquid while resting.
Add salt to taste and give it a mix.
Set aside for 30 minutes.
After 30 minutes, give it a mix. The batter should be of pouring consistency now. If you think that batter is too thin, then add 1 tablespoon of rava or rice flour. If you want, you can also add ginger, green chiles, cumin seeds, and chopped curry leaves or coriander leaves to the batter.
Now add baking soda and mix well until you get the light and fluffy batter. Do not overmix.
» How To Make Rava Uttapam:
Brush the tawa or pan with oil heat over medium heat. (You can use a non-stick or cast iron tawa for making rava uttapam.)
When the pan turns hot, pour a ladle full of the uttapam batter.
Spread it evenly and gently. Don't spread too much.
Top with desired veggies. I have used onions, tomatoes, green chilies, grated carrots, and chopped coriander leaves.
Sprinkle with some salt and red chili or black pepper powder. (This is an optional step, but it creates a huge difference in flavor profile, so I would highly recommend this.)
Now gently press the vegetables down with a wooden spatula. This step would ensure that toppings will not come out while flipping uttapam.
After that, cover the pan with a lid and let it cook over medium heat for 1-2 minutes or until the bottom is lightly golden.
Once the bottom is cooked, uncover the pan. Drizzle the uttapam with some oil.
Gently lift the uttapam with a spatula and flip it.
Cook it on the other side for 1-2 minutes or until the top is perfectly cooked.
Flip back again and cook it further until the base is lightly crispy. Repeat the same until all the batter is used up.
Serve rava uttapam hot or warm with coriander coconut chutney.
---
RECIPE NOTES
If you don't want to use any vegetable toppings, then you can also make this uttapam plain without any toppings
I have only used onion, tomato, carrot toppings. You can also add shredded cabbage, chopped bell peppers, corn, or any other vegetables of your choice.
To make it vegan, use vegan yogurt while making the batter.
I usually sprinkle my uttapam with some salt and red chili powder. This way it tastes extra flavourful. If you don't want to use red chili powder then you can easily swap it with freshly ground black pepper or cayenne pepper.
You can also add minced ginger and chopped curry leaves and cumin seeds to the batter.
---