Rajma Masala - Spiced Kidney Beans in Tomato Rich Gravy
Rajma Masala is an aromatic North Indian curry where kidney beans are cooked in rich, creamy, and spicy tomato sauce. Served with flat bread or rice.
---
« Go back
Print this recipe »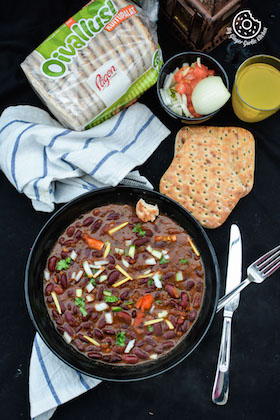 ---
Prep Time = 10 minutes
Cook Time = 35 minutes
Total Time = 45 minutes
Category = Main
Cuisine = Indian
Serves = 6
Nutrition Info = 221 calories
Serving Size = 1 serving
---
RECIPE INGREDIENTS
» For Rajma Masala
2 cups red kidney beans (rajma), soaked in water for overnight
1/2 cup onion, ginger garlic paste
2 small-sized green chilies, chopped
2 medium-sized tomatoes, chopped
1/2 teaspoon turmeric powder
1/2 teaspoon cumin powder
1 teaspoon coriander powder
1/4 teaspoon garam masala powder (optional)
1 teaspoon red chili powder, or as per taste
1 teaspoon cumin seeds
2 tablespoons, kasuri methi (dried fenugreek leaves) crushed
4 tablespoons olive oil
Salt as per taste
1 teaspoon sugar
1 inch cinnamon stick
5 cloves
1 black cardamom
1 bay leaf
---
RECIPE INSTRUCTIONS
» How to Make Rajma Masala //
Wash kidney beans with fresh water and add to pressure cooker with salt and whole garam masala (bay leaf, black cardamom, cloves, cinnamon stick), and 3 cups of water.
Cover the lid and pressure cook till the pressure cooker whistles 4-5 times. Reduce heat to low and cook it on low heat for 15 minutes. Remove from heat and let the cooker cool down.
When the cooker has cooled off, open the lid and pour kidney beans into a bowl. Heat oil in a pan and add the cumin seeds,and let them splutter. Add onion, ginger-garlic paste and saute for 4-5 minutes. Now add chopped tomatoes and cook until it oozes oil.
When tomato is cooked, add chili powder, turmeric powder, cumin powder, coriander powder, green chiles along with 2 tbsp water.
Saute for 2 minutes and add salt and sugar. Stir well and add boiled kidney beans along with with 1 cup of water and cook on high heat for 2 minutes. Reduce heat and add kasuri methi and garam masala powder and mix well. Cook covered on low heat for at least another 15 minutes.
Cooking on low heat would make it more flavorous, however, if you are in hurry cook for at least 5 minutes on medium heat.
Garnish with chopped ginger, chopped onion, tomato and coriander leaves.
Serve hot with any of your favorite bread or jeera rice. Enjoy!
---
RECIPE NOTES
No notes for this recipe.
---