Moong Dal Halwa Recipe
How To Make Rajasthani Moong Dal Halwa - Rajasthani Moong Dal Halwa is a classic, rich and mouth-watering Indian dessert.
---
« Go back
Print this recipe »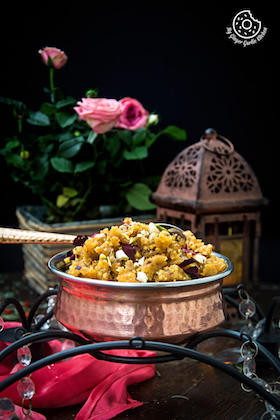 ---
Prep Time = 10 minutes
Cook Time = 50 minutes
Total Time = 60 minutes
Category = Dessert
Cuisine = Indian
Serves = 5-6
Nutrition Info = 422 calories
Serving Size = 1 serving
---
RECIPE INGREDIENTS
» For Moong Dal Halwa:
1/3 cup (67 g) + 2 tablespoons ghee (clarified butter)
1.5 cups yellow moong dal (split yellow gram), soaked in water for 3-4 hours
1 cup full-fat milk
1/2 cup mawa/khoya
1 cup sugar, or as per taste
1 tablespoon cardamom powder
Chopped nuts (almond, pistachio, cashews)
---
RECIPE INSTRUCTIONS
» Soaking Moong Dal:
Drain the excess water and wash well.
» Making Moog Dal Paste:
Grind soaked dal in a mixer to a make coarse paste. If needed, you can add very little (about 2 tablespoons) water, but don?t too much water while grinding dal, as it will take more time in sautéing.
» Making Moong Dal Halwa:
Heat the 4 tablespoons ghee in a non-stick pan.
Add the grounded moong dal paste and cook on medium-low heat. (Add 4 tablespoons ghee every 5 minutes, until the 1/3 cup ghee is used.)
Keep stirring the halwa until the raw smell is gone and the dal is dry. It would take about 25-30 mins.
Add the milk and let it cook until the dal is dry again.
Add mawa and cook for 5-7 mins or until the ghee leaves the sides. Don?t forget to stir continuously.
Add sugar, mix well and cook on medium heat for about 5 minutes. Stir continuously.
Add cardamom powder, chopped nuts, and ghee.
Mix well and cook on medium heat for 1 minute, until the ghee leaves the sides. Stirring continuously.
Garnish with dried rose petals and more nuts.
Serve warm or hot.
---
RECIPE NOTES
You can store this halwa for up to 4 weeks. Refrigerate it in an air-tight container.
You can adjust the amount of sugar according to your taste.
This moong dal halwa recipe can easily be halved or doubled.
---